(Family Features) This Cinco de Mayo, gather the whole family together and enjoy a true Mexican fiesta like Mama Ortega would have thrown over 100 years ago. With mariachi music, dancing, piñatas and traditional homemade Mexican meals, Mama's fiestas were always a favorite with family, friends and especially her 13 children!
The flavors and smells of Mama's homemade meals still taste great today, but are easier to create - and more fun to eat! Her legendary meals inspired today's convenient and great tasting Ortega Mexican products. Achieve authentic fiesta flavors by using crisp and crunchy Ortega taco shells made with whole kernel corn, topped with slow simmered Ortega Taco Sauce and authentic fire-roasted green chiles. Ortega's zesty Mexican seasonings and fresh-tasting salsas are perfect for adding flavor to your favorite snack, casserole, dip or soup!
So, gather the family together and enjoy a fiesta of flavors with Ortega. For other great recipe ideas or to learn more about Ortega's line of products, visit www.ortega.com.
Taco Rice and Beans
Prep time: 5 minutes
Start to finish: 15 minutes
Serves 4
2 tablespoons olive oil
1 medium onion, diced
1 package (1.25 ounces) Ortega Taco Seasoning Mix
1 cup water
1 can (15 ounces) black beans, drained
2 cups cooked rice
1/4 cup Ortega Thick & Chunky Salsa
In skillet, heat oil over medium heat. Add onion; cook 3 minutes. Add taco seasoning mix and water. Stir until combined and slightly thickened. Add beans, rice and salsa; stir. Cook 5 minutes more or until contents are heated through.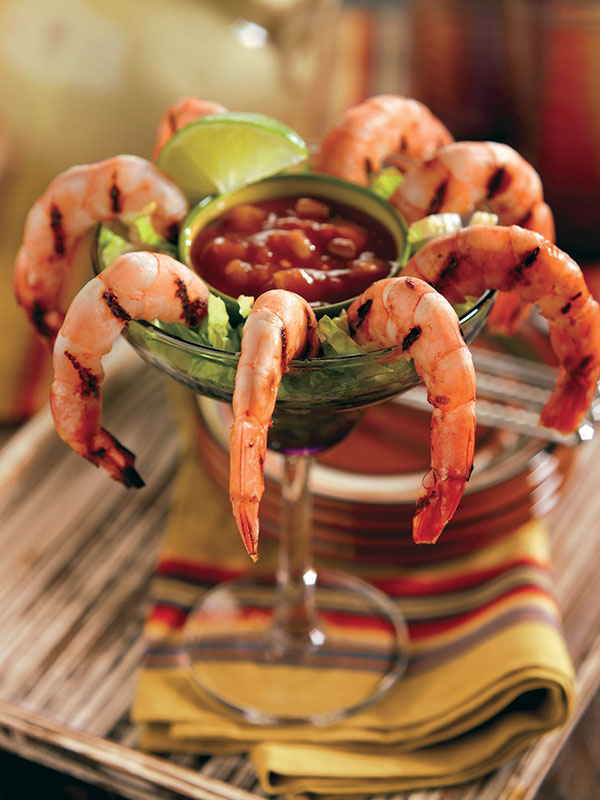 Grilled Margarita Shrimp
Prep time: 40 minutes
Start to finish: 50 minutes
Serves 6
1 cup margarita mix
1 cup Ortega Taco Sauce, divided
2 pounds raw shrimp (21 to 30), peeled and deveined
3 tablespoons Ortega Diced Green Chiles
In large bowl, pour margarita mix and 1/2 cup taco sauce over shrimp and toss well. Marinate in refrigerator 30 minutes or up to 2 hours.
Preheat grill until sizzling hot, about 15 minutes. Grill shrimp 4 minutes on each side or until pink.
Combine remaining 1/2 cup taco sauce with green chiles to use as dipping sauce.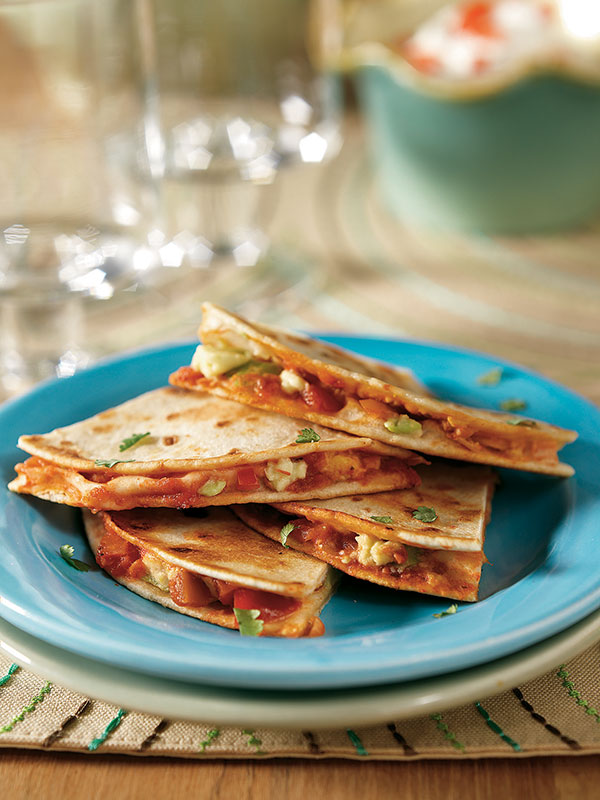 Ham and Cheese Quesadillas
Prep time: 10 minutes
Start to finish: 20 minutes
Serves 5
1/2 pound cooked ham, diced
3/4 cup cream cheese, softened
Zest of one lime
2 green onions, white and green parts, diced
1 Ortega Soft Taco Kit - includes 10 soft tortillas, 1 package (1.25 ounces) taco seasoning mix and 1 package (3 ounces) taco sauce
Cooking spray
1 tomato, diced
1/4 cup cilantro, chopped
1/2 cup sour cream
In mixing bowl, combine diced ham, cream cheese, lime zest, green onions and half of taco seasoning packet contained in soft taco kit. Heat large skillet on medium and spray with cooking spray.
Spread about 1 teaspoon taco sauce onto a flour tortilla and then spread about 1/4 cup ham/cream cheese mixture on top.
Place tortilla-side down onto hot skillet and top with another flour tortilla. Heat about 4 minutes, until bottom of tortilla is browned; spray top of the other tortilla and flip. Cook another 4 minutes and repeat with remaining quesadillas. Cook two at a time if skillet is large enough.
Cut into wedges and top with tomato, cilantro and sour cream and serve.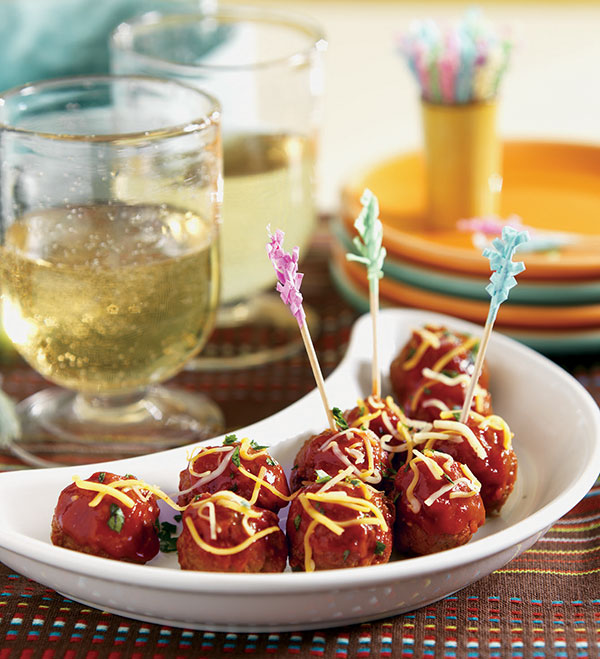 Mexican Meatballs
Prep time: 15 minutes
Start to finish: 30 minutes
Makes about 30 meatballs
3 Ortega Yellow Corn Taco Shells
1 pound (16 ounces) lean ground beef
1 teaspoon Ortega Chili Seasoning Mix
1 egg
2 teaspoons Ortega Diced Green Chiles
1 bottle (8 ounces) Ortega Taco Sauce
1/4 cup shredded cheddar cheese
Cilantro, finely chopped (optional)
Break taco shells into food processor and pulse several times to create about 1/2 cup taco shell crumbs. Place into large mixing bowl and add ground beef, seasoning mix, egg and green chiles. Mix thoroughly.
Form mixture into 30 (1-inch) meatballs and drop into hot skillet. Cook until they begin to brown. Carefully turn over and continue browning. Add taco sauce. Coat meatballs with sauce and simmer over low heat, uncovered, 10 minutes.
Sprinkle meatballs with cheese and garnish with cilantro, if desired. Serve with toothpicks.
Photos copyright (c) 2008 Publications International, Ltd. Used by permission.
Source: Ortega