(Family Features) While the first step to a successful family meal is finding a recipe everyone loves, a second important piece to the puzzle is creating a dish that leaves enough time for special moments together at the table. You can skip complicated prep by serving easy-to-make favorites that call for versatile ingredients and simple instructions.
These Sheet Pan Hawaiian Veal Meatballs are a perfect example of a quick yet delicious meal your loved ones can enjoy without committing an entire evening to the kitchen. With veal as a key ingredient that cooks fast and easy, it's ideal for weeknights and meal prepping ahead of busy weeks.
Plus, it'd be a cinch to double the meatballs and freeze half of them to make prep even easier the next time your family craves the sweet and savory combination of pineapple, fresh veggies and tender veal.
To find more quick, flavorful dinner inspiration, visit Veal.org.
Watch video to see how to make this recipe!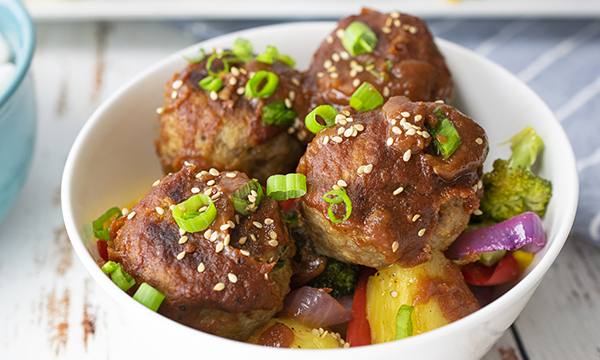 Sheet Pan Hawaiian Veal Meatballs
Funded by Beef Farmers and Ranchers
Prep time: 15 minutes
Cook time: 30 minutes
Servings: 6
Meatballs:
2 pounds ground veal
1/2 cup plain breadcrumbs
1/4 cup milk
3 green onions, chopped
1 large egg
2 teaspoons garlic powder
1 1/2 teaspoons ground ginger
2 teaspoons kosher salt
1 cup Hawaiian barbecue sauce, plus additional for serving, divided
Vegetables:
1 small head broccoli, cut into florets
1 small red bell pepper, seeded and cut into 1/2-inch slices
1 small yellow bell pepper, seeded and cut into 1/2-inch slices
1 small red onion, cut into 1/2-inch slices
1 small pineapple, cut into 1-inch chunks
2 tablespoons olive oil
kosher salt, to taste
freshly ground black pepper, to taste
2 green onions, for garnish
2 teaspoons sesame seeds, for garnish
6 cups cooked long-grain white rice
To make meatballs: Preheat oven to 450 F and line two rimmed baking sheets with parchment paper. In large bowl, mix veal, breadcrumbs, milk, green onions, egg, garlic powder, ginger and salt until just combined. Portion veal mixture into 2-inch balls. Place in even layer on prepared baking sheets.
Bake about 15 minutes. Remove from oven.
To make vegetables: Toss broccoli, bell peppers, red onion, pineapple and oil together until coated. Season with salt and pepper, to taste.
Arrange vegetables in single layer on baking sheets with meatballs. Flip meatballs and brush with sauce. Bake until vegetables are tender and meatballs are golden-brown, or until internal temperature reaches 160 F, about 15 minutes.
Drizzle with barbecue sauce. Top with green onions and sesame seeds. Serve with rice.
Source: New York Beef Council
(Family Features) Summer can be jam-packed with camps, family reunions and more, and people can sometimes miss opportunities to enjoy time together. This summer, savor and celebrate those simple yet memorable backyard moments with friends and family that make the season unforgettable.

Soak in the warm weather and try fresh and flavorful recipes al fresco. Dress your table with a bright tablecloth and a full spread of summer barbecue staples and ice-cold drinks. For example, you can reinvent a summer grilling classic with these Hawaiian Ham Skewers, which combine the smokiness of Smithfield Anytime Favorites Ham with the sweetness of fresh pineapple.
As the sun begins to set, invite friends and family for a backyard game night, outdoor movie or bonfire. Gather around the fire and take your s'mores to the next level with Smithfield Hometown Original Bacon for a perfect savory and sweet combination. Wrap your toasted marshmallow with bacon and squish it between melted chocolate and graham crackers for a treat to end a long summer day.
To find more summer entertaining tips and recipes, visit Smithfield.com.

Hawaiian Ham Skewers
Prep time: 15 minutes
Cook time: 15 minutes
Servings: 4-6
Hawaiian Glaze:
1/2 cup ketchup
1/2 cup pineapple juice
2 tablespoons brown sugar
1/4 cup reduced-sodium soy sauce or tamari
2 garlic cloves, minced
1 tablespoon ginger root, minced or grated
Ham Skewers:
4-6 skewers
1 1/2 pounds Smithfield Ham Steaks, cut into 1 1/2-2-inch squares
1 large red onion, cut into eight wedges, root end intact
2-3 sweet bell peppers, cut into 1 1/2-2-inch pieces
1/2 fresh pineapple, cored and cut into 1/2-inch thick slices
4 ounces fresh button or crimini mushrooms, halved (optional)
1 green onion, thinly sliced, for garnish
To prepare glaze: In small bowl, whisk ketchup, pineapple juice, brown sugar, soy sauce, garlic and ginger root until combined; reserve, refrigerated, for up to 3 days.
Heat grill to medium-high. Skewer ham, onion, bell pepper, pineapple and mushrooms by alternating pieces and brush with about one-third of glaze.
Grill 8-12 minutes, or until slightly charred and vegetables are cooked as desired, turning as needed. Glaze skewers about halfway through cooking and again before serving. Garnish with green onion.
Bacon S'mores
Prep time: 20 minutes
Cook time: 5 minutes
Servings: 8
4 strips any variety Smithfield Bacon
8 marshmallows
2 chocolate bars (about 3 ounces), broken into eight pieces
8 graham crackers, broken into squares
Heat oven to 375° F.
On lightly sprayed, foil-lined, rimmed baking pan, separate strips of bacon; lay flat in single layer and gently stretch each strip 1-2 inches. Bake 10-12 minutes, or until bacon begins to curl and edges just start to crisp, rotating pan halfway through cooking. Remove bacon from pans with spatula while warm, draining briefly on absorbent paper; reserve.
Cut bacon slices in half crosswise and tightly wrap around marshmallows, securing with skewer or roasting stick. Roast marshmallows over open fire until toasty brown on edges, being careful not to burn or ignite marshmallows.
Immediately sandwich roasted marshmallows between two graham crackers with piece of chocolate.
Source: Smithfield