(Family Features) Take advantage of warmer weather by hosting an outdoor brunch serving an egg-tastic recipe that's sure to please your friends and family. Eggs Benedict Casserole is a do-it-yourself version of the restaurant classic, combining traditional ingredients with a spicy twist. Requiring only one dish for baking and serving, this recipe is perfect for special occassions and celebrations, or casual weekend brunches at home.
Here's a list of items to consider when preparing for your outdoor brunch:
Angelic Eggs - Take hard-boil eggs, remove the yolks and combine with mayonnaise, chopped salmon, dill, Tabasco Original Red Sauce and salt; then refill the egg whites and serve.
Dog-Day Fruit Salad - Combine your favorite fresh fruits, such as strawberries, blueberries and raspberries, with orange juice, orange peel, and honey.
Classic Bloody Mary - Combine tomato juice, vodka, Worcestershire sauce, lime juice and Tabasco Original Red Sauce; stir, and pour over ice. Garnish with a celery stalk.
For more brunch recipes, visit www.Tabasco.com.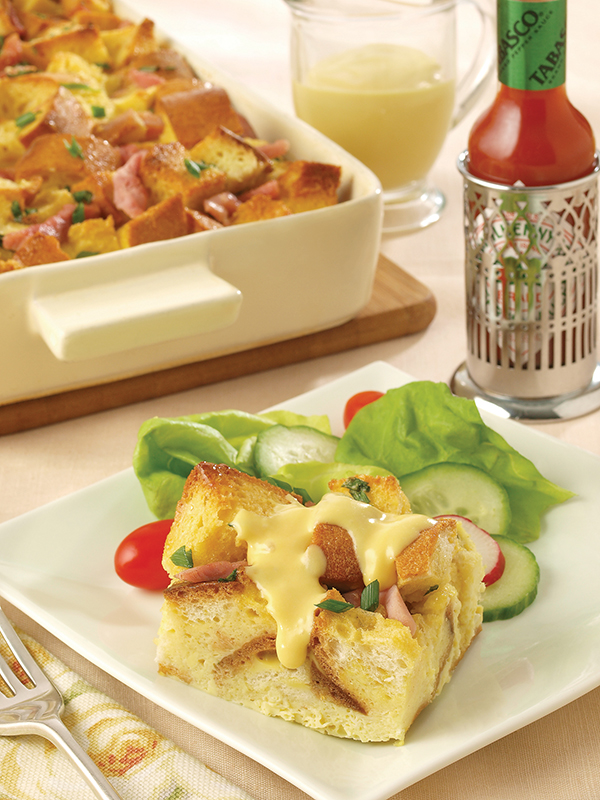 Eggs Benedict Casserole
6 cups French bread, cut into cubes
12 large eggs
1 1/2 cups milk
3 tablespoons fresh chives, chopped
1 teaspoon salt
2 1/2 teaspoons Tabasco brand Original Red Sauce, divided
12 ounces Canadian bacon, chopped
1 (9-ounce) package Hollandaise sauce
Preheat oven to 350° F.
Place French bread cubes in 8-cup shallow casserole dish. Beat eggs, milk, chives, salt and 2 teaspoons Tabasco sauce in large bowl; stir in Canadian bacon. Pour over bread cubes. Let mixture stand 5 minutes. Bake 40 minutes or until mixture is puffed and set.
Meanwhile, prepare Hollandaise sauce as package directs. Stir in 1/2 teaspoon of Tabasco sauce. Keep warm until ready to use.
Serve casserole with warm Hollandaise sauce.
Source: Tabasco
(Family Features) As warmer weather approaches, so do a variety of special occasions. If you're looking for an easy way to celebrate with family and friends, brunch is a perfect option.
Not too early and not too late, everyone can enjoy a hearty meal and good company before the day gets busy. A brunch menu can include both elegant options and classic favorites, so it's easy to customize to fit the occasion and your guests' preferences.
With so many possibilities, brunch is the perfect opportunity to get creative. Develop your own versions of traditional dishes by incorporating new ingredients, such as using duck bacon to change up your menu and add some extra flair.
With a rich, hearty texture, duck bacon is more like pork bacon than traditional poultry bacons. Made from duck breast meat, it brings a touch of sophistication to any menu item. Plus, duck bacon is healthier for you, too. With 26 percent less sodium and 57 percent less fat than traditional pork bacon, it's the perfect way for you to enjoy great flavor without the extra calories.
For an exciting added element, use duck bacon with this version of classic Eggs Benedict. This brunch recipe feeds a crowd and is ready in less than 30 minutes, making it the perfect choice when you want to whip up a quick entree for family or friends.
Find more brunch recipes and information about cooking with duck at mapleleaffarms.com.
Eggs Benedict with Duck Bacon
Servings: 6
Hollandaise Sauce:
3 egg yolks
10 tablespoons unsalted butter, cut into 1-tablespoon pieces
2 teaspoons fresh lemon juice
1/2 teaspoon kosher salt
1/8 teaspoon cayenne pepper
12 slices Maple Leaf Farms Duck Bacon, cut in half
12 English muffin halves, toasted
12 eggs, poached
pinch of salt
chopped parsley, for garnish (optional)
To make Hollandaise Sauce: Fill medium saucepan with 1 inch of water (for double-boiler) and bring to simmer over medium heat. Reduce heat to low.
In medium bowl, whisk egg yolks until they lighten in color, about 1 minute.
Place bowl with eggs over saucepan and whisk constantly until thickened and doubled in volume, about 3-5 minutes.
Remove bowl from saucepan and whisk in butter, 1 tablespoon at a time. Whisk in lemon juice, salt and cayenne pepper. Keep warm, covered, over double-boiler.
To cook duck bacon and poach eggs: In skillet over medium-high heat, fry duck bacon halves 4 minutes per side; set aside. In large pot over medium heat, bring water to simmer and add salt.
Crack egg into cup or small bowl. Gently pour egg into simmering water; repeat for additional eggs, leaving room around each one for cooking. Cook 2-4 minutes, depending on desired firmness.
Using slotted spoon, carefully remove eggs from pan and place on paper towels to drain.
To assemble Eggs Benedict: Lay two toasted English muffin halves on each plate. Top each with two duck bacon halves. Carefully place poached egg on top of each muffin stack. Pour Hollandaise Sauce over each. Garnish with parsley, if desired.
Source: Maple Leaf Farms