(Family Features) Summer means it's time to stock up on fresh produce and light the grill for a season of outdoor gatherings with friends and family. Make entertaining easier with flavorful options that can make menu-planning a breeze all summer long.
A nutritious and versatile ingredient, American Pecans can be your secret weapon for a variety of entertaining occasions. Add one bag of pecans to your shopping list and transform standby recipes into wholesome and delicious meals and snacks for the whole crowd.
Enjoy the long summer nights on the back porch with a Spiced Pecan Grilled Peach Salad, packed with the essential flavors and textures of summertime. Or serve up Pecan-Crusted Asian Turkey Meatball Lettuce Wraps, a light and delicious appetizer or easy entree to keep guests satisfied.
Discover more summertime entertaining recipes and cooking tips at AmericanPecan.com.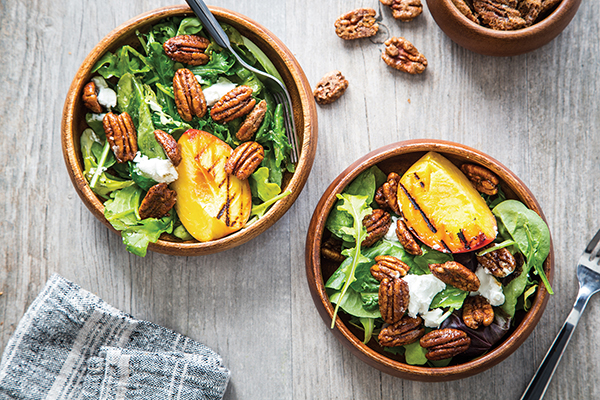 Spiced Pecan Grilled Peach Salad with Goat Cheese
Spiced Pecans:
1 egg white
3 tablespoons dark brown sugar
1 teaspoon cinnamon
1/4 teaspoon cayenne pepper
1/4 teaspoon kosher salt
2 cups pecan halves
Salad:
1/4 cup, plus 2 teaspoons, extra-virgin olive oil or pecan oil, divided
1/4 cup white wine vinegar
1 teaspoon Dijon mustard
1/4 teaspoon garlic powder
1/8 teaspoon kosher salt
1/4 teaspoon cayenne pepper
2 large peaches, halved and pitted
6 cups mixed baby greens
4 ounces soft goat cheese
To make spiced pecans: Heat oven to 275° F. Line rimmed baking sheet with parchment paper.
In bowl, whisk egg white, brown sugar, cinnamon, cayenne pepper and salt until well combined. Fold in pecans and mix until evenly coated. Spread in single layer on baking sheet.
Bake 45-50 minutes, stirring occasionally until pecans are fragrant and golden brown. Allow to cool completely.
To make salad: In bowl, whisk 1/4 cup olive oil, white wine vinegar, Dijon mustard, garlic powder, salt and pepper. Set aside.
Brush cut sides of peach halves with remaining olive oil; grill until grill lines appear and peaches become tender, about 3-5 minutes. Remove peaches and slice.
Divide greens among four plates. Top with grilled peach slices and goat cheese. Divide 1 cup spiced pecans evenly among salads and reserve remaining for snack. Top each salad with drizzle of vinaigrette.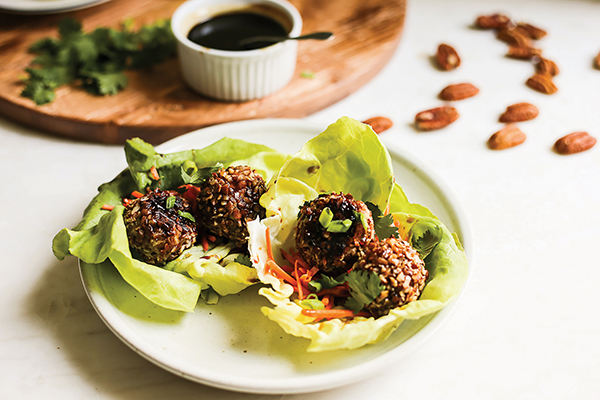 Pecan-Crusted Asian Turkey Meatball Lettuce Wraps
Meatballs:
1 1/2 pounds ground turkey thigh
1/3 cup chopped green onions (about 2 stalks)
1 teaspoon toasted sesame oil
1/2 teaspoon crushed red pepper flakes
1 teaspoon kosher salt
1/2 teaspoon black pepper
2 cloves garlic, minced
1/4 teaspoon powdered ginger
1 cup fresh pecans
Sauce:
1/2 cup soy sauce
1/2 teaspoon cornstarch
1/2 teaspoon fish sauce
1 tablespoon toasted sesame oil
1 head butter lettuce leaves
1/2 cup matchstick carrots
chopped scallions (optional)
cilantro leaves (optional)
Heat oven to 375° F.
To make meatballs: Using hands, combine ground turkey, green onions, sesame oil, red pepper flakes, salt, pepper, garlic and powdered ginger.
In food processor, pulse pecans until coarsely ground to similar consistency as panko bread crumbs.
Scoop 1 tablespoon meat mixture at a time and roll into meatballs. Roll meatballs in ground pecans until evenly coated.
Place pecan-crusted meatballs on parchment-lined baking sheet; bake approximately 20 minutes. Flip after 15 minutes.
To make sauce: In small saucepan over medium heat, combine soy sauce, cornstarch, fish sauce and sesame oil. Stir until sauce thickens, about 3 minutes. Remove from heat and let cool.
Sprinkle lettuce cups with shredded carrots. Place meatballs on top and drizzle with sauce. Garnish with scallions and cilantro, if desired.
Source: American Pecan Council
Roasted Slicing Chicken From the Deli
(Family Features) Looking for a way to get out of the kitchen to enjoy warm weather activities with friends and family? Here's a secret for cooks looking for time-saving shortcuts that won't compromise the taste of homemade meals. Fully cooked, roasted chicken sliced to desired thickness at the deli counter can save hours of preparation time for dishes calling for roasted chicken as an ingredient. By substituting chicken that's already been slow-roasted and seasoned when bought sliced at the deli, meals can still have the homemade taste of roasted chicken even if the cook has spent the day at the beach, on the golf course or in the garden.
Deli slicing chicken is versatile, too. It can be sliced thick and then cut into pieces and tossed into a refreshing salad, or give a boost to a summery soup. Cut thin, deli slicing chicken goes gourmet when layered on soft slices of multigrain bread and combined with an assortment of fresh vegetables and spices.
Visit www.boarshead.com for more time-saving meal preparation tips.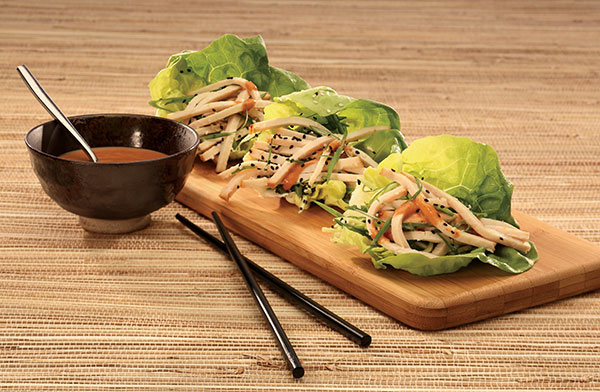 Chicken Lettuce Wraps with Barbecue Dressing
Servings: 4 wraps
Light and satisfying, tangy and sweet - this recipe has it all. Juicy roast chicken topped with a sweet and mild barbecue sauce and wrapped up in tender butter lettuce leaves makes a quick lunch or a light supper - and it all comes together in just minutes.
2 cups Boar's Head EverRoast Oven Roasted Chicken Breast, julienned
4 large butter lettuce leaves
1 cup mixed cucumber and green onion strips
1/4 cup barbecue sauce
1 teaspoon lemon juice
1 tablespoon mayonnaise
1 teaspoon mix black and white sesame seeds
Place the chicken onto the lettuce leaves and top with the cucumbers and onions. Mix the barbecue sauce with the lemon juice and mayonnaise and pour over the top. Sprinkle with the sesame seeds.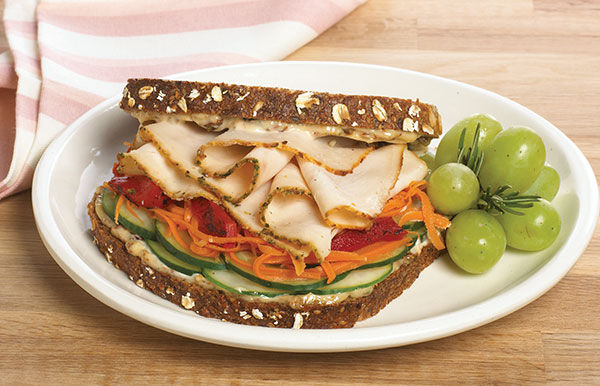 Chicken Gazpacho Sandwich
Servings: 4
The pungent tastes of roasted red peppers, sun-dried tomatoes, sweet carrots, cucumbers and spices turn a simple chicken sandwich into the perfect gourmet meal for a warm day or evening.
8 slices multi-grain bread
1 1/2 cups mayonnaise
1 small cucumber, sliced into thin rounds
1 cup grated carrots
1 teaspoon dried rosemary
1 tablespoon garlic powder
1/2 cup drained roasted red peppers, cut julienne style
1/2 cup drained, sun-dried tomatoes in oil, cut julienne style
12 slices Boar's Head EverRoast Oven Roasted Chicken Breast
Place 4 bread slices on a work surface. Spread each with a layer of mayonnaise and add enough cucumbers to form a layer. Sprinkle with carrots and a pinch of dried rosemary and garlic powder. Mix peppers with tomatoes and layer on top of carrots. Evenly divide chicken among sandwiches. Close sandwich with remaining bread slices and serve.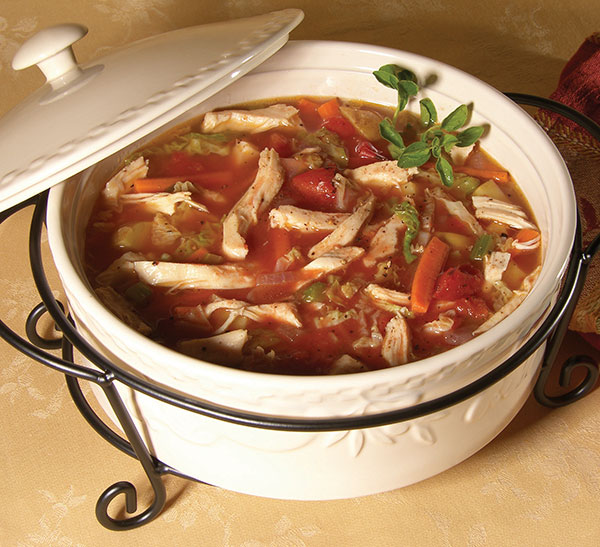 Pulled Chicken and Tomato-Vegetable Soup
Servings: 6
Cut the cooking time for this flavorful soup by substituting deli slicing chicken for recipes calling for pre-cooked chicken. Make sure to use a quality chicken that is sliced fresh at the deli for a homemade chicken taste.
2 tablespoons olive oil
1/4 head cabbage, shredded
1 red onion, cut into a small dice
3 stalks celery, finely chopped
4 small Yukon Gold potatoes, cut into a 1/2-inch dice
2 large carrots, cut into
1-inch julienne strips
2 teaspoons dried oregano, 6 sprigs for garnish
2 14-ounce cans chicken broth
2 14-ounce cans fire-roasted tomatoes with liquid
1 pound (1/4 inch thick) slices Boar's Head EverRoast Oven Roasted Chicken Breast, cut in strips
Add olive oil to large soup pot and heat at medium high until oil is hot. Add cabbage, onion, celery and potatoes; sauté for 8 minutes, stirring occasionally. Add carrots, dried oregano, chicken broth and tomatoes. Cook 20 minutes or until vegetables are tender. Use your fingers to pull chicken into strips; add to soup. Serve in individual bowls garnished with an oregano stem.
Source: Boar's Head