(Family Features) This Cinco de Mayo, make sure you're prepared to celebrate the Mexican victory over the French at the Battle of Puebla on May 5, 1862. Gather your family on this festive day to enjoy music, dancing and, of course, great Mexican food.
As you're getting ready for this year's fiesta, keep Mama Ortega in mind. Maria Conception Jacinta Dominguez Ortega, otherwise known as Mama Ortega, raised a family of 13 children with homemade Mexican meals every night. One hundred fifty years later her traditions still live on with great Mexican foods from Ortega.
Make some of your own family traditions with great recipes such as Pasta and Grilled Vegetable Salad with Cilantro Dressing, Taco Casserole or, perhaps, a Frozen Margarita Pie. From tasty whole kernel corn taco shells and delicious salsas to authentic taco sauces and diced green chiles, Ortega offers a wide variety of Mexican food products to meet all of your family's needs.
To get some new ideas on Cinco de Mayo recipes and valuable coupons, visit www.ortega.com.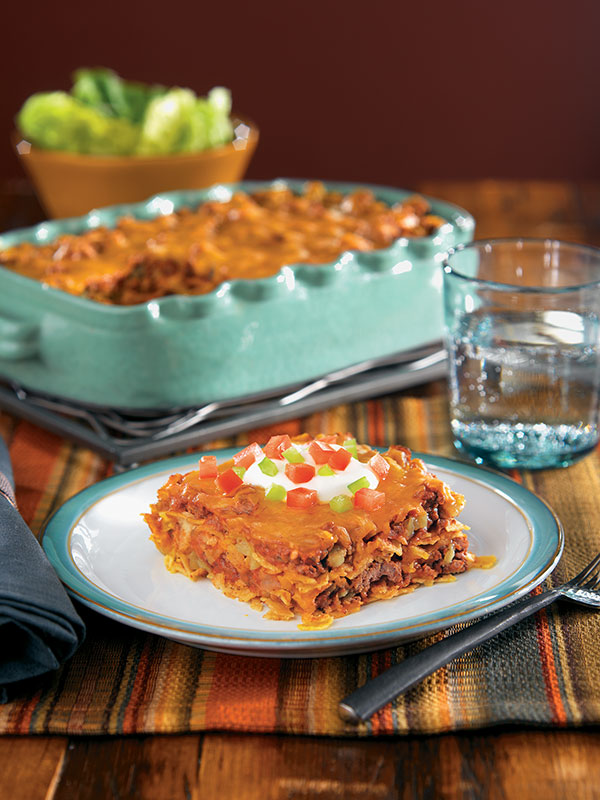 Taco Casserole
Prep Time: 10 minutes
Start to Finish: 30 minutes
Makes: 8 servings
1 pound lean ground beef
1/2 cup chopped onion
1 bottle (8 ounces) Ortega Taco Sauce
3/4 cup water
1 can (4 ounces) Ortega Fire-Roasted Diced Green Chiles
1 packet (1.25 ounces) Ortega 40% Less Sodium Taco Seasoning Mix
1 package (12-count) Ortega Whole Grain Corn Taco Shells, broken, divided
2 cups (8 ounces) shredded cheddar cheese, divided
Chopped tomatoes, chopped green bell pepper, sour cream
Preheat oven to 375°F. Grease 11 x 7-inch baking dish.
Cook beef and onion in large skillet over medium heat, stirring occasionally, until beef is browned. Drain and discard excess fat.
Stir in taco sauce, water, chiles and seasoning mix; bring to a boil. Reduce heat to low. Cook 3 to 4 minutes, stirring occasionally.
Layer half of broken taco shells on bottom of prepared baking dish. Cover with half of meat mixture; sprinkle with 1 cup cheese.
Repeat layers with remaining ingredients.
Bake 20 to 25 minutes or until bubbly and cheese is melted. Serve with desired toppings.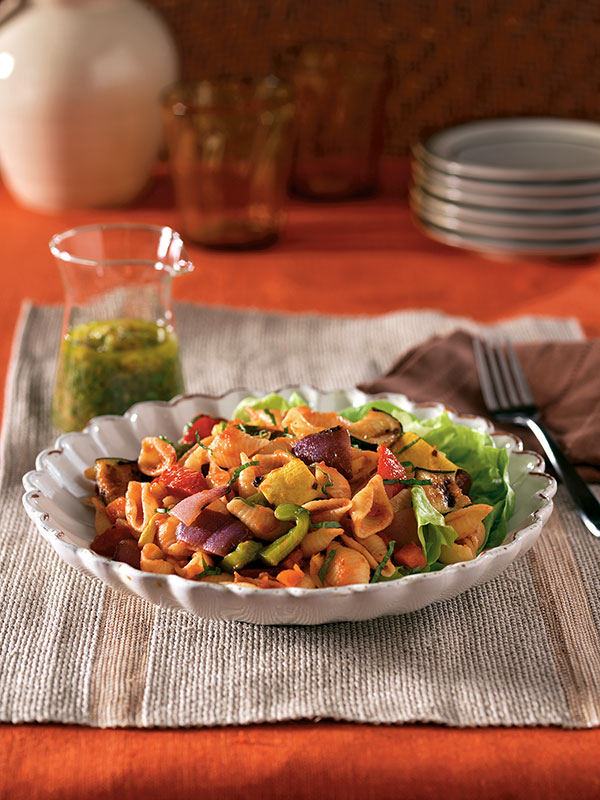 Pasta and Grilled Vegetable Salad with Cilantro Dressing
Prep Time: 15 minutes
Start to Finish: 30 minutes
Makes: 6 to 8 servings
Dressing
1 can (4 ounces) Ortega Fire-Roasted Diced Green Chiles
1/4 cup chopped fresh cilantro
1/4 cup olive oil
1 tablespoon Regina red wine vinegar
1/2 teaspoon Polaner minced garlic
Salt and black pepper, to taste
Salad
1 red bell pepper, cored, seeded, cut in half
1 green bell pepper, cored, seeded, cut in half
1 medium zucchini, cut lengthwise into thin slices
1 medium yellow squash, cut lengthwise into thin slices
1 large red onion, cut into 1/2-inch-thick wedges
1 pound pasta shells or penne, cooked
1 jar (16 ounces) salsa
1/4 cup firmly packed fresh basil, cut into thin strips
Lettuce leaves (optional)
Combine chiles, cilantro, oil, vinegar and garlic in small bowl. Whisk until well blended. Season with salt and pepper, to taste. Set aside.
Preheat grill to medium-high heat, about 15 minutes. Lightly brush grill grid with vegetable oil.
Grill bell peppers, zucchini, squash and onion 3 to 5 minutes per side or until fork-tender. Remove vegetables from grill: cut into bite-size pieces.
Toss cooked pasta, salsa, sliced vegetables and basil in large bowl or serving platter. Serve with dressing on lettuce leaves, if desired.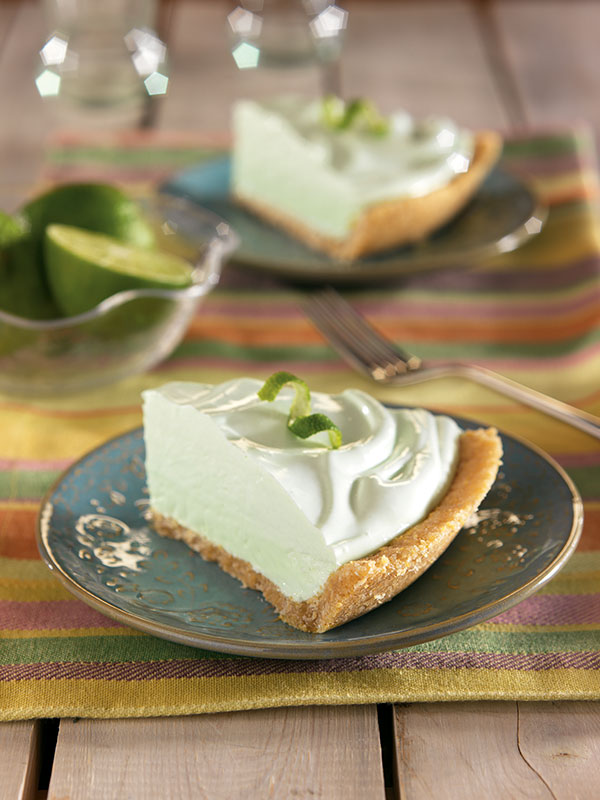 Frozen Margarita Pie
Prep Time: 15 minutes
Start to Finish: 4 hours
Makes: 8 servings
Crust
10 Ortega Yellow Corn Taco Shells
1/2 cup (1 stick) butter
1/2 cup granulated sugar
Filling
1 can (14 ounces) sweetened condensed milk
1/3 cup frozen limeade, thawed
2 tablespoons orange juice
1 drop green food coloring
1 cup whipping cream
Lime curls (optional)
Place taco shells in food processor and pulse until evenly ground.
Melt butter in medium saucepan over low heat. Remove from heat. Stir in taco crumbs and sugar until well blended. Press firmly over bottom and up sides of 9-inch pie plate.
Place in freezer until firm.
Combine sweetened condensed milk, limeade, orange juice and food coloring in large mixing bowl.
Whip cream until soft peaks form. Fold whipped cream gently into condensed milk mixture until blended. Pour onto prepared crust.
Freeze uncovered, 4 hours or until firm. Let stand 10 minutes before serving. Garnish with lime curls, if desired.
Tip: To crush taco shells without a food processor, place them in a resealable plastic food storage bag and run a rolling pin over the shells until they're evenly crushed.
Source: Ortega
(Family Features) If the very notion of holiday hosting has you feeling a bit overwhelmed, get organized with these simple ideas that can help you serve up a successful holiday celebration.
Entertainment: Ensure guests enjoy a good time by offering entertainment that is suitable for their personality types. If your guests are more drawn to energetic activities, choose light-hearted, competitive games like charades. For guests who are more laid back, organize classic board games. There are many popular games available in special holiday editions for extra-festive fun. You can also simply play holiday movies and music in the background for crowds that would rather just mingle.
Beverages: Stock up on refreshments all ages can enjoy. Keep a kid-friendly favorite like lemonade on hand, and tea is a traditionally well-received option for the grownups. Put a special holiday touch on your drink menu with a recipe like this Holiday Hot Tea featuring Milo's Famous Sweet Tea, which has been fresh brewed from custom-blended tea leaves with no added acids or preservatives for generations.
Favors: Send guests home with a sweet memory of the event, such as an ornament that connects to the party's theme or a bag of seasonal treats like homemade cookies or candy to nibble on during the trip back home.
Simple Snacks: Building your menu around simple snacks and finger foods guests can nibble on while they mingle is perfectly acceptable for almost any type of holiday gathering. Include options that can satisfy all the taste buds. You can even combine sweet and sour with a seasonal crowd-pleaser like this Lemonade Cranberry Orange Bread, which draws its flavor from a secret ingredient: Milo's All Natural Lemonade.
Find more holiday hosting ideas and recipes at drinkmilos.com .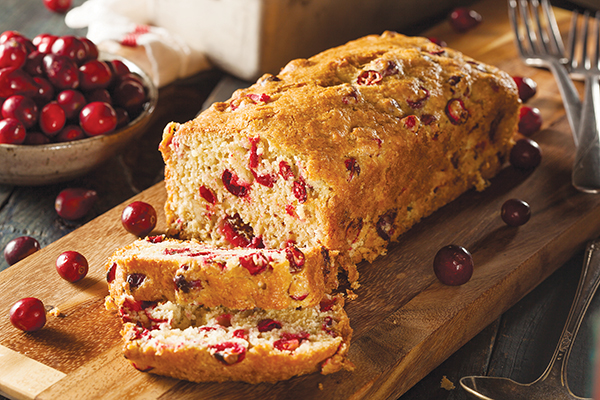 Lemonade Cranberry Orange Bread
Prep time: 15 minutes
Cook time: 1 hour
Servings: 8
1 can cranberry sauce
3/4 cup Milo's All Natural Lemonade
1 orange, zest only
2 tablespoons vegetable oil
1 egg
2 cups flour
1 cup sugar
1 1/2 teaspoons baking powder
1 teaspoon salt
1/2 teaspoon baking soda
Heat oven to 350° F.
In large bowl, mash cranberry sauce into small pieces. Add lemonade, orange zest, vegetable oil and egg; mix until blended.
In separate bowl, combine flour, sugar, baking powder, salt and baking soda. Combine wet and dry ingredients; mix until batter is formed.
Pour batter into greased loaf pan. Bake 1 hour. Let cool 20 minutes before slicing and serving.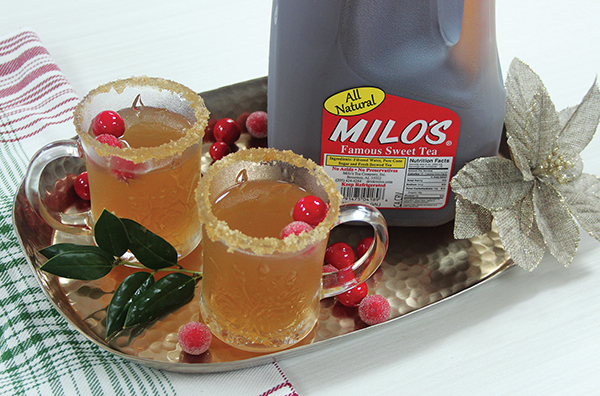 Holiday Hot Tea
Prep time: 5 minutes
Cook time: 2 hours, 30 minutes
Servings: 12
12 cups Milo's Famous Sweet Tea
2 cans (12 ounces each) frozen limeade juice concentrate
1 orange, thinly sliced, plus additional for garnish (optional)
12 whole cloves
4 cinnamon sticks
1 teaspoon vanilla
1 cup fresh cranberries
1 cup ginger ale
raw sugar, for garnish (optional)
In large slow-cooker, combine sweet tea, limeade concentrate, orange slices, cloves, cinnamon sticks, vanilla, cranberries and ginger ale; stir.
Heat on high 30 minutes then reduce heat to low for 2 hours, or heat on low 2 hours then reduce setting to warm overnight.
Invert moistened glass rims in sugar then fit orange slice over rim, if desired.
Note: For easier serving, place cloves in tea ball or double layer of coffee filters sealed with kitchen twine.
Photo courtesy of Getty Images (Lemonade Cranberry Orange Bread)
Source: Milo's Tea Company