(Family Features) When school is in session, it's the perfect time to renew your family's healthy eating habits by getting in a groove of lunchbox packing.
While packing a healthy school lunch day after day can seem daunting, it doesn't have to be. By taking the free Power Your Lunchbox Promise, you can gain access to customizable, make-ahead lunchbox inspiration like Black Bean Empanadas and Rainbow Bento Boxes, which creatively include servings of fruits and veggies to keep kids' brains charged all day.
Making the promise not only signals a commitment to making healthier meal choices this year, it also helps those in need. For every promise made, health-focused partner brands will collectively donate $1 to Feeding America programs that support families and children. In addition to kid- and registered dietitian-approved breakfast, lunch, snack and dinner recipes, the promise website features coupons, health tips to help your family during the school year, lunchbox ideas and giveaways.
Additionally, teachers have a special section of the site where they can make the promise as a classroom and download free fruit and veggie themed classroom decor and lesson plans.
To find your lunchbox inspiration and make the promise, visit poweryourlunchbox.com.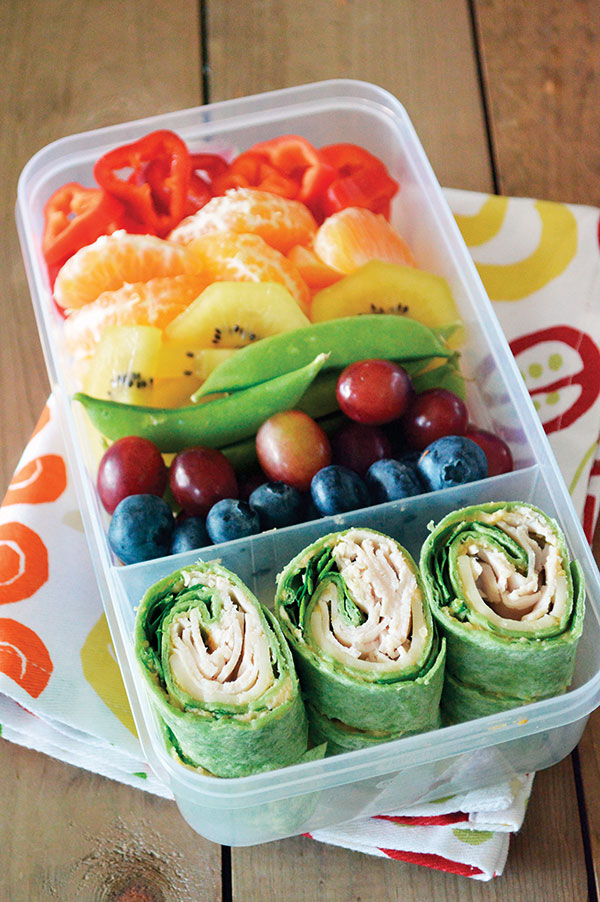 Rainbow Bento Box
Recipe courtesy of Produce for Kids
Prep time: 15 minutes
Servings: 2
2 red mini sweet peppers, sliced
1 mandarin, peeled and segmented
1 kiwi, sliced
1/2 cup sugar snap peas
1/4 cup blueberries
1/2 cup red seedless grapes
1 large spinach wrap
1 tablespoon hummus
2 slices provolone cheese
2 ounces low-sodium deli-sliced turkey
1/2 cup baby spinach, chopped
Assemble two lunchboxes each with half of the peppers, mandarin, kiwi, snap peas, blueberries and grapes.
Lay wrap on flat surface. Spread with hummus and top with cheese, turkey and spinach. Roll up tightly and slice into 1-inch thick rounds. Add half to each lunchbox.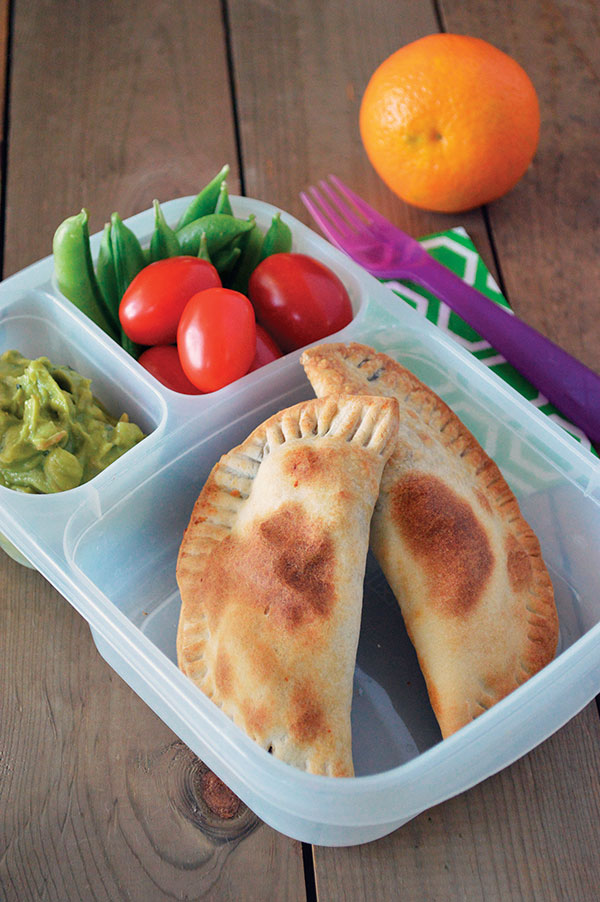 Black Bean Empanadas
Recipe courtesy of Produce for Kids
Prep time: 10 minutes
Cook time: 25 minutes
Servings 6
1/2 teaspoon olive oil
3 mini sweet peppers, finely chopped
1/4 cup finely chopped sweet onions
1/2 cup chopped tomatoes
1 cup no-salt-added black beans, drained and rinsed
1 tablespoon low-sodium taco seasoning
12 frozen empanada discs, thawed
3/4 cup shredded low-fat cheddar cheese
1 large egg white, beaten
6 guacamole minis
6 packages crispy fruit
In skillet over medium heat, heat oil. Add peppers, onions and tomatoes. Cook 3-4 minutes, or until tender. Add black beans and taco seasoning. Cook 2 minutes. Set aside to cool.
Heat oven to 375 F.
Lay empanada dough out on parchment-lined baking sheet. Fill with black bean filling and 1 tablespoon cheese. Fold dough over filling to create pocket. Use fork to press down sides to seal. Brush with egg whites. Repeat with remaining dough, filling, cheese and egg whites.
Bake 20-25 minutes, or until golden brown. Remove from oven and let cool.
Serve two empanadas with guacamole, for dipping, and crispy fruit on side.
Source: Produce for Kids
(Family Features) Coming up with fresh ideas every day to keep kids' lunches exciting is no small task. When the goal is an empty lunchbox and a full, happy tummy, the winning combination is a blend of nutrition and flavor.
Step up your game this school year with these ideas for a better lunchbox:
Get creative. Foods that look can good taste good, too. Transform sandwiches into fun shapes using cookie cutters or make tiny heart- or star-shaped, bite-size pieces of cheese for a fun finger food. Another fun idea: thread sliced and bite-sized vegetables on a wooden stick for a no-cook kabob. For a sweet variation, use fruit instead and sprinkle with coconut for extra flavor.
Skip the packaging. Little fingers can struggle to open pre-packaged foods, so instead opt for fresh ingredients that fit into a bento-style box. Not only can kids see what tasty treats await and dig straight into their meals, less packaging means less processing, which is good for their health and the environment.
Keep it simple. Opt for delicious, flavorful foods that deliver nutrients kids need and the taste they want without any extras. An option like Hidden Valley Simply Ranch makes for a rich and creamy complement to carrot sticks, cucumber and other lunchbox staples. With no artificial preservatives, flavors or colors this ranch is perfect for encouraging kids to eat the veggies you pack. Look for Classic Ranch or for a special twist, try flavors such as Cucumber Basil or Chili Lime.
Rely on the familiar. Refueling during the day is important to keep kids focused and able to mentally and physically tackle the rest of the school day. Avoid trying out new foods at lunchtime and save experimenting with new flavors for meals at home.
Go for variety. Representing multiple foods groups isn't only a good way to deliver good nutrition, the variety in colors and textures can make the meal more interesting and encourage kids to eat more. Include savory meats, crunchy crackers, veggies and sweet fruits.
Add a treat. Whether it's a favorite fruit or yogurt, a single piece of candy or even a simple note that says "I love you and I'm proud of you," find a way to add something sweet to every lunch and bring a smile to your child's daily routine.
Look for more kid-friendly meals at hiddenvalley.com.

Portable Veggie Kabobs with Tangy Veggie Dip
Prep time: 5 minutes
Cook time: 10 minutes
Total time: 15 minutes
Servings: 6-8
1 cucumber, sliced
1 cup broccoli florets
2 carrots, sliced
8 cherry tomatoes
6-8 wooden skewers
Hidden Valley Simply Ranch
Gently thread cucumber slices, broccoli, carrot slices and cherry tomatoes on skewers, placing 2-3 pieces of each veggie on each skewer to make a rainbow of colors.
Serve ranch dressing with veggies for dipping.
Tip: Add cheese cubes for protein on kabobs, if desired.
Photo courtesy of Mick Jones
Source: Hidden Valley