(Family Features) Summertime celebrations with friends, family and neighbors are a perfect way to enjoy the sunshine, warm weather and camaraderie. To satisfy a hungry crowd, though, you'll need recipes fit for the occasion.
Turn to a versatile signature ingredient like Grapes from California, which can be used in dishes of all kinds from refreshing salads and entrees to flavorful condiments and sweet desserts. Grapes are crisp, juicy and sweet, making them a fantastic addition of flavor and texture for a wide range of recipes. Whether fresh, sauteed, roasted, grilled or even pickled, grapes make it easy to take meals to the next level.
For example, you can start the festivities with grapes as an easy, portable and healthy snack perfect for summer days or use them as a juicy addition to this all-in-one Honey-Lime Quinoa and Grape Salad that's ideal as a light appetizer or a meal all on its own. Follow it up (or pair it) with a summertime staple – hot dogs – given a sweet-tart twist from pickled grape relish that takes these Sweet and Tangy Pickled Grape Hot Dogs to new heights.
Dessert can't be much easier than Creamy Vegan Grape Ice Cream as a dairy-free alternative to traditional summer sweets. Oat coffee creamer and pureed grapes are all you need to create this delicious frozen treat. Simply freezing whole grapes also makes for an easy and healthy frozen dessert.
Visit GrapesFromCalifornia.com to discover more summer entertaining inspiration.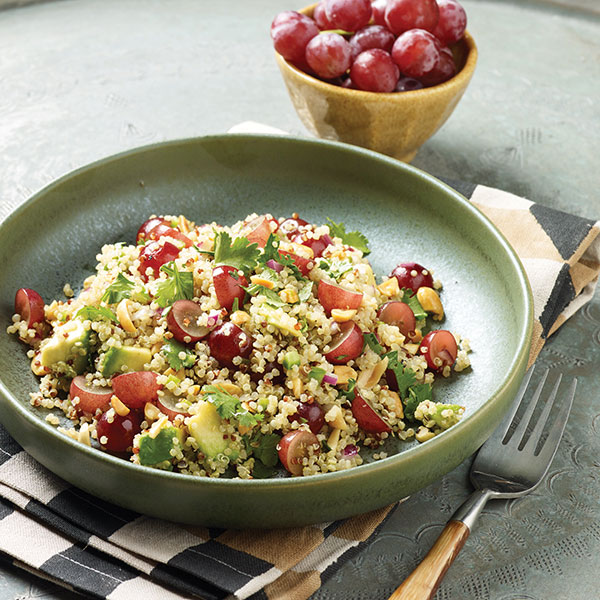 Honey-Lime Quinoa and Grape Salad
Prep time: 15 minutes, plus at least 1 hour chill time
Cook time: 22 minutes
Servings: 6 (1 1/3 cups per serving)
Lime Vinaigrette:
1/2 cup extra-virgin olive oil
1/3 cup lime juice
2 tablespoons honey
3/4 teaspoon sea salt
freshly ground pepper, to taste
Salad:
1 1/2 cups quinoa
2 cups vegetable broth
2 cups halved Grapes from California
1/2 cup minced red onion
1/4 cup chopped fresh cilantro
2 tablespoons minced jalapeno pepper
1 large firm, ripe avocado, peeled, pitted and cut into bite-size pieces
1/2 cup chopped peanuts (optional)
To make lime vinaigrette: In medium bowl, whisk olive oil, lime juice, honey, sea salt and pepper, to taste.
To make salad: In fine mesh strainer, rinse quinoa; drain well. In medium saucepan, bring broth and quinoa to boil; reduce heat and simmer, covered, 12 minutes. Remove from heat and let stand 10 minutes then fluff with fork and let cool. Transfer to large bowl.
Pour vinaigrette over quinoa; stir well to coat. Add grapes, onion, cilantro and jalapeno pepper; cover and chill at least 1 hour.
Lightly stir in avocado and transfer to decorative bowl. Sprinkle with nuts, if desired.
Notes: Salad may be prepared and refrigerated up to 2 days ahead without avocado and peanuts. Add avocado and peanuts just before serving.
Nutritional information per serving: 520 calories; 10 g protein; 52 g carbohydrates; 32 g fat (55% calories from fat); 4 1/2 g saturated fat (8% calories from saturated fat); 0 mg cholesterol; 490 mg sodium; 7 g fiber.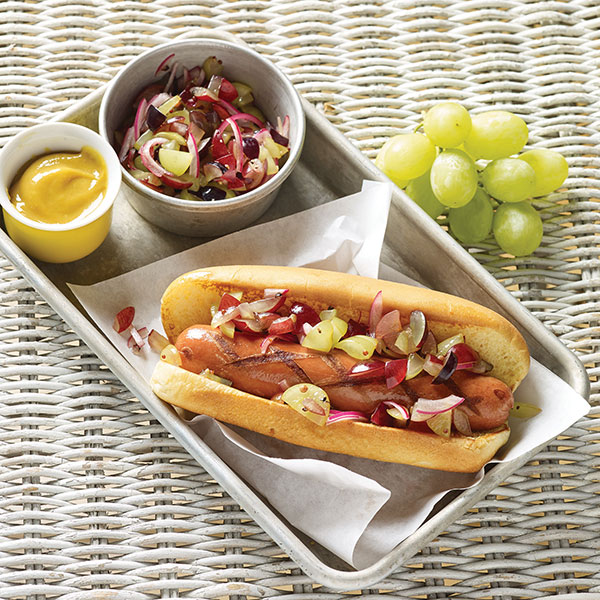 Sweet and Tangy Pickled Grape Dogs
Prep time: 15 minutes, plus 1 hour marinating time
Cook time: 5 minutes
Servings: 8 (1/4 cup relish per serving)
1/2 teaspoon mustard seeds
1/2 teaspoon coriander seeds
1/2 teaspoon black peppercorns
1/2 cup wine vinegar
1/4 cup packed brown sugar
2 1/4 cups quartered or coarsely chopped Grapes from California (red, green, black or combination)
1/4 cup thinly sliced red onion
8 turkey or chicken hot dogs
8 hot dog buns, lightly toasted
Place mustard seeds, coriander seeds and black peppercorns in small resealable bag. Using meat mallet or rolling pin, crush seeds and peppercorns.
In small saucepan, stir vinegar, sugar, seeds and peppercorns; bring to boil. Remove from heat and stir to dissolve sugar; let cool. Stir in grapes and onion; set aside to cool and marinate 1 hour, stirring occasionally.
Heat grill to medium heat.
Grill hot dogs 5 minutes, turning occasionally, or until charred and heated through.
Place hot dogs in buns. Using slotted spoon, top with pickled grapes.
Nutritional information per serving: 280 calories; 10 g protein; 39 g carbohydrates; 10 g fat (32% calories from fat); 2 g saturated fat (6% calories from saturated fat); 35 mg cholesterol; 630 mg sodium; 1 g fiber.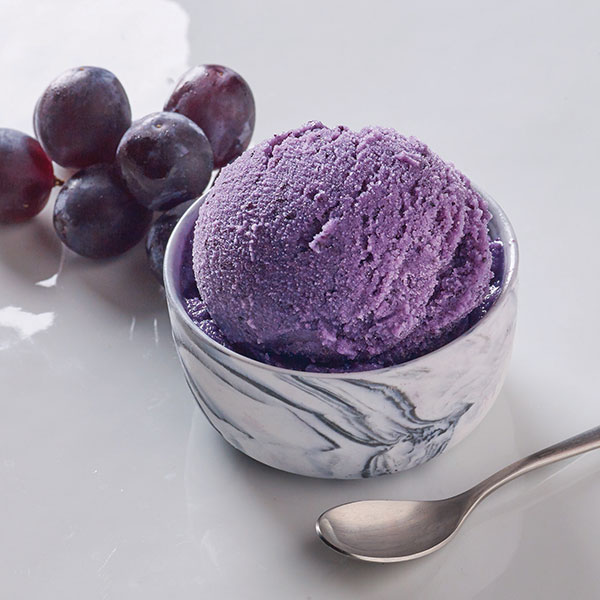 Creamy Vegan Grape Ice Cream
Prep time: 20 minutes
Cook time: 10-15 minutes
Servings: 8 (1/2 cup per serving)
1 pound stemmed black Grapes from California
12 ounces vanilla oat coffee creamer, well chilled
12 ounces unsweetened oat coffee creamer, well chilled
In high-speed blender, puree grapes until smooth. Transfer to medium saucepan and bring to simmer. Reduce heat to low and cook 10-15 minutes, or until reduced to 1 cup. Cover and refrigerate until well chilled.
Stir creamer into pureed grapes and pour into bowl of ice cream maker. Freeze according to manufacturer's directions. Transfer to freezer-safe container; cover and freeze until firm.
Substitution: For lighter color, use 3/4 pound black grapes and 1/4 pound red.
Note: Make sure ice cream maker bowl is well chilled or frozen before making ice cream.
Nutritional information per serving: 140 calories; 0 g protein; 22 g carbohydrates; 6 g fat (39% calories from fat); 0 g saturated fat; 0 mg cholesterol; 45 mg sodium; 1 g fiber.
Source: California Table Grape Commission
(Family Features) Planning ahead for family meals around the holidays can be a headache-inducing practice, but putting to work recipes that everyone can enjoy makes it a much more enjoyable process. By planning out an evening's worth of courses, you can take care of hungry pre-dinner guests, knock a main dish out of the park and cap off everyone's night with a spectacular dessert.
These recipes for Culinary Education Center House Fondue, Pan Chicken with Grapefruit Shallots and Mint Sauce, and Chocolate Buttermilk Layer Cake will help keep everybody satisfied throughout the party, from start to finish. Find more holiday recipes at culinary.net.
Fruit and Fowl for Family
Make your meal delightfully tasty with simple-to-create Pan Chicken with Grapefruit Shallots and Mint Sauce. This quick, easy recipe pairs succulent chicken with sweet Texas grapefruit juice, which provides a light flavor enhancement and a fat-free source of beneficial components such as vitamin A, vitamin C and lycopene. Find more recipes that take advantage of grapefruit's quality and taste at Texasweet.com.
Pan Chicken with Grapefruit Shallots and Mint Sauce
Servings: 4
1/4 teaspoon salt, plus additional, to taste
1/4 teaspoon coarse black pepper, plus additional, to taste
4 boneless skinless chicken breasts, halved
3 teaspoons olive oil, divided
1/4 cup shallots
1/4 teaspoon crushed red pepper
1 cup chicken broth
1/2 cup fresh Texas Rio Star Grapefruit juice
1 tablespoon minced mint, divided
2 teaspoons all-purpose flour
4 mint leaves
Salt and pepper chicken.
In large skillet, heat half the oil over medium-high heat. Add chicken and sear until both sides are browned well, about 3 minutes on each side. Transfer chicken to plate and tent with foil.
Reduce heat to medium and add remaining oil to pan. Add shallots and crushed red pepper. Cook about 2 minutes, stirring constantly. Remove from heat.
In small bowl, whisk together broth, grapefruit juice, half the minced mint and flour. Add to skillet. Cook, whisking until slightly thickened, about 3 minutes.
Return chicken to skillet with juices; reduce heat to low. Season with additional salt and pepper, to taste. Simmer until chicken is cooked through, about 4 minutes.
Serve chicken with sauce spooned over. Use remaining minced mint and mint leaves to garnish.
Melted and Amazing
From the presentation to the pairings, it's easy to make an ordinary spread extraordinary this holiday season. Cheese is a good starting place for properly pairing food and wine to make flavors more vibrant. Take this year's event to the next level with this Culinary Education Center House Fondue to bring the wow-factor to your gathering by combining three melted cheeses with light wine for an enjoyable appetizer. To find more ways to incorporate cheese into your holiday entertaining, visit rothcheese.com.
Culinary Education Center House Fondue
Cook time: 45 minutes
Servings: 6
3/4 pound Grand Cru Original, shredded
3/4 pound Grand Cru Reserve, shredded
1/2 pound Roth Fontina, shredded
16 ounces Pinot Grigio or other light- to medium-bodied white wine
1 loaf crusty artisan bread
fresh apples, grapes and pears
black and white pepper (optional)
nutmeg (optional)
In ceramic fondue pot, combine cheeses and wine; stir to combine. Allow mixture to soak 15-30 minutes.
Heat mixture over low heat, approximately 7-10 minutes, stirring constantly with wooden spoon. Do not allow mixture to boil. When cheese has melted completely, remove from heat and transfer to tabletop burner.
Serve fondue with chunks of bread and fruit. If desired, provide pepper and/or nutmeg guests can sprinkle onto a plate and use for dipping bread and cheese. Pair with chilled dry Riesling and a shot of authentic Swiss kirschwasser.
A Chocolatey Finishing Touch
There's no better way to round out a holiday party than with a delicious dessert, especially one packed with everyone's favorite ingredient – chocolate. This candy-coated Chocolate Buttermilk Layer Cake can put the finishing touch on your holiday celebration. Find more scrumptious dessert recipes at nestle.com.
Chocolate Buttermilk Layer Cake
Servings: 12
3/4 cup Nestlé Toll House Baking Cocoa, plus extra for coating pans
2 1/4 cups cake flour
2 teaspoons baking soda
1 teaspoon fine salt
1 1/4 cups buttermilk, at room temperature
1/2 cup brewed coffee or water
2 teaspoons vanilla extract
1 cup unsalted butter, at room temperature
2 cups superfine sugar
4 large eggs, at room temperature
2-3 containers (16 ounces each) prepared chocolate frosting, or about 3 3/4-5 1/2 cups homemade
1-2 Nestlé Crunch Candy Bars, finely chopped
24-36 pieces Nestlé Butterfinger Bites Candy, finely chopped
Heat oven to 350° F.
Grease bottoms of three 8- or 9-inch-round cake pans; line with parchment or wax paper circle. Grease parchment then coat lightly with small amount of cocoa, tapping out excess.
In large bowl, sift together flour, 3/4 cup cocoa, baking soda and salt. In small bowl, combine buttermilk, coffee and vanilla extract.
In large mixing bowl, beat butter until smooth. Beat in sugar until smooth and creamy. Beat in eggs one at a time, beating well after each addition. Scrape down sides of bowl with rubber spatula; beat again. Alternately add flour mixture in three additions with buttermilk mixture in two additions, beginning and ending with flour mixture. Scrape down sides of bowl; beat again. Pour batter evenly into prepared pans.
Bake 20-25 minutes, or until wooden pick inserted in center comes out clean. Cool in pans on wire racks for 10 minutes. Invert each layer onto wire rack; remove parchment paper then invert right-side-up. Cool completely.
To assemble, level cakes (trim tops off), if desired, using serrated knife. Place dollop of frosting in center of cake pedestal or serving platter. Tear four strips of parchment paper and place in square around outer 3 inches of pedestal.
Place one cake layer over dollop of frosting. Spread about 1 cup frosting over top; sprinkle top evenly with about 1/4 cup chopped candy bar. Top with another cake layer; spread with about 1 cup frosting. Sprinkle with remaining chopped candy bar. Top with third cake layer. Cover top and sides with thin layer of frosting.
Refrigerate 15 minutes then cover with remaining frosting. With hands, press chopped candy pieces around sides of cake. After frosting has set, gently remove strips of parchment paper.
Cut cake into slices to serve.
Source: Texas Sweet, Roth Cheese, Nestle
Save
Save
Save
Save
Save
Save
Save
Save