(Family Features) Flavorful desserts are a staple of the holidays and the exciting, appetizing allure of new recipes can help elevate seasonal gatherings and create sweet memories. With near-endless options for celebrating the season, putting a plant-based twist on traditional recipes offers everyone the opportunity to indulge with decadent treats.
In seasonal sweets like Brulee Pumpkin Pie and No-Bake Chocolate Peanut Butter Cheesecake, an option like Country Crock Plant Cream can be used as a dairy-free substitute for heavy whipping cream. With 29% less saturated fat than dairy heavy whipping cream, it's an easy 1:1 swap and is also soy-free, certified plant-based and 100% vegan, making it ideal to have on hand during holiday baking season. It's all of the deliciousness of heavy cream, with none of the heaviness of dairy.
Visit CountryCrock.com for more delectable holiday dessert ideas.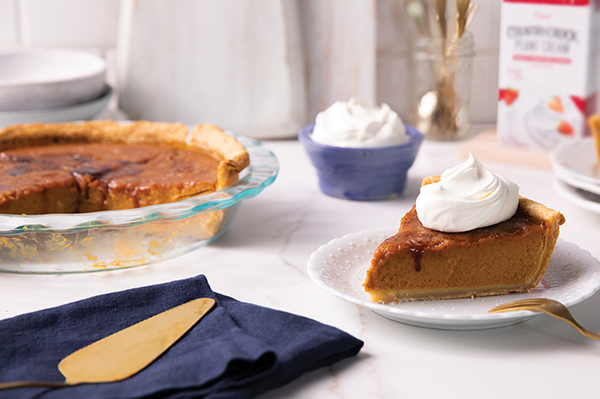 Brulee Pumpkin Pie
Prep time: 45 minutes
Cook time: 1 hour
Servings: 8
Pie Crust:
1 1/2 cups all-purpose flour
1 teaspoon sugar
1/4 teaspoon salt
8 tablespoons Country Crock Plant Butter, cold and cut into cubes
2 tablespoons chilled vegetable shortening, cut into pieces
4 tablespoons ice water
Pumpkin Filling:
1/2 cup maple syrup
1 tablespoon vanilla
1 can (15 ounces) pumpkin puree
1/4 cup coconut cream
1 cup Country Crock Plant Cream
1 cup brown sugar
1 teaspoon cinnamon
1 teaspoon ginger
1 teaspoon nutmeg
1/8 teaspoon ground clove
1/2 teaspoon salt
3 tablespoons cornstarch
3 tablespoons white granulated sugar
Whipped Topping:
2 cups Country Crock Plant Cream, chilled
1/4 cup powdered sugar
2 teaspoons vanilla extract
To make pie crust: Preheat oven to 350 F.
In bowl of food processor, add flour, sugar and salt; pulse to combine. Add cold plant butter and shortening. Process about 10 seconds until it looks like coarse meal.
With food processor running, add ice water. Process until mixture clumps together.
On lightly floured surface, roll dough into 14-inch circle. Transfer to 9-inch pie dish. Lift edges and allow dough to drape into dish. Trim, leaving 1-inch overhang. Fold excess dough under and crimp edges.
To make pumpkin filling: In medium saucepan over medium heat, add syrup and vanilla; warm about 2 minutes then remove from heat and set aside.
In large bowl, combine syrup mixture, pumpkin, coconut cream, plant cream, brown sugar, cinnamon, ginger, nutmeg, clove, salt and cornstarch; blend with hand mixer until smooth. Pour mixture into pie crust.
Bake 1 hour. If crust starts to burn, cover edges with aluminum foil. The middle will still be jiggly.
Cool at room temperature 30 minutes then cover and transfer to refrigerator to chill at least 5 hours or overnight.
Before serving, sprinkle pie with white sugar and, using kitchen torch, brelee until sugar is melted and dark brown.
To make whipped topping: Using electric hand mixer or stand mixer, whisk plant cream, powdered sugar and vanilla on high until mixture thickens and stiff peaks form.
Slice and serve with whipped topping.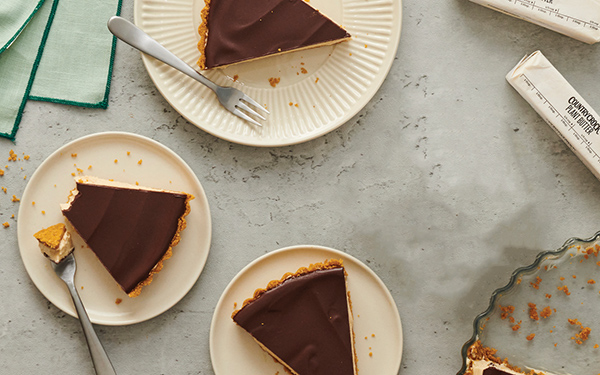 No-Bake Chocolate Peanut Butter Cheesecake
Prep time: 5-10 minutes
Cook time: 5 minutes
Total time: 6-7 hours
Servings: 8
Country Crock Plant Butter, for greasing
Crust:
1 1/2 cups graham cracker crumbs
1/2 cup Country Crock Plant Butter, melted
Filling:
2 packages (8 ounces each) dairy-free cream cheese, at room temperature
1 cup peanut butter
1 tablespoon vanilla extract
1/2 cup Country Crock Plant Cream
1 cup powdered sugar
Chocolate Ganache:
1 stick Country Crock Plant Butter, cubed
1 cup semi-sweet chocolate chips
Grease 9-inch pie dish with plant butter; set aside.
To make crust: In medium bowl, combine graham cracker crumbs and melted plant butter; mix thoroughly.
Add crust to greased pie dish and press firmly to bottom and sides; refrigerate.
To make filling: In bowl of electric mixer, beat cream cheese until smooth and creamy.
Add powdered sugar; beat until fully incorporated.
Add peanut butter, vanilla extract and plant cream; beat until smooth and creamy.
Pour filling into prepared crust and refrigerate 5-6 hours or overnight.
To make chocolate ganache: In pan over medium heat, add plant butter cubes and chocolate; stir continuously.
Spread chocolate ganache evenly on top of chilled cheesecake. Refrigerate at least 1 hour before slicing and serving.
Source: Country Crock Plant Cream
(Family Features) Summer is a great time to get kids into the kitchen to make some snacks and desserts. Whether you need something to take to a picnic or just something to do on a rainy day, making easy, no-bake goodies like Rice Krispies Treats(r) can show kids just how fun cooking can be.
Even young children can be kitchen helpers, so the whole family can get involved. What can your child do to help prepare a recipe?
2 to 3-year-olds can
-Wash and scrub fruits and vegetables
-Name and count foods
3 to 4-year-olds can
-Shape foods
-Mix dry ingredients together
-Pour pre-measured liquids into batter
4 to 5-year-olds can
-Help measure ingredients
-Open packages
-Pour cereal
-Mash soft fruits and vegetables
-Press cookie cutters into dough or soft food
6 years old and up can
-Beat recipe ingredients with a whisk
-Help locate ingredients in a spice rack or pantry
Make some summer magic with these tasty no-bake recipes for Choco P'Nutty Bars, Itsy Bitsy Fruit Pies, and Ice Cream Sandwich Treats. For even more kid-friendly recipes you can make together, visit www.Ricekrispies.com.
Note: The following recipes should be made with adult supervision.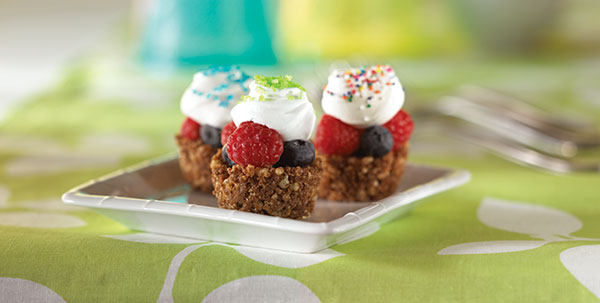 Itsy Bitsy Fruit Pies
Prep Time: 25 minutes
Total Time: 30 minutes
Servings: 24
1/2 cup butter or margarine
1 cup milk chocolate morsels
1/4 teaspoon cinnamon
4 cups Kellogg's® Rice Krispies® cereal
2 cups assorted fresh chopped fruits
Frozen non-dairy whipped topping, thawed
Assorted sprinkles
In medium saucepan, melt butter over low heat. Stir in chocolate morsels until melted. Remove from heat. Stir in cinnamon.
Place cereal in large bowl. Carefully pour melted chocolate mixture over cereal. Gently stir until cereal is completely coated with chocolate.
Spoon cereal mixture into twenty-four 1 1/2-inch muffin-pan cups coated with cooking spray. Using your finger or thumb, press cereal mixture onto bottoms and up the sides of each cup, forming crusts.
Place crusts in freezer for 30 minutes. Remove from freezer. Refrigerate, covered, until ready to serve.
Before serving, fill each crust with fresh fruit. Dollop with whipped topping. Decorate with sprinkles. Serve immediately.
Note: Extra unfilled crusts may be frozen in air-tight container for up to a month. Let stand at room temperature for 15 minutes before serving.
Kid-friendly Kitchen Tips:
-Children of all ages should have an adult assistant with them at all times when cooking.
-Chefs 7 and older can measure the ingredients and help stir the melted chocolate into the cereal.
-Little ones, ages 3 to 6, will enjoy pressing the mixture into the muffin cups and decorating with the fruits and whipped cream.
-Make sure to have plenty of extra fruits for snacking while making these little pies.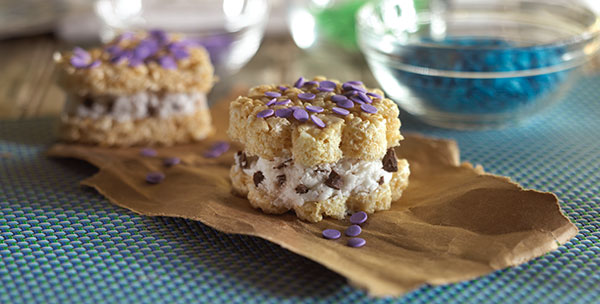 Ice Cream Sandwich Treats
Prep Time: 15 minutes
Total Time: 3 hours
Servings: 10 to 12
3 tablespoons butter or margarine
1 10 ounce-package (about 40) marshmallows, or 4 cups miniature marshmallows
2 teaspoons vanilla
6 cups Kellogg's Rice Krispies cereal
1/2 cup assorted sprinkles
2 pints desired flavor ice cream, frozen yogurt, sorbet or gelato
In large saucepan melt butter over low heat. Add marshmallows and stir until completely melted. Remove from heat. Stir in vanilla.
Add cereal. Stir until well coated.
Using buttered spatula or wax paper, evenly press mixture to 1/4-inch thickness on baking sheet coated with cooking spray. Decorate with sprinkles. Refrigerate for 15 minutes.
Remove from refrigerator. Using 2-inch cookie cutters coated with cooking spray, cut into desired shapes. Place small scoop of ice cream on undecorated side of one cut-out. Top with another cut-out, decorated side up. Gently press together. Return to baking sheet. Repeat with remaining cut-outs and remaining ice cream.
Freeze for 30 minutes. Transfer to airtight container. Freeze for 2 hours to 1 week. Let stand at room temperature for 10 minutes before serving.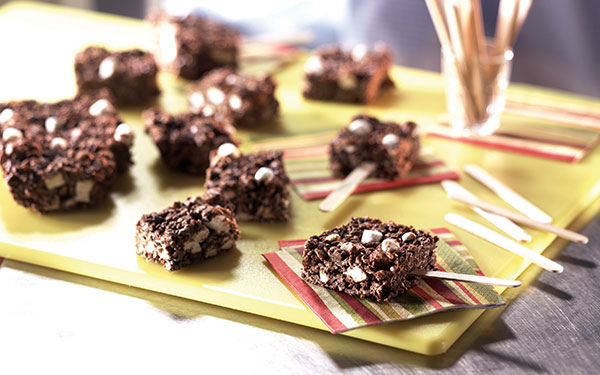 Choco P'Nutty Bars
Prep Time: 15 minutes
Total Time: 1 hour
Servings: 18
1 12-ounce package (2 cups) semi-sweet chocolate morsels
2/3 cup peanut butter
6 cups Kellogg's Rice Krispies cereal
3 cups miniature marshmallows
18 wooden or plastic sticks
In large saucepan, melt chocolate morsels and peanut butter over low heat; stirring constantly. Remove from heat. Stir in cereal and marshmallows.
Using buttered spatula or waxed paper, press mixture evenly into 13 x 9 x 2-inch baking pan coated with cooking spray. Chill in refrigerator about 45 minutes.
Cut into 18 bars. Serve by inserting plastic or wooden stick into each bar.
Microwave Directions: In large microwave safe bowl, melt chocolate morsels and peanut butter at medium power for 2 to 2 1/2 minutes. Stir until smooth. Add remaining ingredients, stirring until well coated. Continue with recipe directions.
Source: Rice Krispies