(Family Features) Some of life's most cherished moments are shared with loved ones around the table. As temperatures climb, cheerful sunshine and sparkling blue skies are the perfect ingredients to make family time even more enjoyable with a meal served al fresco.
One of the great joys of dining outdoors is the chance to appreciate the simplicity of a gentle breeze or the first glimpses of seasonal blooms. Keeping meal prep simple makes it even easier to embrace these special moments.
A unique approach to an entree salad is easy to prepare and adds a festive flair to your picnic plate. These Ruby Beet Chicken Salad Skewers owe their zesty flavor to the delicate balance of sweetness and vinegar infused by Aunt Nellie's Baby Whole Pickled Beets.
A cool salad is another must for your outdoor dining menu. Classic Mediterranean flavors like feta cheese and olives combined with READ 3 Bean Salad make this Mediterranean 3-Bean Quinoa Salad the perfect side dish to accompany a light lunch or grilled main course.
Find more ideas and recipes for meals to enjoy outside at auntnellies.com and READsalads.com.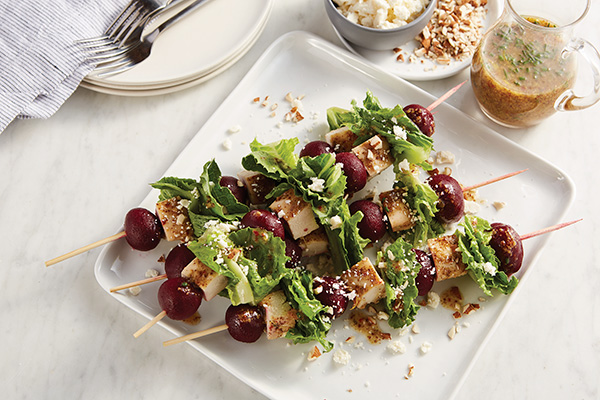 Ruby Beet Chicken Salad Skewers
Prep time: 25 minutes
Cook time: 20 minutes
Servings: 8
1 jar (16 ounces) Aunt Nellie's Baby Whole Pickled Beets
2 large boneless, skinless chicken breast halves (about 1 pound)
1/2 teaspoon salt, plus additional, to taste, divided
1/2 teaspoon pepper, plus additional, to taste, divided
4 1/2 tablespoons stone ground mustard, divided
1 1/2 tablespoons, plus 1/3 cup, orange marmalade, divided
2 tablespoons minced fresh chives
1 large lemon, zest and juice (1/3 cup juice)
1/4 cup olive oil
1 bag (9 ounces) leafy romaine lettuce pieces
1/3 cup chopped almonds, toasted
1/3 cup crumbled blue, feta or goat cheese
Heat oven to 375° F. Drain beets; set aside.
Season both sides of chicken with salt and pepper, to taste. In small bowl, combine 1 1/2 tablespoons mustard and 1 1/2 tablespoons marmalade. Brush mixture over chicken until completely coated. Bake chicken on rimmed baking sheet lined with aluminum foil about 20-25 minutes, or until juices run clear; set aside.
To make vinaigrette: In medium bowl, combine remaining mustard, remaining marmalade, chives, lemon zest and juice, 1/2 teaspoon salt and 1/2 teaspoon pepper. Slowly pour in oil while whisking vigorously until completely combined.
Slice cooled chicken into 1-inch pieces. Onto each skewer, thread one beet, one piece of chicken and 4-5 pieces of lettuce; repeat two times for each skewer, adding one beet at ends. Repeat to make eight skewers. Place skewers on large serving platter.
Stir vinaigrette; drizzle lightly over skewers. Sprinkle with almonds and cheese. Serve with remaining vinaigrette.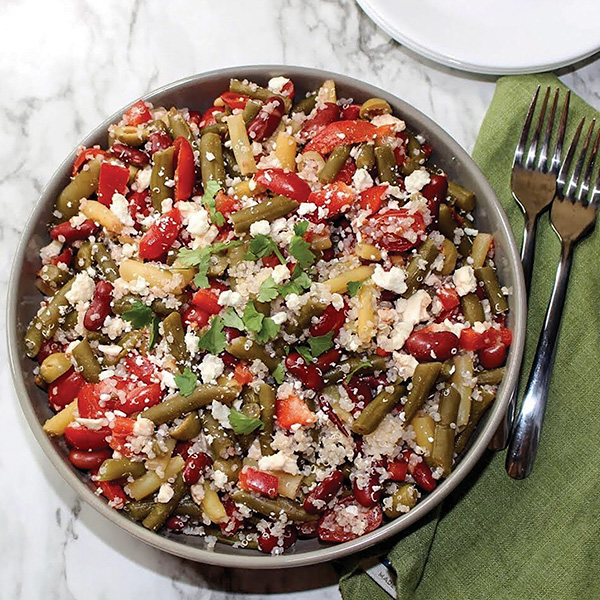 Recipe courtesy of "A New Dawnn"
Prep time: 20 minutes
Servings: 8
2 cans (15 ounces each) READ 3 Bean Salad
1 cup halved grape tomatoes
1 cup crumbled feta cheese
1 cup cooked quinoa
1/2 cup chopped olives
1/2 cup diced bell pepper, any color
2 tablespoons fresh lemon juice
2 teaspoons balsamic vinegar
1/4 cup chopped fresh cilantro or parsley
Drain bean salad; reserve 3 tablespoons liquid.
In large bowl, combine bean salad, tomatoes, feta cheese, quinoa, olives and bell pepper. Add reserved bean liquid, lemon juice and balsamic vinegar. Stir gently to coat ingredients.
Top with cilantro or parsley. Serve immediately.

Source: Seneca Foods
(Family Features) When it comes to entertaining, it's not always about three-course meals or hours upon hours of preparation. Sometimes, the best hosts look toward simple snacks and small plates to please guests with an array of palates.
Herbs, onions, artichokes and olives create a medley of flavors atop this savory flatbread that makes it easy to give guests a fresh bite without spending too much time in the kitchen. Or you can enjoy a berry and beet chutney as a topping for crostini that is spread with goat or cream cheese, or topped with a thin slice of Gouda or a runny slice of Brie. It's also a welcome addition to an open-face sandwich.
The secret is using convenient ingredients like Aunt Nellie's Harvard Beets and Holland-Style Onions that contribute great flavors to recipes and also help streamline preparation as guests settle in for an evening of fun and relaxation.
Explore more ideas to make your entertaining skills shine at AuntNellies.com.
Herbed Mediterranean Flatbread
Prep time: 15 minutes
Cook time: 10-12 minutes
Servings: 4
1 jar (16 ounces) Aunt Nellie's Holland-Style Onions
1 jar (7 1/2 ounces) quartered, marinated artichoke hearts
1/4 cup finely chopped red bell pepper
1/4 cup chopped fresh parsley
2 tablespoons chopped or sliced Kalamata olives
1/4 teaspoon crushed red pepper flakes
coarsely ground black pepper
2 tablespoons shredded Parmesan cheese, divided
2 teaspoons olive oil
1/2 teaspoon dried thyme leaves, crushed
1 clove garlic, minced
2 whole-grain round or square flatbreads (about 6-7 inches diameter)
fresh basil (optional)
Heat oven to 400° F. Drain onions. Pat dry. Discard liquid. Drain artichokes well. Discard liquid.
Press onions with spatula to crush lightly. Pat dry again. Place in large bowl. Coarsely chop artichokes. Add to bowl with onions. Stir in bell pepper, parsley, olives, red pepper flakes, black pepper and 1 tablespoon Parmesan cheese; set aside.
In small bowl, stir together olive oil, thyme and garlic. Brush over one side of flatbreads. Place on baking sheet; bake 2 minutes. Remove from oven.
Top each flatbread with onion mixture. Sprinkle with remaining Parmesan cheese. Return to oven. Bake 8-10 minutes, or until heated through and flatbread is crisp.
Cut each flatbread in half. Sprinkle with fresh basil, if desired.
Beet and Berry Chutney
Prep time: 20 minutes
Servings: 10
1/2 cup orange marmalade
1 jar (15 1/2 ounces) Aunt Nellie's Harvard Beets, not drained
1/4-1/2 teaspoon crushed red pepper flakes
1 tablespoon finely chopped candied ginger (optional)
1 1/2 cups berries (fresh or frozen unsweetened cranberries, blueberries, raspberries or strawberries, cut in half or quartered, if large)
In medium saucepan over medium heat, stir marmalade until melted. Stir in beets and red pepper. Cook 3-5 minutes until liquid is reduced by about half, stirring frequently. Add ginger, if desired.
If using only cranberries, add to pan with beet mixture and cook until they just begin to pop. If also using other berries, add to beet-cranberry mixture; stir and heat through. If using only blueberries, raspberries or strawberries, add to beet mixture after reducing liquid. Stir and heat through.
Remove pan from heat; cool to room temperature before serving.
Note: Chutney can also be served chilled. Store, covered, in a refrigerator up to 1 week.
Source: Aunt Nellie's