Turn boring leftovers into exciting and delicious new dishes
(Family Features) What happens to the rest of the roast chicken that didn't get eaten at dinner? Or the extra rice or couscous the family couldn't finish? It might get pulled out a few days later for a meal of boring leftovers that will be met with groans. Or it could just be forgotten. In fact, nearly 15 percent of the food purchased for meals ends up being thrown away.
Why toss out perfectly good food - and potentially hundreds of dollars each year - when you can use those ingredients to create a whole new recipe?
Once cooked, many remains of a meal will stay fresh for up to a week - and some even taste better the second time around. These recipes use common extra ingredients, along with Pompeian olive oils and vinegars, to turn them into exciting new recipes.

For more recipe ideas and coupons, visit www.pompeian.com.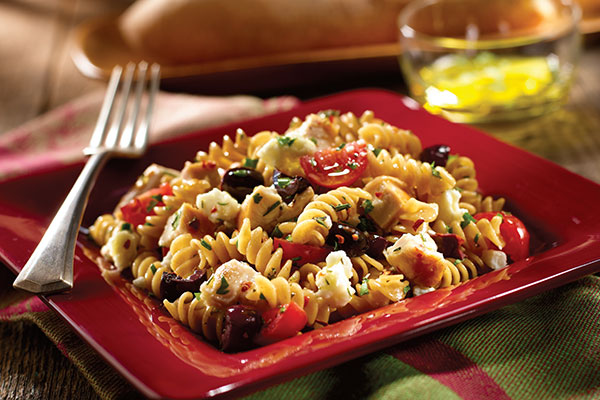 Herbed Olive Chicken Pasta
Serves 4
6 ounces dry whole grain penne or rotini pasta
1 cup cooked chicken breast meat, cut into bite-size pieces
1 cup grape tomatoes, quartered
24 pitted Kalamata olives, or your favorite variety, coarsely chopped
1/4 cup Pompeian Extra Virgin Olive Oil
4 medium garlic cloves, minced
1/4 cup chopped, fresh basil leaves or 1 tablespoon dried basil leaves, crumbled
1 tablespoon chopped, fresh rosemary leaves or 1 teaspoon dried rosemary leaves, crumbled
1/8 to 1/4 teaspoon crushed red pepper, optional
Salt and pepper to taste
2 ounces feta cheese, crumbled (1/2 cup)
Cook pasta according to package directions.
Remove pan from heat. Place chicken in a colander; pour pasta over chicken and shake off excess liquid. Return pasta and chicken to pan. Stir in remaining ingredients, except feta. Top with feta and toss gently, if desired.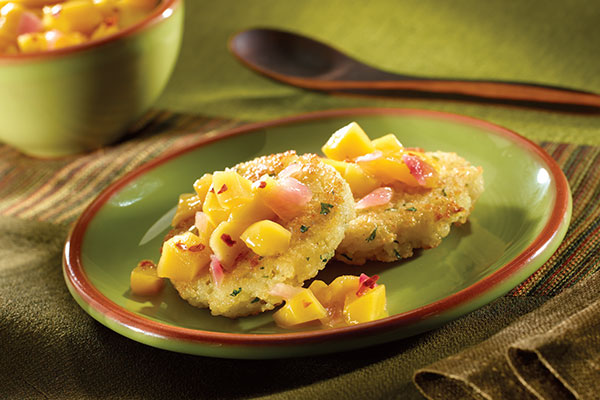 Couscous Cakes with Fresh Mango-Ginger Chutney
Serves 4
Chutney:
2 tablespoons Pompeian Extra Light Tasting Olive Oil
1/4 cup finely chopped red onion
1 cup diced fresh or frozen, thawed mango
2 tablespoons sugar
2 tablespoons Pompeian Red Wine Vinegar
1/4 teaspoon crushed red pepper
1 tablespoon grated ginger
Couscous Cakes:
1 1/3 cups water
2/3 cup original couscous
2 tablespoons grated lemon zest
1/2 cup chopped cilantro leaves
2 large egg whites
2 tablespoons all purpose flour
1/4 cup Pompeian Classic Mediterranean Olive Oil
1/2 teaspoon salt
Chutney: Heat 2 tablespoons oil in medium saucepan over medium heat. Cook onions 2 minutes. Stir in remaining chutney ingredients, except ginger, and bring to a boil over medium-high heat. Reduce heat and simmer, uncovered, 5 minutes or until thickened, stirring frequently. Remove from heat, cool and stir in ginger.
Couscous Cakes: Meanwhile, bring water to a boil in a small saucepan over high heat. Remove from heat, stir in couscous and salt, cover and let stand 5 minutes. Fluff with a fork and let stand 5 minutes to cool. Combine couscous, cilantro, egg whites, flour, and lemon zest in a medium bowl.
Heat 2 tablespoons oil over medium heat. Working with half of the couscous mixture, spoon about 2 tablespoons into skillet to make a mound, repeat, making 8 mounds total. Flatten slightly using the back of a spoon and cook for 3 minutes each side or until golden.
Drain on paper towels. Repeat with remaining oil and couscous mixture.
Serve the couscous cakes with mango chutney.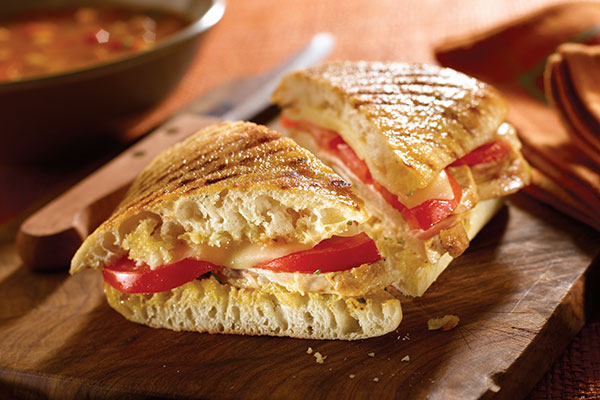 Basil-Rosemary Turkey Panini
Serves 4
12 ounces Italian bread, cut in half lengthwise
Dressing:
1/3 cup Pompeian Extra Virgin Olive Oil
2 tablespoons Pompeian Red Wine Vinegar
1 tablespoon Dijon mustard
1 tablespoon fresh, chopped rosemary or 1 teaspoon dried rosemary leaves, crumbled
2 medium garlic cloves, minced
Salt and pepper to taste
1/8 teaspoon dried pepper flakes, optional
1/2 cup chopped, fresh basil or 2 1/2 tablespoons dried basil leaves
Filling:
1 cup thinly sliced leftover cooked turkey or chicken (about 5 ounces)
1 large tomato, thinly sliced
4 slices Monterey Jack cheese with peppers, provolone, or mozzarella (about 3 ounces total)
Whisk all dressing ingredients, except basil, in small bowl. Lightly brush outside of bread halves with 1 tablespoon dressing mixture and place, cut side up, on a clean work surface. Stir basil into dressing mixture and spoon over bottom half of bread. Arrange turkey, tomato, and cheese on top. Sprinkle lightly with salt and pepper, if desired. Top with remaining bread half and press down firmly to adhere.
Heat large, nonstick skillet over medium low heat until hot. Place sandwich in skillet, cover with a sheet of foil, top with a dinner plate and several bread plates (This will weigh the sandwiches down, to help cook evenly and absorb flavors.) Cook 8 minutes on each side, or until golden brown and cheese is beginning to melt.
Place on cutting board, and using a serrated knife, cut into four equal pieces.
Source: