(Family Features) Making time for meals together can have a positive impact on the well-being of families, including children and adolescents. In fact, regular meals at home can help reduce stress and boost self-esteem, according to research published in "Canadian Family Physician."
Mealtime conversations are also a perfect opportunity to connect with your loved ones. A study published in "New Directions for Child and Adolescent Development" showed these conversations help improve children's vocabularies more than being read aloud to.
Making time for meals together shouldn't require spending all night in the kitchen, however. A simple-to-prepare ingredient like eggs can help you spend less time cooking and more time with family.
For example, these heart-healthy recipes for Poached Egg Tostadas with Avocado-Tomatillo Salsa, Sweet Potato Hash with Eggs and Poblano Frittata from the Healthy for Good Eat Smart initiative, nationally supported by Eggland's Best, are ready in 15 minutes or less. They include a wide variety of vegetables, fruit, whole grains and healthy protein sources, which are recommended by the American Heart Association to help prevent heart disease and stroke.
To find more tips for family mealtimes and recipe inspiration, visit heart.org/eatsmart.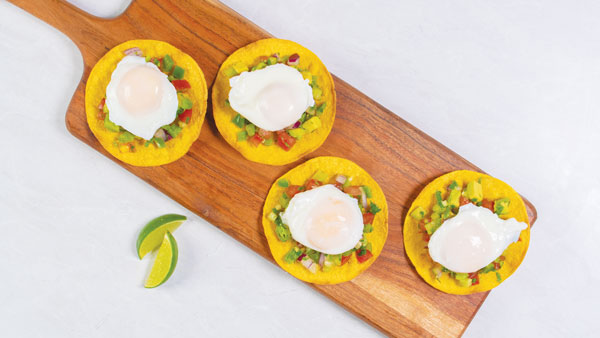 Poached Egg Tostadas with Avocado-Tomatillo Salsa
Servings: 4 (1 egg and 1/2 cup salsa per serving)
Nonstick cooking spray
4 corn tortillas (6 inches each)
4 cups water
1 tablespoon white vinegar
4 large eggs
Salsa:
1 medium avocado, diced
1 medium Anaheim or poblano pepper, seeds and ribs discarded, diced
1 medium tomatillo, papery husk discarded, washed and diced
1/2 medium tomato, diced
1/4 cup diced red onion
1/4 cup chopped fresh cilantro
2 tablespoons fresh lime juice
1 medium garlic clove, minced
1/8 teaspoon salt
Preheat oven to 400 F. Line baking sheet with aluminum foil. Lightly spray foil with nonstick cooking spray.
Arrange tortillas in single layer on foil. Lightly spray tortillas with nonstick cooking spray. Using fork, pierce tortillas to prevent from filling with air. Bake 5-6 minutes on each side, or until golden brown. Transfer to serving plates.
In large skillet over high heat, bring water and vinegar to boil.
Once water is boiling, reduce heat and simmer. Break egg into cup then carefully slip egg into simmering water. Repeat with remaining eggs, avoiding eggs touching in water. Simmer 3-5 minutes, or until egg whites are completely set and yolks are beginning to set but aren't hard. Using slotted spoon, drain eggs. Place each egg on tostada.
To make salsa: In medium bowl, gently stir together avocado, pepper, tomatillo, tomato, red onion, cilantro, lime juice, garlic and salt. Serve with tostadas.
Nutritional information per serving: 185 calories; 11 g total fat; 2.5 g saturated fat; 3 g polyunsaturated fat; 5 g monounsaturated fat; 186 mg cholesterol; 169 mg sodium; 15 g carbohydrates; 3 g fiber; 2 g total sugars; 9 g protein.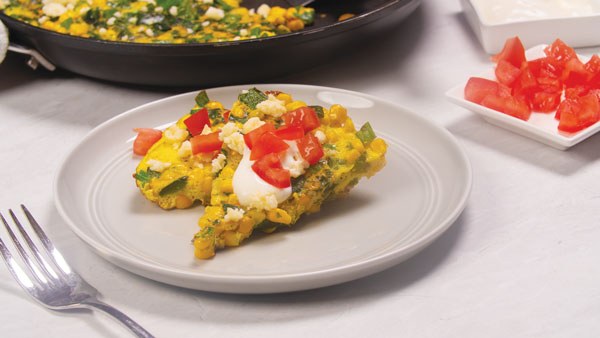 Poblano Frittata
Servings: 4 (2 wedges per serving)
4 large eggs
1/4 cup fat-free milk
2 tablespoons chopped fresh cilantro
1 teaspoon olive oil
2 medium poblano peppers, seeds and ribs discarded, chopped
2 cups frozen whole-kernel corn, thawed
2 medium green onions, chopped
1/4 cup finely shredded Cotija cheese or crumbled queso fresco
1 medium tomato, chopped
1/4 cup fat-free sour cream
In medium bowl, whisk eggs, milk and cilantro.
In medium skillet over medium heat, heat oil, swirling to coat bottom of skillet. Cook poblano peppers 3 minutes, or until browning on edges, stirring frequently.
Stir in corn and green onion. Reduce heat to medium-low and carefully pour in egg mixture. Cook, covered, 10 minutes, or until mixture is just set on edges and still soft in center. Avoid overcooking. Remove from heat.
Sprinkle with cheese. Cut into eight wedges. Place two wedges on each plate. Top with tomatoes and sour cream.
Nutritional information per serving: 244 calories; 8.5 g total fat; 2.5 g saturated fat; 1.5 g polyunsaturated fat; 3 g monounsaturated fat; 192 mg cholesterol; 177 mg sodium; 27 g carbohydrates; 4 g fiber; 8 g total sugars; 13 g protein.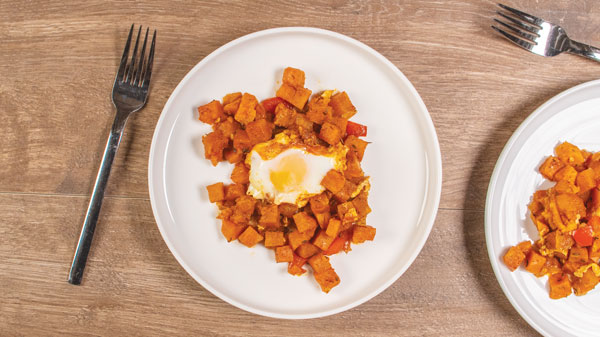 Sweet Potato Hash with Eggs
Servings: 4 (1 cup per serving)
2 teaspoons canola or corn oil
1/2 medium onion, chopped
4 medium sweet potatoes, peeled and cut into 1/2-inch cubes
1/2 medium red or green bell pepper, chopped
2/3 cup fat-free, low-sodium vegetable broth
2 teaspoons minced garlic
2 teaspoons smoked paprika
1 teaspoon ground cumin
1/2 teaspoon dried thyme, crumbled
1/2 teaspoon coarsely ground pepper
1/8 teaspoon salt
4 large eggs
hot pepper sauce (optional)
In pressure cooker set on saute, heat oil. Cook onion 3 minutes, or until soft, stirring frequently. Turn off pressure cooker.
Stir in potatoes, bell pepper, broth, garlic, paprika, cumin, thyme, pepper and salt. Secure lid. Cook on high pressure 3 minutes. Quickly release pressure. Turn off pressure cooker.
Remove pressure cooker lid. Crack one egg into small bowl. Using back of spoon, make small well in potatoes. Slip egg into well. Repeat with remaining eggs, making separate well for each egg. Secure lid with pressure vent open. Saute 2 minutes. Let stand on "keep warm" setting 2 minutes, or until eggs are cooked to desired consistency.
Serve hash sprinkled with dash of hot pepper sauce, if desired.
Nutritional information per serving: 258 calories; 7.5 g total fat; 2 g saturated fat; 1.5 g polyunsaturated fat; 3 g monounsaturated fat; 186 mg cholesterol; 244 mg sodium; 39 g carbohydrates; 6 g fiber; 9 g total sugars; 10 g protein.
Source: American Heart Association

(Family Features) Ease and convenience can go a long way toward creating weeknight meals that bring the entire family together, which is why it's helpful to focus your favorite dishes around main ingredients that simplify dinner routines.
Versatile proteins like veal open many possibilities from decadent, romantic meals to easy and beginner-friendly options. Its flavor is light, making it a blank canvas for discovery by pairing it with different combinations of sauces, spices, cheeses and more.
You can be confident in the taste of veal as your main ingredient in these Veal Tex Mex Stuffed Shells, a quick and easy dinner perfect for hectic weeknights. Requiring just over half an hour in the kitchen, jumbo pasta shells are loaded with taco-flavored ground veal and melted cream cheese then topped with your favorite taco sauce.
It offers a new, exciting recipe to add to the family menu while also providing nutrition; a 3-ounce serving of veal includes 27 grams of protein, which is more than half of the daily value for a 2,000-calorie diet.
Discover more quick and easy recipe ideas at Veal.org, funded by Beef Farmers and Ranchers.
Watch video to see how to make this recipe!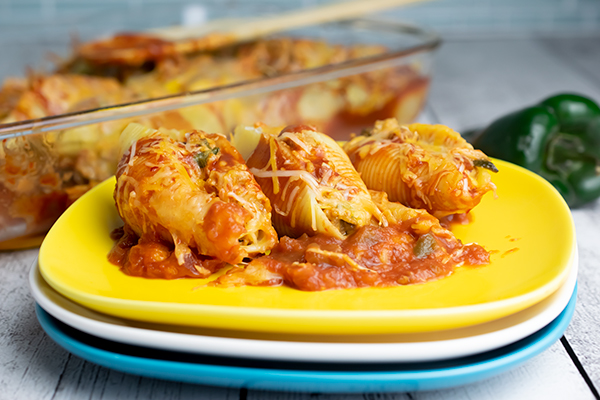 Veal Tex Mex Stuffed Shells
Prep time: 20 minutes
Cook time: 15 minutes
Servings: 6
1 pound ground veal
1/2 cup diced onion
1/2 cup diced poblano pepper
1 package (1 1/4 ounces) taco seasoning
1/2 cup water
4 ounces cream cheese
2 cups shredded colby jack cheese, divided
20 jumbo pasta shells
1 1/2 cups salsa
1 cup taco sauce
Preheat oven to 350 F.
In large skillet over medium-high heat, cook ground veal, diced onion and diced pepper until meat is no longer pink, 5-7 minutes.
Stir in taco seasoning and water.
Break cream cheese into chunks and add to skillet; simmer 3-4 minutes, or until cream cheese melts into veal mixture.
Remove from heat and add 1/2 cup colby jack cheese; stir to combine.
Bring large pot of salted water to boil and add pasta shells. Cook according to package directions and drain.
Immediately separate shells on plate to avoid sticking together.
Pour salsa into 13-by-9-inch baking dish and spread to cover bottom.
Fill each pasta shell with 1-2 tablespoons veal mixture and place in baking dish.
Top stuffed shells with taco sauce and sprinkle remaining colby jack cheese on top.
Bake 15 minutes, or until cheese is melted and shells are heated through.
Source: New York Beef Council