(Family Features) As bright and joyful as the holidays can be, the hustle and bustle of the season can also leave people feeling overwhelmed. Remembering to slow down and find ways to maintain self-care between festivities can make the holidays more enjoyable.
Supporting a healthy lifestyle can be as easy as taking small actions when life gets hectic. Chakra Earthsong, founder of KeVita – makers of prebiotic and probiotic drinks – recommends these tips for integrating self-care during the season. Visit kevita.com for more information.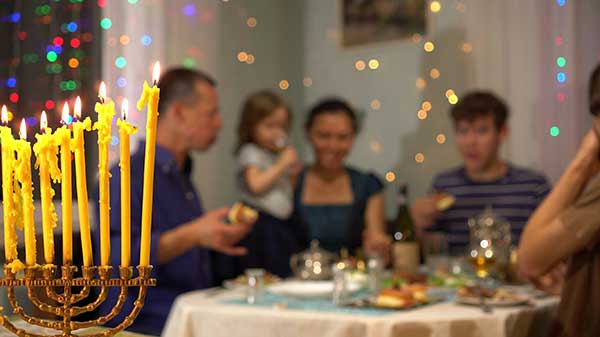 Photo courtesy of Adobe Stock
1. Get the Family Involved – In the midst of the busyness, activities that include the entire family – like scavenger hunts, crafts, making placemats and table decor for holiday meals and cooking – can create special moments that get the feel-good emotions flowing. It's also a good idea to get fresh air, whether it's a walk, bike ride or hike to look at decorations.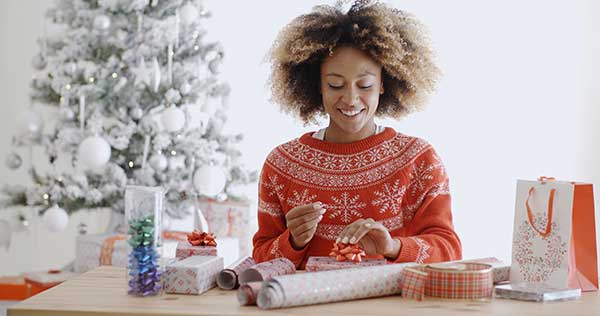 Photo courtesy of Adobe Stock
2. Take Time for Yourself – Togetherness is one of the best aspects of the winter holidays but making time for favorite personal activities can help keep stress levels low. Whether it's keeping up with hobbies, meditating, exercising or "me time" moments such as wrapping holiday gifts with music playing, these breaks can positively boost your mood and overall productivity.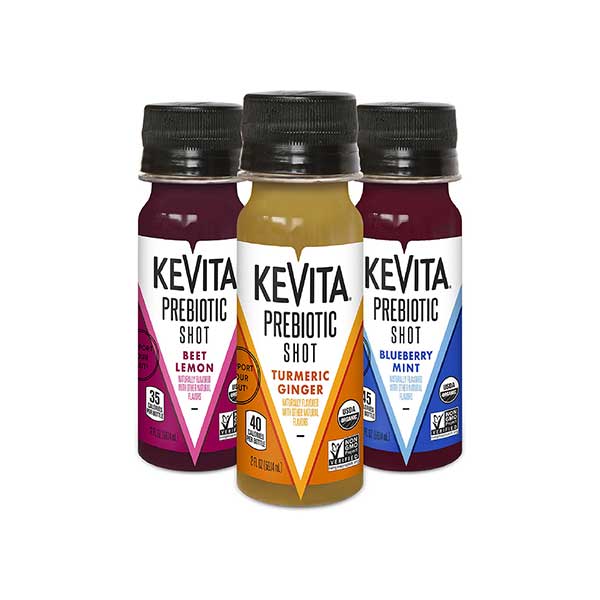 3. Practice Healthy Habits – Enjoying delicious holiday foods and treats are highlights of the season. One way to balance those indulgences with wellness goals is adding probiotics to daily routines. Probiotics are the live micro-organisms referred to as "good" bacteria that, when consumed in the correct amounts, may provide health benefits, such as improving digestion. Another option to keep your goals on track is adding prebiotic fiber – the fiber that contributes to the good bacteria in the gut. Try an option like KeVita's Prebiotic Shots, a convenient way to support your digestive health and wellness routines on the go.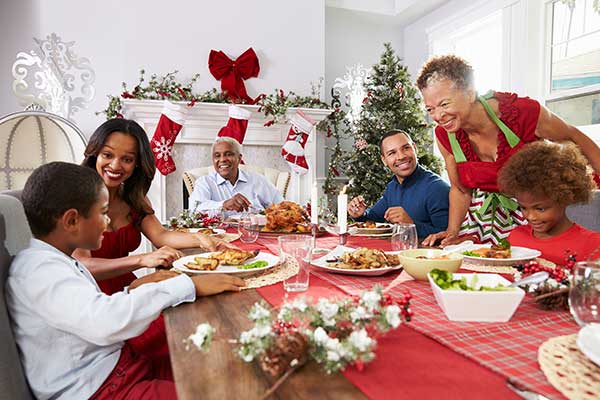 Photo courtesy of Adobe Stock
4. Enjoy Holiday Treats in Moderation – Parties often involve enjoying holiday baked goods, snacking and chatting but can sometimes lead to overindulgence. Practicing mindful or intuitive eating and making smart swaps, such as mocktails over cocktails, are two ways to find balance and enjoy events.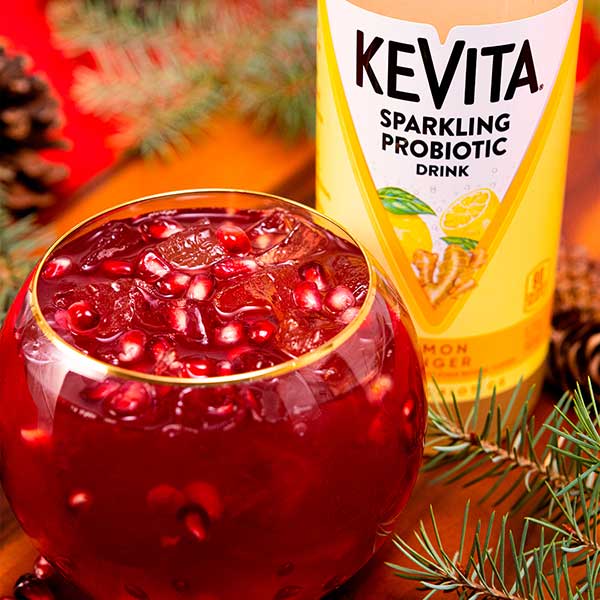 5. Experiment with New Recipes – Most hosts have their own holiday go-to's and traditions, and adding fun beverages is one of the easiest ways to try something new while also squeezing in functional benefits. One idea is to mix up light and bubbly drinks that offer a festive feel. Earthsong recommends this Lemon Ginger Merry Mocktail, made with KeVita's Sparkling Probiotic Drinks, which contain billions of live probiotics.
Lemon Ginger Merry Mocktail
Prep time: 3 minutes
Yield: 16 ounces
2 tablespoons pomegranate seeds, plus additional for garnish, divided
1 1/2 teaspoons molasses
5 small mint leaves
1 cup KeVita Lemon Ginger Sparkling Probiotic Drink
1/4 cup pomegranate juice
3/4 cup ice
1 mint sprig, for garnish
In glass, muddle 2 tablespoons pomegranate seeds, molasses and mint leaves.
Add probiotic drink, pomegranate juice and ice.
Stir gently.
Garnish with additional pomegranate seeds and mint sprig.
Source: KeVita
(Family Features) As many people start getting back into normal routines, they're returning to familiar on-the-go lifestyles by heading back to work, traveling to new destinations and enjoying time with loved ones.
While you get out to explore and gather with family and friends again, remember you'll need fuel for your adventures. According to a National Health and Nutrition Examination Survey, most Americans fail to get enough whole grains each day, opting instead for mostly refined grains.
Foods like tasty whole-grain popcorn offer an easy health hack so you can make every bite count. Try getting in the habit of popping 9 cups of popcorn in the morning and dividing it into two containers. Season one container with salt and herbs, the other with a pinch of sugar and cinnamon so you can alternate between sweet and salty throughout the day. Bringing delicious options like these while on the go can help satisfy hunger pangs while adding the fiber your body needs.
Because mouthwatering whole-grain popcorn is versatile and 3 cups is equal to one serving of whole grains, it's a simple yet flavorful option for meeting dietary recommendations. It can be a breeze to add it to snacks like Blueberry and Pomegranate Power Bars, Crunchy Popcorn Trail Mix or Sweet and Savory Curried Popcorn. You can even satisfy kids' cravings with Grab and Go Pizza Popcorn, a six-ingredient recipe made in a matter of minutes.
Visit popcorn.org to find more nutritious snack ideas.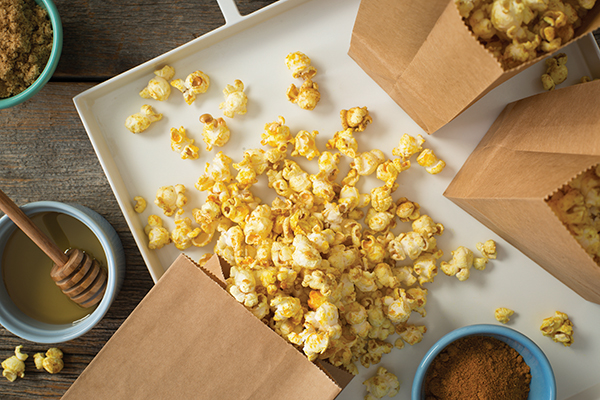 Sweet and Savory Curried Popcorn
Yield: 8 cups
8 cups unsalted, unbuttered popped popcorn
1/3 cup ghee (clarified butter) or coconut oil
2 tablespoons brown sugar
1 tablespoon honey
1 teaspoon curry powder
1/2 teaspoon cumin
2 teaspoons flaked sea salt
Place popcorn in large mixing bowl.
In saucepan over medium heat, melt ghee, brown sugar, honey, curry powder and cumin; stir until dissolved. Bring to light boil; remove from heat.
Toss ghee mixture and salt with popcorn; transfer to serving bowl.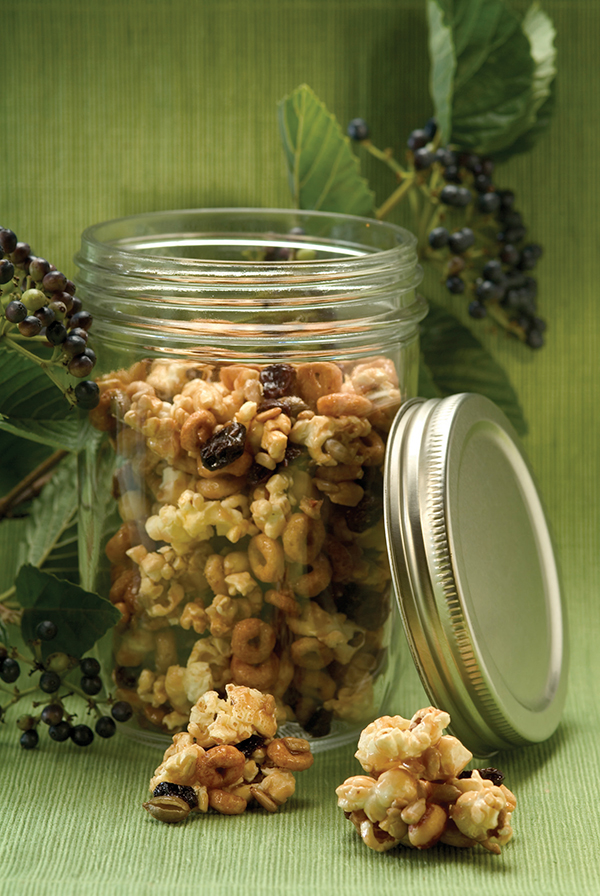 Crunchy Popcorn Trail Mix
Yield: 9 cups
5 cups popped popcorn
3 cups whole-grain oat cereal
1/3 cup raisins
1/3 cup peanuts or other nuts
1/3 cup sunflower seeds
1/4 cup (1/2 stick) butter or margarine
6 tablespoons brown sugar
2 tablespoons light corn syrup
In large, microwavable bowl, stir popcorn, cereal, raisins, nuts and seeds; set aside.
In small saucepan, heat butter, brown sugar and corn syrup until boiling; cook 3 minutes, stirring occasionally. Pour over popcorn mixture, stirring to coat evenly.
Microwave 3-4 minutes, stirring and scraping bowl after each minute.
Spread onto greased cookie sheet; cool. Break into pieces and store in airtight container.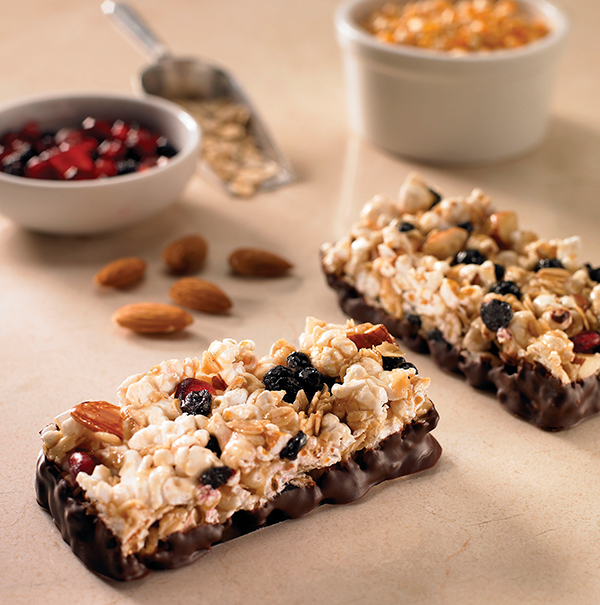 Blueberry and Pomegranate Power Bars
Yield: 12 bars
Nonstick cooking spray
8 cups popped popcorn
1 1/2 cups old-fashioned rolled oats
1 cup dried blueberries
1/2 cup pomegranate seeds
1/2 cup whole natural almonds, toasted and coarsely chopped
2/3 cup honey
2/3 cup light brown sugar
2 tablespoons butter or margarine
6 ounces bittersweet chocolate, melted
Line 13-by-9-inch pan with foil; spray with nonstick cooking spray.
In large bowl, combine popcorn, oats, blueberries, pomegranate seeds and almonds.
In small saucepan over low heat, boil honey, brown sugar and butter 2 minutes. Pour over popcorn mixture and mix thoroughly.
Using damp hands, press mixture firmly into prepared pan. Refrigerate until firm, about 2 hours. Cut into 12 bars.
Dip bottoms of bars into melted chocolate. Place on wax paper-lined pan; refrigerate until ready to serve. Store in tight covered container in refrigerator.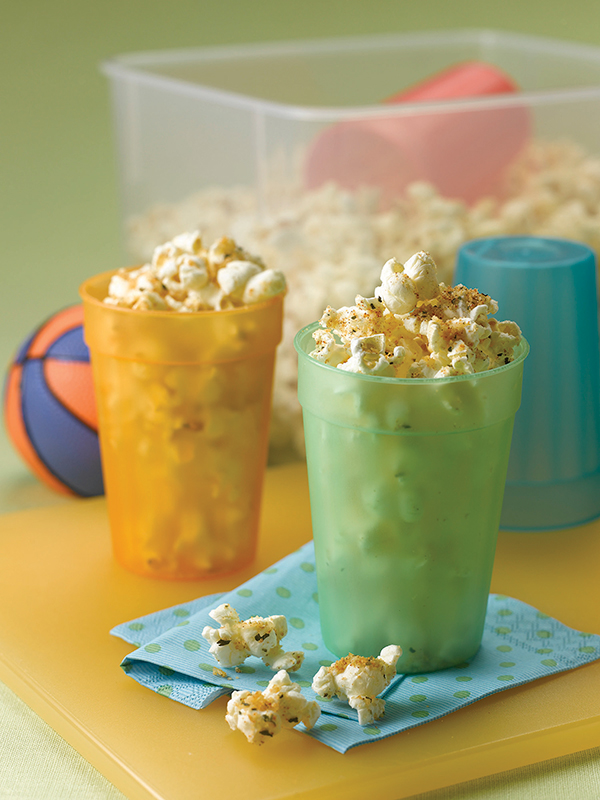 Grab and Go Pizza Popcorn
Yield: 6 quarts
6 quarts popped popcorn
olive oil cooking spray
1 cup grated Parmesan cheese
2 teaspoons garlic salt
2 teaspoons paprika
1 tablespoon Italian seasoning
Place popcorn in large, sealable plastic container or 2 1/2-gallon plastic sealable bag.
Spray popcorn lightly with olive oil cooking spray.
Sprinkle cheese, garlic salt, paprika and Italian seasoning over popcorn and shake to distribute evenly.
To serve, scoop popcorn into reusable plastic cups.
Source: Popcorn Board