(Family Features) Putting fresh, clean meals on the table is easy with fruits, vegetables and other farm-raised foods. For a full day of deliciously pleasing food, start with healthy strawberries to make Strawberry and Goat Cheese Pizza for lunch. Just before dinnertime, go for Heirloom Tomato and Mozzarella Salad and combine it with a crisp, white wine. Finally, round it out with a main course using honey and its natural sweetening qualities to put Linguini with Honey-Sauced Prawns on the table.
With the help of these tasty recipes, you're set for a full day of fantastic, farm-fresh foods. Find additional farm-to-table options at culinary.net.
Please Your Palate with Pasta
Make pasta the centerpiece of your meal with this recipe for Linguini with Honey-Sauced Prawns, which combines sweet honey with classic linguini pasta for a flavorful bite at the dinner table. Outside of honey's ability as a natural sweetener, it can also give you a boost of energy as a rich source of carbohydrates – and this recipe is no exception, with 61 grams of carbs in each serving. Find more of the benefits honey provides, plus delicious recipes, at honey.com.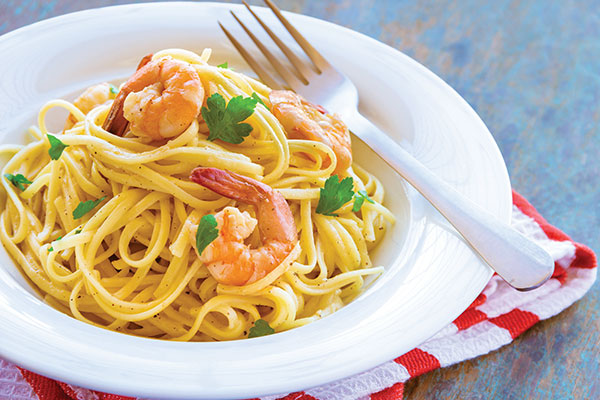 Linguini with Honey-Sauced Prawns
Recipe courtesy of the National Honey Board
Servings: 4
1 pound prawns, peeled and deveined
1/2 cup julienne carrots
1/2 cup julienne celery
1/2 cup green onions, sliced diagonally
3 cloves garlic, minced
2 tablespoons olive oil
1/2 cup water
1/4 cup honey
4 teaspoons cornstarch
1 teaspoon salt
1/4 teaspoon crushed red pepper flakes
1/4 teaspoon crushed dried rosemary leaves
1 pound cooked linguini pasta, kept warm
In large skillet, stir-fry prawns, carrots, celery, green onions and garlic in oil over medium-high heat about 3 minutes, or until prawns start to turn pink.
In small bowl, combine remaining ingredients except pasta; mix well. Add to prawn mixture; stir-fry about 1 minute, or until sauce thickens.
Serve over pasta.
A Winning Combination
Put a fresh twist on farm-to-table goodness by pairing two vine-ripened garden treasures: heirloom tomatoes and crisp, refreshing white wine. Northern California's Sonoma County is known for some of the nation's finest vineyards. It's also a culinary destination with a wide range of farms and artisan food purveyors. Inspired by the annual Kendall-Jackson Heirloom Tomato Festival, which celebrates its 20th anniversary this year, this salad recipe is a twist on classic favorite, delighting the palate by pairing farm-fresh tomatoes with the perfect wine. Find more pairing tips and recipes featuring seasonal ingredients at kj.com.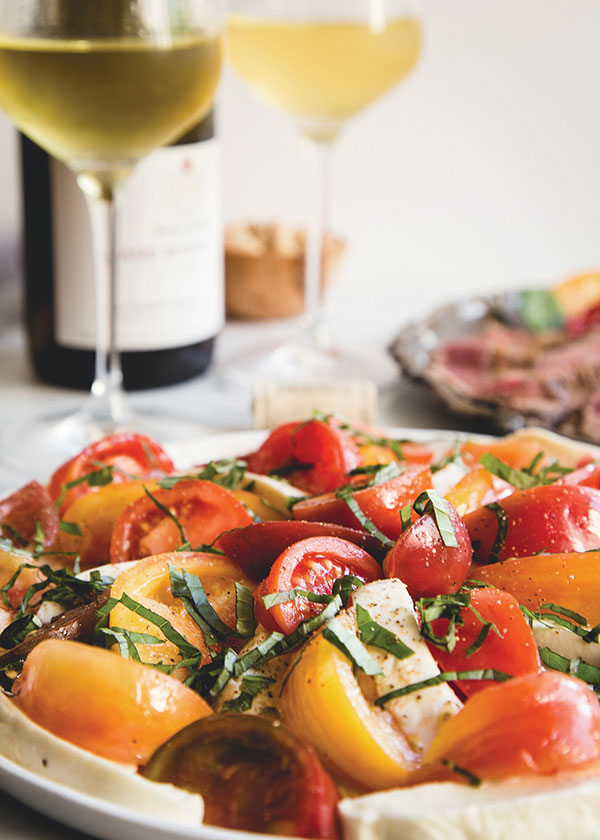 Heirloom Tomato and Mozzarella Salad
Servings: 4
2 1/2 pounds heirloom tomatoes, mixed varieties
1/4 cup good quality extra-virgin olive oil
kosher salt, to taste
freshly ground black pepper, to taste
1/4 cup micro basil (or 1 dozen basil leaves, sliced and torn), divided
2 large balls fresh mozzarella, cut into wedges
flaked sea salt
Slice tomatoes into 3/4- to 1-inch thick wedges. In large bowl, add tomatoes, olive oil, kosher salt, pepper and half the basil. Toss and allow to marinate 2 minutes. Arrange tomatoes and mozzarella on serving plate, alternating each. Pour marinating liquid over tomatoes and mozzarella. Garnish with remaining basil and sprinkle with sea salt and pepper.
Serve with Kendall-Jackson Grand Reserve Chardonnay. Chardonnay's flavors of orchard fruit complement the sweetness of late summer tomatoes.
Pizza with a Sweet Twist
This non-traditional take on pizza will have your taste buds exploding with savory goat cheese and strawberries marinated in a white balsamic vinaigrette. California strawberries, which – despite their sweet taste – boast just 7 grams of sugar and provide 140 percent of the daily recommended amount of vitamin C per cup, are hand-picked to ensure only the highest quality berries are harvested. Research has also shown this farm-to-table superfruit to be an effective way to help prevent and manage Alzheimer's disease and diabetes. For more information and strawberry recipes, visit californiastrawberries.com.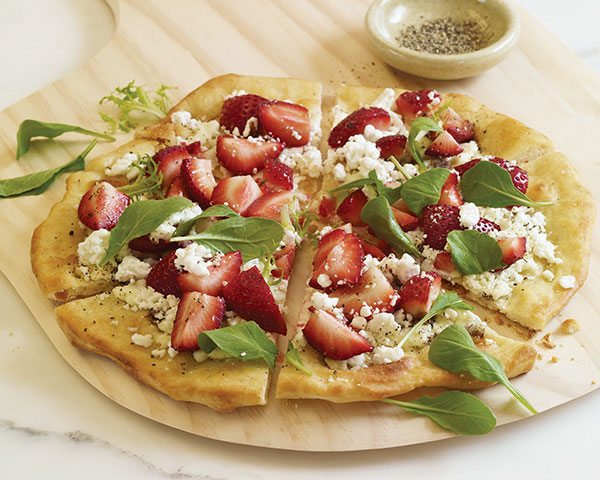 Strawberry and Goat Cheese Pizza
Recipe courtesy of the California Strawberry Commission
Servings: 8 (1/2 pizza each)
1/2 ounce active dry yeast
1 tablespoon sugar
3-4 cups all-purpose flour
2 teaspoons kosher salt
1 tablespoon olive oil
3 tablespoons white balsamic vinegar
3 tablespoons extra-virgin olive oil
1/4 cup aged balsamic vinegar
1/2 cup (4 ounces) softened goat cheese
4 cups fresh California strawberries, hulled and quartered
1/4 cup (2 ounces) crumbled goat cheese
coarsely ground black pepper
baby arugula
frisee
Heat oven to 400°F.
To make pizza dough: In mixer bowl, sprinkle yeast and sugar over 1 cup warm water; let stand until foamy. Add 3 cups flour, salt and olive oil; mix with dough hook until stretchy and no longer sticky, adding more flour if necessary. Divide dough into four equal portions. Refrigerate, covered, until needed.
To make white balsamic vinaigrette: In small nonreactive saucepan, simmer white balsamic vinegar until reduced to 1 1/2 tablespoons. Whisk in extra-virgin olive oil.
To make aged balsamic reduction: In small nonreactive saucepan, simmer aged balsamic vinegar until reduced to about 4 teaspoons.
On lightly floured surface, roll each piece of pizza dough into 8-inch circle. Place on baking sheet; bake 10 minutes, or until firm and slightly brown. Spread softened goat cheese on pizzas, leaving 1/2-inch border.
Toss strawberries with white balsamic vinaigrette; arrange strawberries evenly on goat cheese. Bake 10 minutes more. Remove from oven; scatter crumbled goat cheese on top.
Drizzle with aged balsamic reduction; sprinkle with black pepper. Garnish pizzas with leaves of arugula and frisee.
Photo courtesy of Getty Images (Linguini with Honey-Sauced Prawns)
Source: Culinary.net