(Family Features) Quick, effortless recipes are the cornerstone of making hassle-free meals and snacks that work for active families. Adding simplicity to your kitchen repertoire can make it a little easier on everyone, creating more quality time spent around the table and less time in the kitchen.

Whether you're meal prepping the kids' school lunches for the week or whipping up a last minute snack, one kitchen staple to consider picking up on your next grocery run is Eckrich deli meats.

As a make-ahead meal that can be sent with your kids (or yourself) for lunch, these Ham and Turkey Roll-ups take just a few minutes of rolling together some family-favorite tastes. Using simple recipes with Oven Roasted Turkey Breast and Black Forest Ham as the main ingredients allows you to spend less time in the kitchen and more time enjoying life's little moments with loved ones.
While creating make-ahead lunches can come in handy, arguably just as important is the meal that gets the day started: breakfast. Saving time in the morning, especially on busy weekdays, can be a lifesaver for families who value spending time together.
One solution can be these Deli Ham Breakfast All Day Tacos, featuring the consistent quality of perfectly seasoned Eckrich Deli Ham Off the Bone. A handful of ingredients and a pan are all you need to create a handheld breakfast for everyone in the family.
Find more fast, flavorful meals the entire family can enjoy at eckrich.com .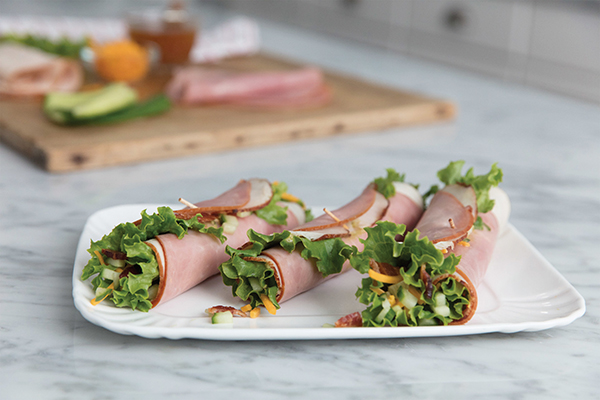 Ham and Turkey Roll-ups
Cook time: 10 minutes
Servings: 2
4 ounces Eckrich Deli Oven Roasted Turkey Breast
4 ounces Eckrich Deli Black Forest Ham
lettuce leaves
2 tablespoons chunky guacamole
1/4 cup cucumbers, chopped
1 tablespoon shredded cheddar cheese
2 slices bacon, cooked and chopped
Layer turkey and ham slices. Layer lettuce, guacamole, cucumber, cheese and bacon crumbles. Roll meat and insert toothpick to hold. Include additional toppings, as desired.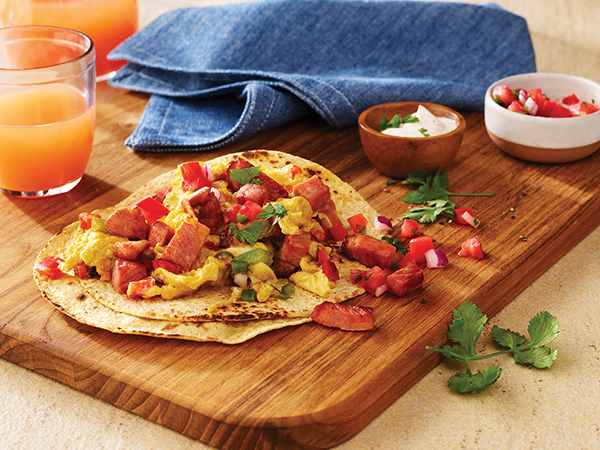 Deli Ham Breakfast All Day Tacos
Cook time: 20 minutes
Servings: 4
8 soft corn tortillas
oil
1 cup Eckrich Deli Ham Off the Bone, cubed
handful green bell peppers, chopped
handful red bell peppers, chopped
8 eggs
2 tablespoons milk
pinch salt
pinch pepper
1/2 cup shredded cheddar cheese
sour cream (optional)
cilantro (optional)
salsa (optional)
In pan over low heat, warm tortillas, flipping after 15 seconds. Remove. Increase heat to medium; add oil and warm ham; set aside.
In same pan, saute peppers. Add eggs, milk, salt and pepper until eggs are cooked. Add cheese and ham.
Spoon mixture onto tortillas. Top with sour cream, cilantro and salsa, if desired.
Source: Eckrich
(Family Features) When your family is short on time, there's no need to shortchange them when it comes to a wholesome dinner. The key to getting dinner on the table in 30 minutes or less is to plan ahead. Here are some tips to help you do just that.
* Make a Menu. Planning your meals for the week is the best way to save time and money. Stock up on quick dinner recipes, then stock up on the ingredients you need to make them. The two recipes here bring Bob Evans Food Products' farm-fresh taste to the family table in no time.
* Plan Your Leftovers. Instead of wondering what to do with the leftovers from Monday's meal - or worse, just throwing it out - plan your menu to turn one night's leftovers into another night's dinner. Leftover rotisserie chicken can turn into spicy quesadillas. Extra meatballs can morph into meatball grinders.
* Cut Down Prep Time. Take advantage of prepared foods in your grocery store. Pre-cut veggies, pre-washed bagged salads, pre-made pizza crusts, even Bob Evans Refrigerated Mashed Potatoes - they can all come in handy and save you time. Also, think about making double batches of food - one lasagna to serve now, one to freeze for later. Roasting two chickens tonight doesn't take that much longer than one and saves you from having to do it twice.
For more fast, family-friendly recipes, visit www.bobevans.com.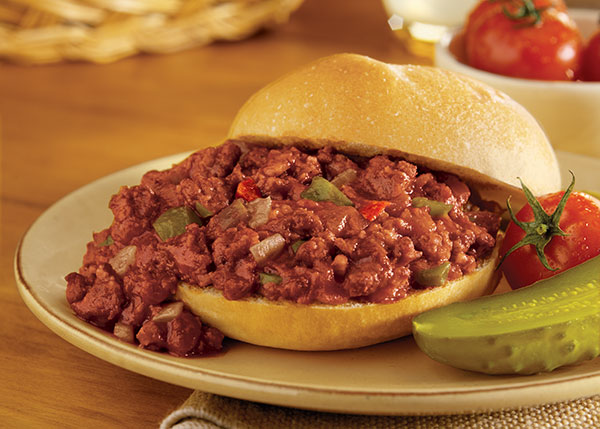 Sloppy Joes
Prep time: 5 minutes
Cook time: 20 minutes
Makes 4 servings
1 pound Bob Evans Original Recipe Roll Sausage
1 medium onion, chopped (optional)
1/2 cup chopped green bell pepper (optional)
1 1.3 ounce envelope Sloppy Joe seasoning mix
1 6-ounce can tomato paste
1 1/4 cups water
8 sandwich buns, split and toasted
In large saucepan, over medium heat crumble and cook sausage, onion and pepper until sausage is browned. Stir in seasoning mix, tomato paste and water. Bring to a boil, reduce heat to low and simmer 10 minutes. Serve on buns.
Speedy Spaghetti
Prep time: 10 minutes
Cook time: 10 minutes
Makes 4 servings
1 pound Bob Evans Original Recipe Roll Sausage
1 28-ounce jar of your favorite pasta sauce
1 8-ounce (minimum) package of your favorite pasta
In a skillet, crumble and brown sausage over medium heat until cooked. Stir in your favorite pasta sauce and heat until warm. Cook pasta according to package directions. Serve sauce over pasta.
Source: Bob Evans Foods