(Family Features) Finding a simple solution for your family's dinner can be as easy as reaching in the pantry for ingredients like canned tuna to create Tuna-Carrot Cakes with Garlic Lemon Aioli. With less than half an hour spent in the kitchen, you can have a meal on the table in a hurry that delivers the irreplaceable nutrients of dairy. Find more family dinner ideas at milkmeansmore.org.
Watch video to see how to make this recipe!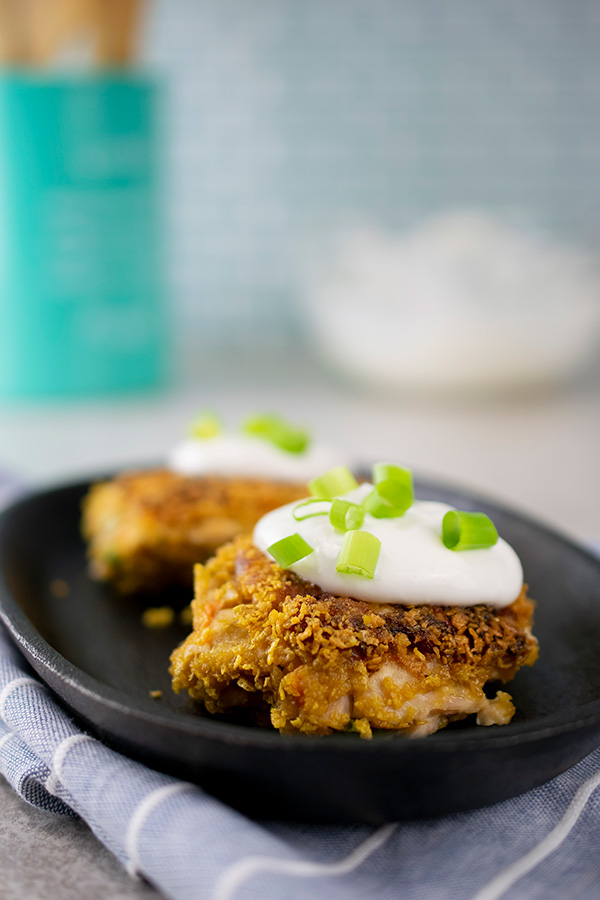 Tuna-Carrot Cakes with Garlic Lemon Aioli
Recipe courtesy of Marcia Stanley, MS, RDN, on behalf of Milk Means More
Prep time: 15 minutes
Cook time: 5 minutes
Servings: 4
Garlic Lemon Aioli:
3/4 cup fat-free plain Greek yogurt
1 tablespoon lemon juice or orange juice
1/4 teaspoon garlic powder
1/8 teaspoon salt
Tuna-Carrot Cakes:
3/4 cup fine corn flake crumbs, divided
1/3 cup fat-free plain Greek yogurt
1/3 cup shredded carrot
2 tablespoons chopped green onion
2 tablespoons dill pickle relish or finely chopped dill pickle
1 can (12 ounces) tuna in water, drained and flaked
2 tablespoons vegetable oil
chopped green onion (optional)
To make garlic lemon aioli: In small bowl, combine yogurt, lemon juice, garlic powder and salt. Cover and refrigerate until serving time.
To make tuna-carrot cakes: In medium bowl, combine 1/2 cup corn flake crumbs, yogurt, carrot, onion and relish. Add tuna; mix well.
Place remaining corn flake crumbs on piece of wax paper. Shape tuna mixture into eight 3/4-inch thick patties. Lightly coat both sides of patties with crumbs.
In large nonstick skillet, heat oil over medium-high heat. Cook patties in hot oil 4-6 minutes, or until golden brown, turning once. Stir aioli. Spoon dollops on patties. Garnish with additional onion, if desired.
Source: United Dairy of Michigan
(Family Features) This holiday season, you can impress your guests with these tips and recipes from award-winning chefs Seamus Mullen and John Tesar:
Start with fresh, high-quality ingredients that are versatile and easy to cook, like fresh pork.
Look for meats with marbling, which translates to flavor and tenderness.
Let your meat rest before cutting into it, to help retain moisture and juiciness.
Try out these festive dishes featuring all-natural, hand-trimmed Smithfield Prime Fresh Pork. For more holiday recipe inspiration, visit smithfield.com/primechefs.
Pork Tenderloin and Fennel with Cranberry-Ginger Relish
Recipe courtesy of Chef Seamus Mullen
Prep time: 20 minutes
Cook time: 1 hour
Servings: 8
2 Smithfield Prime Fresh Pork Tenderloins
1 piece fresh ginger
2 tablespoons unsalted butter
4 stars anise
2 cups cranberries
1/4 cup honey
kosher salt
ground black pepper
4 bulbs fennel, quartered
1 lemon, sliced thin, seeds removed
6 tablespoons olive oil, divided
Heat oven to 400° F.
Remove fresh pork tenderloins from package and let rest up to 15 minutes.
Use vegetable peeler to peel skin off ginger. Cut lengthwise to make paper-thin slices. Stack slices and use knife to cut into thin threads.
In saucepan, heat butter until foamy. Stir in 2-3 tablespoons ginger, star anise and cranberries; saute about 5 minutes.
Add enough water to cover mixture. Reduce heat to simmer; cook until cranberries break down, about 7-10 minutes. Stir in honey; season with salt and pepper. Keep warm.
In large baking pan, combine fennel, lemon slices and 1/4 cup olive oil; season with salt and pepper. Roast in oven 25-30 minutes.
While fennel is roasting, in cast-iron skillet, heat remaining olive oil over high heat. Season tenderloins with salt and pepper; brown all sides, about 5 minutes.
Transfer skillet to oven and bake until internal temperature reaches 145° F. Let stand 10 minutes before slicing.
Place tenderloins and fennel on platter; top with cranberry-ginger relish.
Ancho Chile Rubbed Pork Loin with Fig Chutney
Recipe courtesy of Chef John Tesar
Prep time: 10 minutes, plus marinade time
Cook time: 1 hour, 50 minutes
Servings: 6
Pork Loin:
1 Smithfield Prime Boneless Center Cut Fresh Pork Loin
1/4 cup ancho chile powder
1 1/2 tablespoons paprika
2 1/2 teaspoons mustard powder
2 1/2 teaspoons ground coriander
2 1/2 teaspoons ground oregano
1 teaspoon kosher salt, plus additional for seasoning
1 teaspoon ground black pepper, plus additional for seasoning
1/2 teaspoon ground cumin
1/2 teaspoon ground chile de arbol
3 tablespoons canola oil
Fig Chutney:
1 cup tawny port
3/4 cup dried figs, quartered
1/4 cup water
2 tablespoons unsalted butter
1 strip lemon zest
1 small bay leaf
1/2 cinnamon stick
1/2 tablespoon sugar
coarse ground salt
ground black pepper
Remove fresh pork loin from package and let rest up to 15 minutes.
Mix together ancho chile powder, paprika, mustard powder, coriander, oregano, 1 teaspoon salt, 1 teaspoon pepper, cumin and chile de arbol. Combine with canola oil; mix well.
Rub pork loin with chile rub and refrigerate 4 hours.
Heat oven to 400° F.
Season pork loin with salt and pepper, and place in roasting pan; roast 1 hour until internal temperature reaches 145° F. Let stand 15 minutes; slice into 1-inch-thick slices.
To make chutney: In saucepan, combine port, figs, water, butter, lemon zest, bay leaf, cinnamon and sugar. Season with salt and pepper.
Bring to boil; reduce heat and simmer, partially covered, until liquid is consistency of jam, about 30 minutes. Discard bay leaf and cinnamon stick.
Place pork loin slices in bowl and top with chutney. Serve over creamy polenta.
Source: Smithfield