Roasted Slicing Chicken From the Deli
(Family Features) Looking for a way to get out of the kitchen to enjoy warm weather activities with friends and family? Here's a secret for cooks looking for time-saving shortcuts that won't compromise the taste of homemade meals. Fully cooked, roasted chicken sliced to desired thickness at the deli counter can save hours of preparation time for dishes calling for roasted chicken as an ingredient. By substituting chicken that's already been slow-roasted and seasoned when bought sliced at the deli, meals can still have the homemade taste of roasted chicken even if the cook has spent the day at the beach, on the golf course or in the garden.
Deli slicing chicken is versatile, too. It can be sliced thick and then cut into pieces and tossed into a refreshing salad, or give a boost to a summery soup. Cut thin, deli slicing chicken goes gourmet when layered on soft slices of multigrain bread and combined with an assortment of fresh vegetables and spices.
Visit www.boarshead.com for more time-saving meal preparation tips.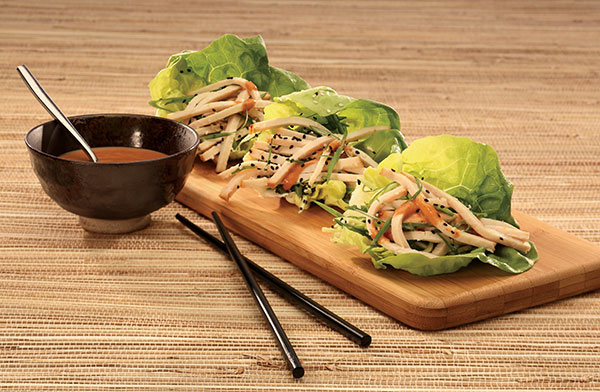 Chicken Lettuce Wraps with Barbecue Dressing
Servings: 4 wraps
Light and satisfying, tangy and sweet - this recipe has it all. Juicy roast chicken topped with a sweet and mild barbecue sauce and wrapped up in tender butter lettuce leaves makes a quick lunch or a light supper - and it all comes together in just minutes.
2 cups Boar's Head EverRoast Oven Roasted Chicken Breast, julienned
4 large butter lettuce leaves
1 cup mixed cucumber and green onion strips
1/4 cup barbecue sauce
1 teaspoon lemon juice
1 tablespoon mayonnaise
1 teaspoon mix black and white sesame seeds
Place the chicken onto the lettuce leaves and top with the cucumbers and onions. Mix the barbecue sauce with the lemon juice and mayonnaise and pour over the top. Sprinkle with the sesame seeds.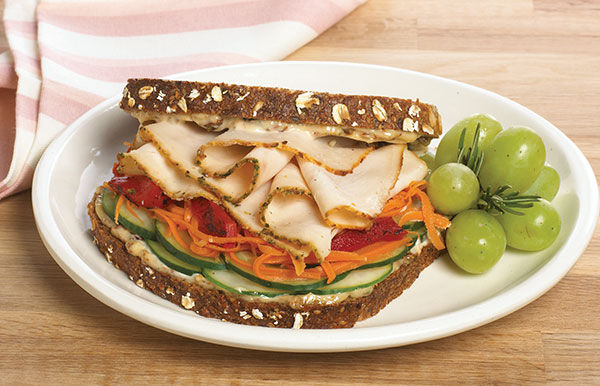 Chicken Gazpacho Sandwich
Servings: 4
The pungent tastes of roasted red peppers, sun-dried tomatoes, sweet carrots, cucumbers and spices turn a simple chicken sandwich into the perfect gourmet meal for a warm day or evening.
8 slices multi-grain bread
1 1/2 cups mayonnaise
1 small cucumber, sliced into thin rounds
1 cup grated carrots
1 teaspoon dried rosemary
1 tablespoon garlic powder
1/2 cup drained roasted red peppers, cut julienne style
1/2 cup drained, sun-dried tomatoes in oil, cut julienne style
12 slices Boar's Head EverRoast Oven Roasted Chicken Breast
Place 4 bread slices on a work surface. Spread each with a layer of mayonnaise and add enough cucumbers to form a layer. Sprinkle with carrots and a pinch of dried rosemary and garlic powder. Mix peppers with tomatoes and layer on top of carrots. Evenly divide chicken among sandwiches. Close sandwich with remaining bread slices and serve.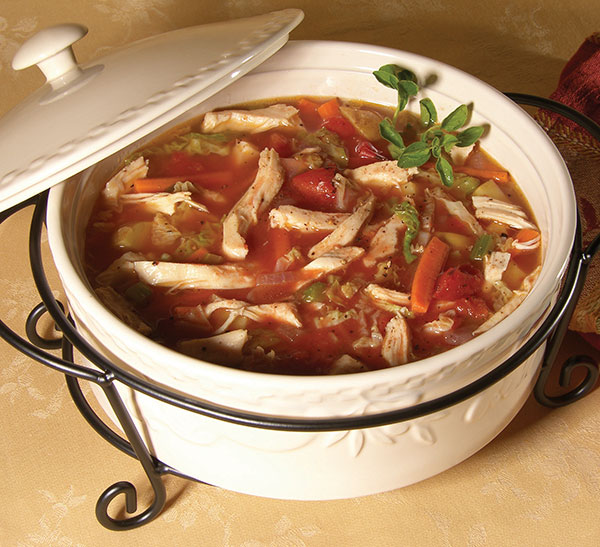 Pulled Chicken and Tomato-Vegetable Soup
Servings: 6
Cut the cooking time for this flavorful soup by substituting deli slicing chicken for recipes calling for pre-cooked chicken. Make sure to use a quality chicken that is sliced fresh at the deli for a homemade chicken taste.
2 tablespoons olive oil
1/4 head cabbage, shredded
1 red onion, cut into a small dice
3 stalks celery, finely chopped
4 small Yukon Gold potatoes, cut into a 1/2-inch dice
2 large carrots, cut into
1-inch julienne strips
2 teaspoons dried oregano, 6 sprigs for garnish
2 14-ounce cans chicken broth
2 14-ounce cans fire-roasted tomatoes with liquid
1 pound (1/4 inch thick) slices Boar's Head EverRoast Oven Roasted Chicken Breast, cut in strips
Add olive oil to large soup pot and heat at medium high until oil is hot. Add cabbage, onion, celery and potatoes; sauté for 8 minutes, stirring occasionally. Add carrots, dried oregano, chicken broth and tomatoes. Cook 20 minutes or until vegetables are tender. Use your fingers to pull chicken into strips; add to soup. Serve in individual bowls garnished with an oregano stem.
Source: Boar's Head
(Family Features) While it can be a challenge, there are several ways to pair food and wine appropriately during winter, despite bitter weather.
Just because it's colder doesn't mean it's time to stop enjoying the lively and nuanced flavors of chilled wine. While once only sipped on warm days of summer, rosé, for example, has become a year-round wine to enjoy any time with its crisp and cool strawberry and rhubarb flavors.
A warm, comforting dish, like this Roasted Chicken with Salsa Verde from James Beard award-winning chef Jonathan Waxman, combines well with rosé during the cold season. As the chicken roasts in the oven, it warms the kitchen and fills the house with wonderful aromas, tempting any chef or home cook to steal a sip of wine.
One reasonably priced wine that matches chicken well is Angeline California Rosé of Pinot Noir. The crisp flavors of light red fruits combine with the herbs accompanying the chicken. It'll also complement the many other flavors of winter, when an array of dishes hit the table and challenge hosts to find the right wine to serve.
For more wines that work well in wintertime, visit angelinewinery.com.
Chicken and Salsa Verde
Recipe courtesy of chef Jonathan Waxman
Chicken:
1 fresh free-range organic chicken (4 pounds)
sea salt, to taste
freshly ground black pepper, to taste
1/4 cup extra-virgin olive oil
1 lemon
Salsa Verde:
1/4 cup capers in salt
4 anchovy filets
3 cloves garlic
1/2 cup chopped fresh parsley
1/2 cup chopped arugula
1/2 cup chopped fresh basil
1/2 cup chopped fresh cilantro
1/4 cup chopped tarragon
1/4 cup chopped fresh chives
1/4 cup chopped fresh sage
1 cup extra-virgin olive oil
1/4 teaspoon sea salt
To make chicken: Heat oven to 450° F.
Wash chicken in hot water. Dry with paper towels.
Using kitchen shears, cut out backbone of chicken and remove any fat (this can be added to chicken stock). Using heavy chef's knife, cut out breastbone. Season halves with sea salt and black pepper.
Place chicken halves, skin side up, on two sizzle platters and dab with olive oil. Cut lemon in half and place 1 half, cut side down, next to chicken on each platter.
Roast chicken 35 minutes, basting every 10 minutes. When done, remove chicken to platter and pour off excess fat. Cut each breast in half and cut the thigh from the leg. Serve with salsa verde (recipe below) and garnish with roasted lemon.
To make salsa verde: Soak capers in cold water 1 hour then drain.
Soak anchovies in cold water 15 minutes then pat dry and remove bones.
Using mortar and pestle, smash capers, anchovies and garlic, until smooth, then transfer to large bowl.
Add all herbs and olive oil.
Season with sea salt.
Pair each serving with Angeline California Rosé of Pinot Noir.
Source: Angeline Winery
Save
Save