(Family Features) School days offer nearly endless opportunities for learning and exploration in the classroom, but education doesn't have to end with the final bell. Parents can ensure their students feel energetic, creative and confident by inspiring snack choices that are as smart as they are fun to make together.
Whether you're whipping up a snack to send to school or your little learners need an energy boost before starting afternoon homework, creative snacking can help encourage inspiration. As a trusted ally with better-for-you and convenient whole-fruit lunchbox snacks kids can enjoy, Sun-Maid offers these easy tips and ways to embrace the fun side of snack time.
Keep It Simple: Look for recipes with five ingredients or less so your children can show their artful nature without becoming overwhelmed. Plus, this often leads to a more budget-friendly at-home treat.
Shop Together: Gathering ingredients and equipment is an important part of any recipe, and bringing your future chefs along helps them feel like it's their creation from start to finish. Additionally, some important life lessons can be learned along the way, like how to navigate the store and compare costs.
Provide Kid-Friendly Instructions: There are many ways kids can lend a hand in making their own snacks, like mixing ingredients, washing produce or arranging a plate or platter. However, some steps are best left to the adults – make sure to do any cutting, slicing or dicing before letting children take the reins, for example, then just enjoy the creative fun.
With childhood favorites like crackers, marshmallows and vanilla yogurt covered raisins, Gimme S'mores Trail Mix offers a perfect way to get young minds thinking in the kitchen. A little guidance is all it takes to teach them each step of the recipe to make a crafty, delicious treat. Plus, with only a few simple ingredients that just need to be mixed together, it's a low-stress, low-mess way to cook up creativity.
For a healthier version of a snack time superstar, Apple Nachos combine sweet apples like Honeycrisp, peanut butter and versatile, whole-fruit Sun-Maid Raisins. Naturally made with nothing but grapes and California sunshine, these sweet raisins have been trusted as a better-for-you snack for kids and grown-up kids alike since 1912.
With zero grams of added sugars, they give parents the confidence they need to choose snacks that provide both great taste and nutrition for a happy and healthy family. As a household staple, they can be enjoyed as part of tasty recipes or as a standalone treat kids crave and parents approve.
Find more sweet ideas to inspire confidence and creativity at sunmaid.com.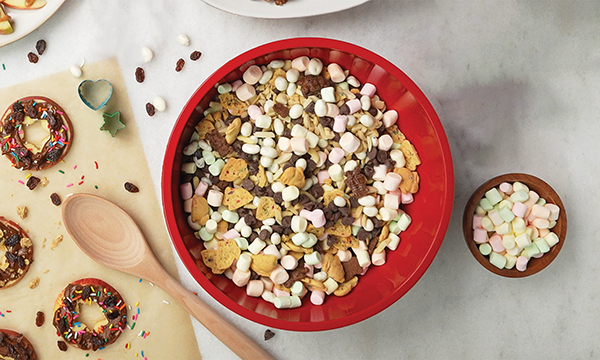 Gimme S'mores Trail Mix
Prep time: 5 minutes
Servings: 6
1/2 cup Sun-Maid Vanilla Yogurt Covered Raisins
3 cups graham crackers, assorted flavors
1 1/2 cups colored mini marshmallows
2 cups slivered almonds
1 cup chocolate chips
In large bowl, mix raisins, graham crackers, marshmallows, almonds and chocolate chips.
Serve immediately, or store in airtight container up to 1 week.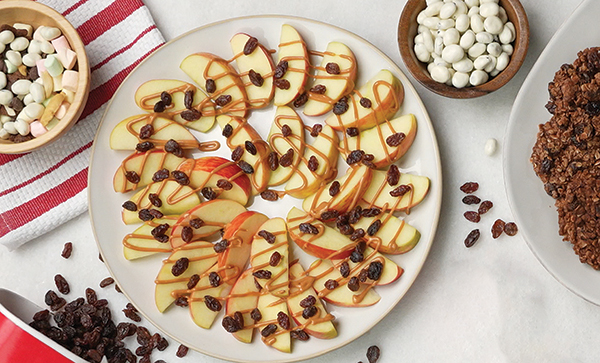 Apple Nachos
Prep time: 10 minutes
Cook time: 1 minute
Servings: 4
5 sweet apples, such as Honeycrisp
lemon juice (optional)
2 tablespoons peanut butter
1/2 cup Sun-Maid California Sun-Dried Raisins
Wash and slice apples.
Arrange one layer of sliced apples on serving plate. To keep apples from browning quickly, squeeze lemon juice on top, if desired.
In microwave, melt peanut butter about 30 seconds until smooth.
Drizzle 1 tablespoon peanut butter over first layer of apples. Sprinkle with 1/4 cup raisins.
Repeat with remaining apples, peanut butter and raisins.
Source: Sun-Maid Raisins
(Family Features) When the weather is warm and it's time for a sweet treat, look for seasonal goodies that complement summertime fun. For example, reach for an option like whole-grain, fluffy and crisp popcorn which can be an easy, DIY snack.
Combine sweet and salty flavors to create something delicious to devour like Coconut Popcorn Crunch Pie or delightful Down Home Apple Pie Popcorn.
To better serve a crowd, try these Perfect Picnic Popcorn Squares, Popcorn S'mores or Key Lime Popcorn Clusters at your next family pool party or summertime barbecue with friends.
For more creative, DIY popcorn recipe ideas, visit popcorn.org.

Down Home Apple Pie Popcorn
Yield: 10 cups
3 tablespoons melted butter
1 teaspoon vanilla extract
2 tablespoons brown sugar
1 teaspoon ground cinnamon
1/8 teaspoon ground allspice
1/8 teaspoon ground nutmeg
8 cups popped popcorn
1 cup dried apple chips, broken into large pieces
1/4 cup toffee bits
Heat oven to 300° F. Whisk melted butter with vanilla. Toss brown sugar with cinnamon, allspice and nutmeg.
Toss popcorn with butter mixture. Sprinkle evenly with brown sugar mixture. Stir. Transfer to baking sheet lined with parchment paper.
Sprinkle apple chips and toffee bits over top. Bake 15 minutes, or until toffee bits start to melt. Cool before serving.
Tip: Add chopped pecans for extra crunch.


Key Lime Popcorn Clusters
Yield: about 32 clusters
8 cups popped popcorn
4 whole graham crackers, finely chopped, divided
1 jar (7 1/2 ounces) marshmallow creme
1/4 cup butter or margarine
2 tablespoons grated lime peel
1 tablespoon key lime juice
Line 9-inch square pan with foil.
In large bowl, combine popcorn and all but 2 tablespoons graham cracker pieces.
In large glass bowl, microwave marshmallow creme and butter on high 1 minute. Stir until butter is melted. Stir in lime peel and lime juice.
Pour marshmallow mixture over popcorn, mixing thoroughly.
Using damp hand, firmly press mixture into prepared pan. Sprinkle with reserved graham cracker pieces. Refrigerate 2 hours until firm.
Lift foil from pan. Break popcorn mixture into clusters.
Coconut-Popcorn Crunch Pie
Yield: 12 servings
2 quarts popped popcorn, unsalted
1 can (4 ounces) flaked coconut, toasted
1 cup sugar
1 cup light corn syrup
1/2 cup butter or margarine
1/4 cup water
2 teaspoons salt
1 teaspoon vanilla
1 quart vanilla, spumoni or butter pecan ice cream
fresh fruit, for topping (optional)
chocolate sauce, for topping (optional)
In large, buttered bowl, mix popcorn and coconut. In saucepan, combine sugar, syrup, butter, water and salt. Bring to boil over low heat, stirring until sugar dissolves. Continue cooking until syrup reaches hard crack stage (290-295 F).
Stir in vanilla. Pour syrup in fine stream over popcorn mixture; stir until particles are evenly coated with syrup.
On buttered, 12-inch pizza pan, spread half of popcorn mixture in thin layer, covering bottom of pan. Mark off into wedge-shaped servings; set aside. Repeat using remaining popcorn mixture; cool.
Cover one layer with ice cream; top with second popcorn layer. Store in freezer. To serve, cut in wedges. Serve with fruit or chocolate sauce, if desired.
Perfect Picnic Popcorn Squares
Yield: 12 squares
1 cup light corn syrup
1/2 cup sugar
1/2 cup brown sugar
1 cup reduced-fat peanut butter
3/4 cup raisins
8 cups air-popped popcorn
nonstick cooking spray
In large saucepan, combine corn syrup, sugar, brown sugar and peanut butter.
Bring to boil over low heat, stirring constantly; boil 2-3 minutes. Remove saucepan from heat.
In large bowl, combine raisins and popcorn; pour hot mixture over popcorn and toss carefully with wooden spoons until well-coated.
Spray 9-by-13-inch baking dish with cooking spray; press popcorn mixture into pan and cool completely.
Cut into squares and serve.
Popcorn S'mores
Yield: 20 pieces
1 cup firmly packed light brown sugar
1/2 cup (1 stick) butter or margarine
1/2 cup corn syrup
1/2 teaspoon baking soda
10 cups freshly popped popcorn
1 package (10 1/2 ounces) miniature marshmallows
2 cups mini graham cookies
1 cup chocolate chips
In medium saucepan, combine brown sugar, butter and corn syrup.
Cook over high heat 5 minutes; remove from heat and stir in baking soda.
In large bowl, combine popcorn and marshmallows.
Pour sugar mixture over popcorn to coat.
Gently stir in graham cookies and chocolate chips.
Spread mixture evenly into greased 15-by-10-inch pan.
Let cool completely. Break into pieces.

Ballpark Popcorn Crunch (VIDEO)
1/2 cup butter
1/2 cup brown sugar
3 quarts unsalted popped popcorn
1 cup chopped walnuts
Cream together butter and brown sugar till light and fluffy.
In a separate bowl, toss popcorn and walnuts.
Add creamed mixture to popcorn and nuts. Combine until coated.
Spread on a large baking sheet in a single layer.
Bake at 350-degree oven for 10 minutes or until crisp.
Source: Popcorn Board