(Family Features) Taking the stress out of family meals at home can be as simple as turning your attention toward recipes that pack plenty of flavor without complicated prep. In fact, you can even turn an easy, everyday side dish into a full-blown dinner by simply adding your favorite protein.
This Greek Chicken Fried Rice, for example, transforms a traditional side dish into a filling meal for four in less than 30 minutes. Plus, it requires just one wok or skillet, leaving hardly any cleanup on those busy weeknights when homework, after-school activities and social calendars fill your schedule.
Find more weeknight meal solutions at MilkMeansMore.org.
Watch video to see how to make this recipe!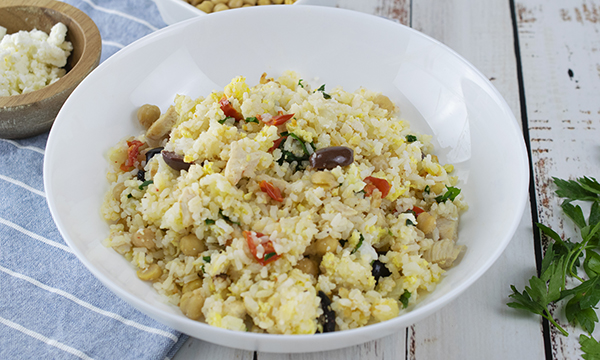 Greek Chicken Fried Rice
Recipe courtesy of Lori Yates of "Foxes Love Lemons" on behalf of Milk Means More
Prep time: 15 minutes
Cook time: 13 minutes
Servings: 4
2 tablespoons vegetable oil
1 large chicken breast, finely chopped
1/2 cup chopped onion
3 cups prepared white rice
2 eggs
1 cup chickpeas, drained and rinsed
1/2 cup roughly chopped fresh parsley leaves
1/2 cup crumbled cow's milk feta cheese
1/2 cup grape tomatoes, quartered
1/3 cup Kalamata olives, halved
2 tablespoons fresh lemon juice
1/4 teaspoon kosher salt
1/4 teaspoon ground black pepper
In wok or large skillet, heat oil over medium-high heat. Add chicken; cook until almost cooked through, stirring frequently, about 5 minutes.
Add onion; cook 1 minute, stirring frequently.
Add rice; cook 3 minutes, stirring constantly. Push rice to sides of wok, creating well in center of wok. Crack eggs into well and scramble vigorously with wooden spoon; cook 2 minutes, keeping eggs in well, or until eggs are fully cooked.
Add chickpeas, parsley, cheese, tomatoes, olives, lemon juice, salt and pepper; cook 2 minutes, or until warmed through, stirring frequently.
(Family Features) Potatoes are the top food eaten alongside grilled main dishes, according to the NPD Group, so why not put potatoes on the grill too? Try grilling thick potato planks, skewered potato chunks, or colorful halved fingerlings in a zesty rub like these Flame-Licked Fingerlings, created by award-winning cookbook authors Karen Adler and Judith Fertig, also known as the "BBQ Queens."
"A lot of people don't know you can grill potatoes," said the BBQ Queens. "They're sturdy enough to hold up well on the grill, versatile enough to grill in many different ways and the nutritional boost is a welcome addition to any meal."
In fact, one medium-size (5.3 ounce) potato has no fat, sodium or cholesterol, provides 45 percent of your daily value of vitamin C, and has more potassium than a banana. Plus, cooking potato side dishes on the grill helps to minimize clean-up, and doesn't require the heat of an oven during the warmer months.
Visit www.potatogoodness.com to find more recipe ideas for putting potatoes on the grill, including a colorful Grilled Potato Bake which incorporates multiple potato types for a flavorful side dish. You can also sign-up to receive a new recipe in your email in-box each week.
Flame-Licked Fingerling Potatoes with Spud Rub
Created by The BBQ Queens for the U.S. Potato Board
Makes: 4 side dish servings
Spud Rub:
1 tablespoon onion powder
2 teaspoons lemon pepper
1 ½ teaspoons paprika
1 ½ teaspoons smoked paprika
1/2 teaspoon sea salt
1/2 teaspoon ground cumin
Potatoes:
1 pound fingerling potato mix
2 teaspoons olive oil
1 tablespoon Spud Rub
For the rub, combine all ingredients in a glass jar, close the lid and shake to blend. Store at room temperature.
Prepare a medium-hot fire in your grill.
Place the potatoes in a bowl, drizzle with the olive oil and sprinkle with Spud Rub. Toss to coat.
Place the potatoes on the grill rack or in grill basket directly over the heat and close the grill lid. After 3 to 4 minutes, open the lid and toss the potatoes or turn the basket. Close the lid again and repeat the process for 12 to 15 minutes or until potatoes are tender when pierced with a fork.
Serving tip: Serve the grilled fingerlings on a platter alongside a bowl of Spud Rub Dip. To make Spud Rub Dip, combine 1/2 cup prepared buttermilk or ranch-style dressing and 1 teaspoon Spud Rub in small bowl. Stir to blend. Refrigerate until ready to serve.
Nutritional information per serving: Calories: 110, Fat: 2.5g, Saturated Fat: 0g, Trans Fat: 0g, Cholesterol: 0mg, Sodium: 125mg, Carbohydrates: 20g, Fiber: 1g, Sugars: 0g, Protein: 3g, Vitamin A: 2%, Vitamin C: 40%, Calcium: 0%, Iron: 6%, Potassium: 6mg.