(Family Features) Busy mornings, afternoons and evenings are the norm for many families with days full of work, school, extracurricular activities, social commitments and more. Finding time to pause and share a meal is often a priority that may remain difficult to achieve.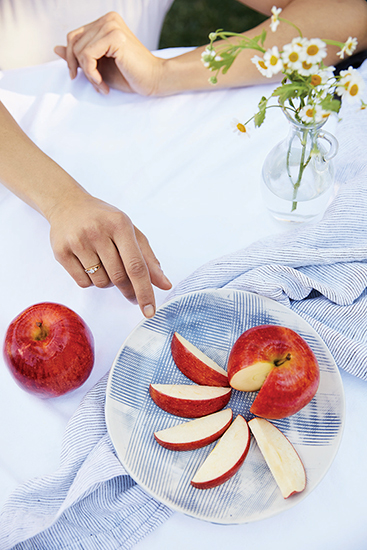 With easy family-friendly recipes that call for Envy apples – named America's No. 1 apple for taste, crispness, aroma and appearance, according to an independent sensory test by Forward Agency – you can bring your loved ones together for shared meals.
Crisp Apple Tacos put a fresh and sweet spin on a dinnertime classic by making tacos with pork medallions, homemade slaw and apple wedges. With plenty of easy prep work to be done, they're a convenient way to call everyone to the kitchen; even little ones can help by mixing the dressing, apple sticks and cabbage for the tasty slaw.
For a quick and easy dinner option on busy summer nights, fire up the grill and cook Grilled Apple Portobello Burgers. Distinctly sweet apple rounds are paired with savory, umami-rich portobello mushrooms for a flavor-packed, meatless take on traditional burgers.
Easily recognized by their large, sharable size, Envy apples boast bright red skin that sometimes features a golden blush. They are ideal for snacking, with their satisfying crunch and balanced sweetness, and can also be served as part of any meal of the day. For example, Apple Avocado Toast provides a simple way to fuel up on weekday mornings or can be enjoyed as part of a weekend brunch with the family.
Find these delicious apples at a grocer near you by visiting EnvyApple.com.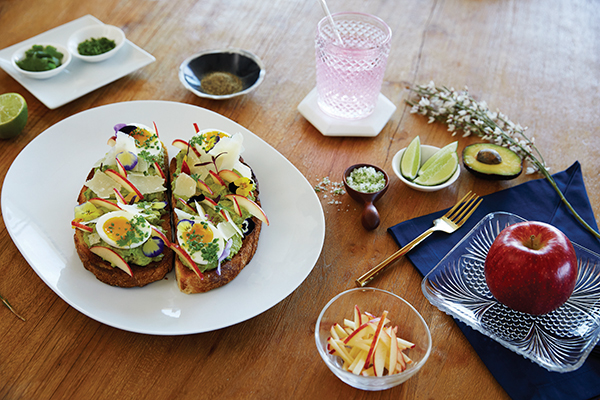 Apple Avocado Toast
2 eggs
water
4 slices sourdough bread
1 ripe avocado, sliced
1 Envy apple
1 teaspoon lime juice
1/4 cup shaved Parmesan cheese
2 teaspoons chia seeds
1 tablespoon minced chives
edible flowers, for garnish
In pot, cover eggs with 1 inch cold water. Boil 6-7 minutes then place in cool water bath.
Peel eggs, halve lengthwise and set aside.
Toast sourdough bread then mash avocado across bread with fork.
Cut apple into thin slices and place on top of avocado along with egg halves. Top with lime juice, Parmesan cheese, chia seeds and chives.
Garnish with edible flowers.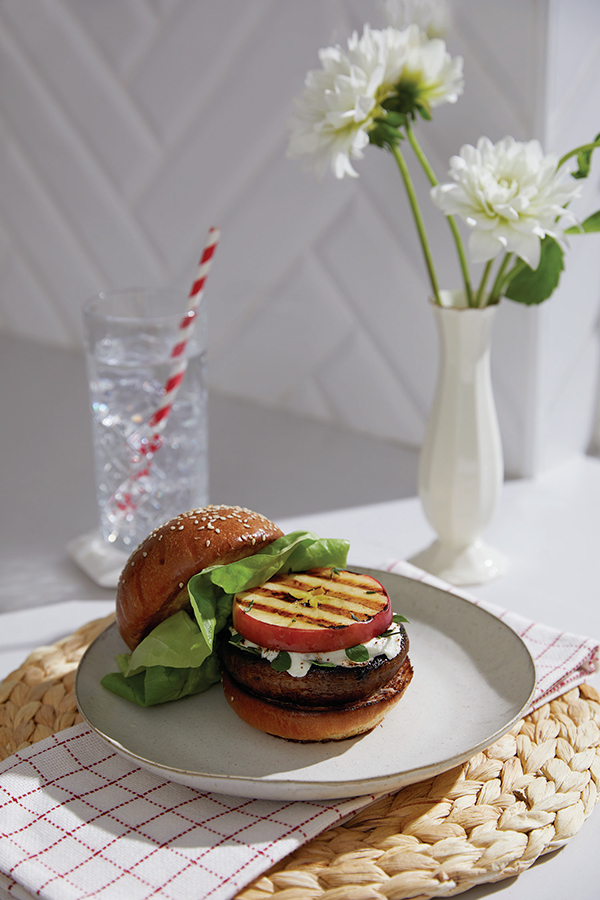 Grilled Apple Portobello Burgers
2 Envy apples
4 portobello mushrooms
1/2 cup olive oil, divided
2 tablespoons lemon juice
4 garlic cloves, minced
2 teaspoons oregano
2 teaspoons salt
1 cup herbed goat cheese
4 brioche buns
4 large butter lettuce leaves
4 tablespoons mayonnaise
Heat grill to high heat.
Slice apple horizontally into thick round wedges and remove seeds using fork.
Remove portobello stems.
In small bowl, combine 1/4 cup olive oil, lemon juice, garlic, oregano and salt. Using basting brush, coat mushrooms on both sides with olive oil mixture.
Grill mushrooms stem sides down 2 minutes then flip. Add goat cheese and grill 2-3 minutes until cheese is melted.
Coat apple rounds with remaining olive oil and grill 1-2 minutes per side to lightly char.
Serve mushrooms with apple rounds on brioche buns with lettuce and mayonnaise.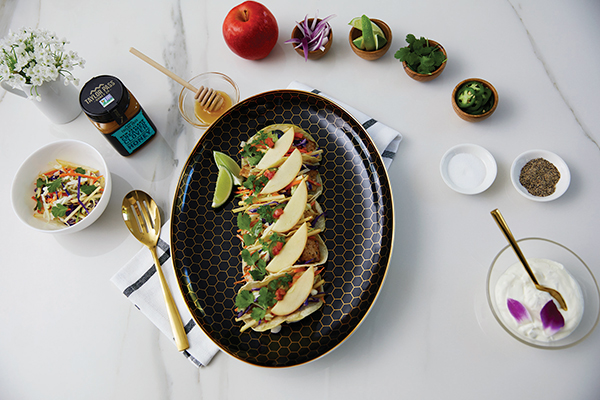 Crisp Apple Tacos
1/2 pound pork tenderloin
3 tablespoons olive oil
1 teaspoon salt, plus additional, to taste, divided
1 teaspoon pepper, plus additional, to taste, divided
2 Envy apples, divided
3 sprigs rosemary
1/2 cup shredded carrots
1/2 cup shredded red cabbage
1 cup shredded green cabbage
4 tablespoons honey
1 cup mayonnaise
1 tablespoon mustard
1 tablespoon white vinegar
12 soft taco shells
2 tablespoons sour cream
1 lime, cut into wedges
Cut pork crosswise into 1-inch medallions.
Coat pork medallions with olive oil, 1 teaspoon salt and 1 teaspoon pepper then add to saucepan over medium heat.
Slice half of one apple into thick wedges and add to saucepan. Slice remaining half into thin wedges and set aside.
Add rosemary to saucepan and heat 2-3 minutes. Flip pork and heat 2-3 minutes until pork is slightly golden and cooked through.
Let pork rest 3 minutes then slice into strips.
Thinly slice half of remaining apple into thin sticks around same size of shredded cabbage. Reserve remaining half.
In serving bowl, toss apple sticks, carrots, red cabbage and green cabbage.
In bowl, mix honey, mayonnaise, mustard and vinegar into dressing. Add additional salt and pepper, to taste.
Mix dressing and cabbage; refrigerate at least 1 hour prior to serving.
Cut remaining apple half into thin wedges.
Top taco shells with pork, slaw, sour cream and squeeze of lime juice. Top with apple wedges.
Source: Envy Apples
Put a fresh take on post-holiday sandwiches
(Family Features) For most people, the day after a big holiday gathering means two things: a refrigerator filled with opportunity and a marked lack of energy. Fortunately, there are easy ways to make the most of the remnants of your holiday meal so you can take it easy and enjoy a day filled with good food and good rest.
Sandwiches are a natural solution for post-holiday noshing, but all those exceptional entrees practically beg for one last chance to shine. Put a fresh, wholesome twist on this year's sandwiches by ditching the traditional condiments and dressing up your bread with a new kind of spread. New hummus-based Sabra Spreads – available in Garlic Herb, Honey Mustard and Sea Salt & Cracked Pepper – have 75 percent less fat than the leading spread, mayonnaise, and pair perfectly with sandwiches and wraps of all kinds.
Make an upgrade with these stepped-up takes on the traditional turkey sandwich and more, and find additional mouthwatering inspiration at Sabra.com.
Turkey Sandwich with Cranberry and Hummus
Servings: 1
2 slices sourdough bread
Sabra Spreads Sea Salt & Cracked Pepper
Bibb or Boston lettuce
purple onion, thinly sliced
leftover turkey, sliced about 1/4-inch thick
cranberry sauce
salt, to taste
pepper, to taste
Cover one slice of bread with spread then layer lettuce, purple onion, turkey, cranberry sauce, another layer of lettuce, salt and pepper. Add another squeeze of spread and second piece of bread.
Garlic Tarragon Roasted Beet Sandwiches
Recipe courtesy of Stephanie McKercher of The Grateful Grazer
Servings: 2
Roasted beets:
3 beets (about 1 1/2 cups), peeled and sliced in thin rounds
2 tablespoons toasted sesame oil
1 tablespoon chopped fresh tarragon leaves
salt, to taste
pepper, to taste
Garlic Tarragon Spread:
1/4 cup Sabra Spreads Garlic Herb
1 tablespoon chopped fresh tarragon leaves
salt, to taste
pepper, to taste
Sandwiches:
2 whole grain rolls
1/2 apple, sliced in thin rounds
1/2 cup micro greens
1/4 cup thinly sliced red onion
Heat oven to 425° F and prepare baking sheet. In mixing bowl, combine beets, sesame oil and tarragon then spread on baking sheet. Roast until beets are tender and browned in areas, about 25-30 minutes.
While beets are roasting, use same mixing bowl to prepare spread. Stir together spread, tarragon, salt and pepper. Cover bowl and store in refrigerator until beets are ready.
Remove beets from oven and allow to cool slightly before assembling sandwiches. Slice rolls in half and spread garlic tarragon spread on inside of each roll. Top bottom half of roll with beets, apple slices, micro greens and red onion, then top with remaining half of bun.
Chicken and Waffles Sandwich
Recipe courtesy of Chelsea LeBlanc of Chelsea's Choices
Servings: 4
1 tablespoon egg whites
2 teaspoons Sabra Spreads Garlic & Herb
1/2 cup panko bread crumbs
1 teaspoon chopped fresh rosemary, plus additional for garnish
1/2 teaspoon garlic powder
1/4 teaspoon paprika
1/8 teaspoon salt
1/8 teaspoon pepper
4 boneless, skinless chicken tenders
4 frozen waffles
1/2 cup fresh spinach
4 tablespoons Sabra Spreads Honey Mustard
1/2 cup maple syrup
Heat oven to 425° F and line baking sheet with aluminum foil.
In medium bowl, whisk together egg whites and garlic and herb spread.
On plate, gently mix together panko bread crumbs, 1 teaspoon rosemary, garlic powder, paprika, salt and pepper.
Dip chicken into egg white mixture then into bread crumb mixture.
Place on baking sheet and bake 15-20 minutes, or until internal temperature is 165 F, flipping chicken at halfway mark.
In toaster oven, toast waffles until warm and crisp. Cut into fourths and top with spinach and 1/2 tablespoon honey mustard spread.
Cut chicken tenders in half and place atop waffles. Top with another waffle quarter. Garnish with rosemary and serve with maple syrup.
Grilled Portobello Mushroom and Arugula Sandwich
Recipe courtesy of Chelsey of C it Nutritionally
Servings: 2
Mushrooms:
4 portobello mushroom caps, stems removed
2 tablespoons balsamic vinegar
1/2 tablespoon olive oil
freshly ground black pepper
1/4 teaspoon smoked paprika
Sandwich:
1 baguette (12 inches), cut into two pieces and halved lengthwise
2 tablespoons Sabra Spreads Garlic & Herb
1 roasted bell pepper
1 cup arugula
Gently clean portobello mushroom caps with cloth just prior to preparation.
In medium to large bowl, combine balsamic vinegar and olive oil, and whisk together with fork. Add mushroom caps to bowl and soak until mushrooms are saturated with marinade.
Remove mushroom caps from bowl and place on plate. Sprinkle with freshly ground black pepper and smoked paprika.
Gently coat grill, grill pan or large skillet with olive oil or nonstick spray and heat over medium heat.
Sear mushrooms for about 2 minutes on each side, until cooked through and mushroom caps darken in color. Set cooked mushrooms aside.
To assemble sandwich: coat bottom piece of baguette with spread. Add roasted bell pepper, arugula and cooked mushrooms.
In clean skillet over medium heat, sear assembled sandwich about 3 minutes on each side until bread is heated through.
Turkey, Prosciutto and Hummus Sandwich
Servings: 1
2 slices whole-wheat bread, toasted
Sabra Spreads Garlic Herb
tender arugula
leftover turkey, sliced about 1/4-inch thick
1 ounce thinly sliced prosciutto
Cover bottom slice of bread with spread then layer arugula, turkey and prosciutto to build club-style sandwich. Add another squeeze of spread and top piece of bread.
Source: Sabra
Save
Save
Save
Save
Save