Roasted Slicing Chicken From the Deli
(Family Features) Looking for a way to get out of the kitchen to enjoy warm weather activities with friends and family? Here's a secret for cooks looking for time-saving shortcuts that won't compromise the taste of homemade meals. Fully cooked, roasted chicken sliced to desired thickness at the deli counter can save hours of preparation time for dishes calling for roasted chicken as an ingredient. By substituting chicken that's already been slow-roasted and seasoned when bought sliced at the deli, meals can still have the homemade taste of roasted chicken even if the cook has spent the day at the beach, on the golf course or in the garden.
Deli slicing chicken is versatile, too. It can be sliced thick and then cut into pieces and tossed into a refreshing salad, or give a boost to a summery soup. Cut thin, deli slicing chicken goes gourmet when layered on soft slices of multigrain bread and combined with an assortment of fresh vegetables and spices.
Visit www.boarshead.com for more time-saving meal preparation tips.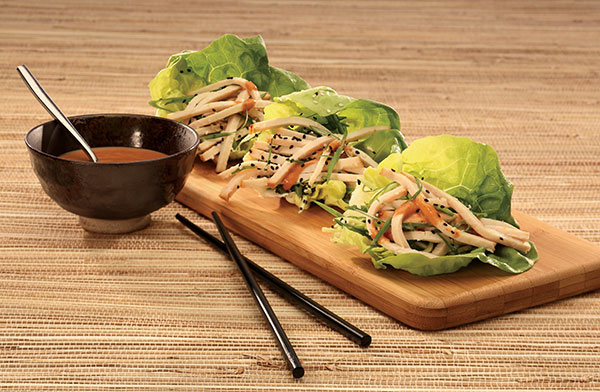 Chicken Lettuce Wraps with Barbecue Dressing
Servings: 4 wraps
Light and satisfying, tangy and sweet - this recipe has it all. Juicy roast chicken topped with a sweet and mild barbecue sauce and wrapped up in tender butter lettuce leaves makes a quick lunch or a light supper - and it all comes together in just minutes.
2 cups Boar's Head EverRoast Oven Roasted Chicken Breast, julienned
4 large butter lettuce leaves
1 cup mixed cucumber and green onion strips
1/4 cup barbecue sauce
1 teaspoon lemon juice
1 tablespoon mayonnaise
1 teaspoon mix black and white sesame seeds
Place the chicken onto the lettuce leaves and top with the cucumbers and onions. Mix the barbecue sauce with the lemon juice and mayonnaise and pour over the top. Sprinkle with the sesame seeds.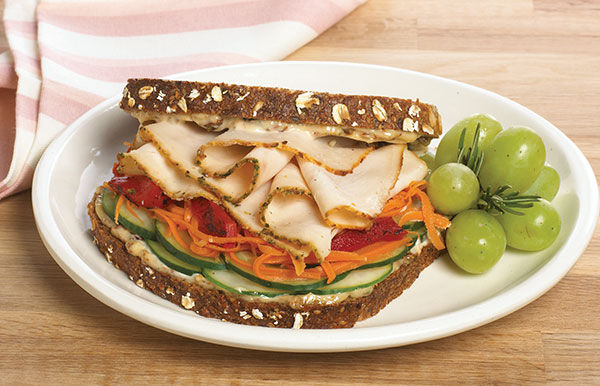 Chicken Gazpacho Sandwich
Servings: 4
The pungent tastes of roasted red peppers, sun-dried tomatoes, sweet carrots, cucumbers and spices turn a simple chicken sandwich into the perfect gourmet meal for a warm day or evening.
8 slices multi-grain bread
1 1/2 cups mayonnaise
1 small cucumber, sliced into thin rounds
1 cup grated carrots
1 teaspoon dried rosemary
1 tablespoon garlic powder
1/2 cup drained roasted red peppers, cut julienne style
1/2 cup drained, sun-dried tomatoes in oil, cut julienne style
12 slices Boar's Head EverRoast Oven Roasted Chicken Breast
Place 4 bread slices on a work surface. Spread each with a layer of mayonnaise and add enough cucumbers to form a layer. Sprinkle with carrots and a pinch of dried rosemary and garlic powder. Mix peppers with tomatoes and layer on top of carrots. Evenly divide chicken among sandwiches. Close sandwich with remaining bread slices and serve.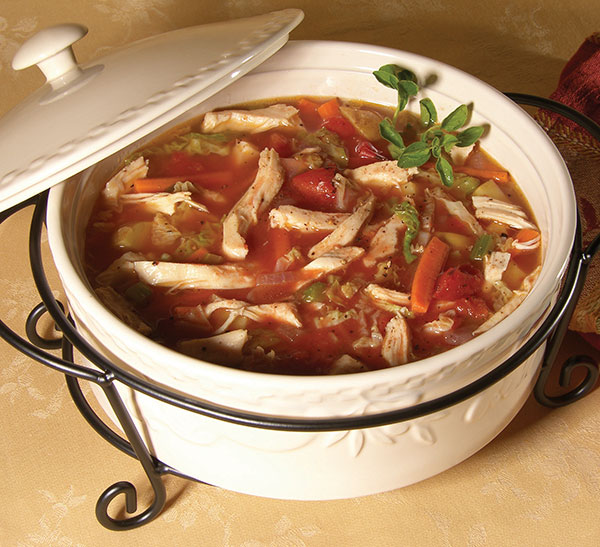 Pulled Chicken and Tomato-Vegetable Soup
Servings: 6
Cut the cooking time for this flavorful soup by substituting deli slicing chicken for recipes calling for pre-cooked chicken. Make sure to use a quality chicken that is sliced fresh at the deli for a homemade chicken taste.
2 tablespoons olive oil
1/4 head cabbage, shredded
1 red onion, cut into a small dice
3 stalks celery, finely chopped
4 small Yukon Gold potatoes, cut into a 1/2-inch dice
2 large carrots, cut into
1-inch julienne strips
2 teaspoons dried oregano, 6 sprigs for garnish
2 14-ounce cans chicken broth
2 14-ounce cans fire-roasted tomatoes with liquid
1 pound (1/4 inch thick) slices Boar's Head EverRoast Oven Roasted Chicken Breast, cut in strips
Add olive oil to large soup pot and heat at medium high until oil is hot. Add cabbage, onion, celery and potatoes; sauté for 8 minutes, stirring occasionally. Add carrots, dried oregano, chicken broth and tomatoes. Cook 20 minutes or until vegetables are tender. Use your fingers to pull chicken into strips; add to soup. Serve in individual bowls garnished with an oregano stem.
Source: Boar's Head
(Family Features) It's the perfect time of year for families to get back on track and pledge to eat healthy lunches for the remainder of the school year.
Families that take the free Power Your Lunchbox Pledge can access nutritious and delicious ideas for lunch, after-school snacks and weekday family dinners, as well as coupons, tips and ideas for incorporating more fruits and vegetables into lunchboxes. The pledge website also features a collection of registered dietitian-approved recipes, including warm, hearty and healthy lunches like this Alphabet Vegetable Soup and kid-friendly, build-your-own lunchbox ideas like these tasty Wonton Taco Cups.
For teachers who want to incorporate the program into their classrooms, pledge resources such as nutrition-focused lesson plans, certificates for students and take-home materials for families are also available online. Teachers who take the pledge can win a $500 gift card for classroom supplies.
Taking the pledge not only signals a commitment to making healthier meal choices, it helps those in need. From Jan. 4 through Feb. 15, for every online pledge, companies supporting the Power Your Lunchbox Pledge will donate $1 to Feeding America programs that support families and children. For more information, visit poweryourlunchbox.com.
Alphabet Vegetable Soup
Recipe courtesy of Produce for Kids
Total time: 45 minutes
1 tablespoon olive oil
3 carrots, diced
2 cups organic baby kale
8 ounces snipped green beans, chopped
1 russet potato, peeled and diced
1/2 medium onion, finely chopped
2 quarts low-sodium vegetable broth
1 can (14 ounces) no-salt-added diced tomatoes
1 teaspoon salt
1/2 teaspoon pepper
1/2 teaspoon garlic powder
1 cup alphabet pasta
In large pot over medium heat, heat oil.
Add carrots, kale, green beans, potato and onion. Cook 5 minutes, or until softened.
Add broth, tomatoes, salt, pepper and garlic powder. Bring to boil, reduce heat to low and simmer, covered, 20 minutes.
Stir in pasta and cook 10 minutes, or until cooked.
Wonton Taco Cups
Recipe courtesy of Produce for Kids
Total time: 25 minutes
Servings: 8
3/4 pound lean ground beef
1 tablespoon low-sodium taco seasoning
1 Roma tomato
2 mini sweet peppers
1/4 small sweet onion
1 tablespoon chopped cilantro
24 wonton wrappers
1/2 cup shredded low-fat cheddar cheese
2 avocados, sliced
1 lime, juiced
Heat oven to 350° F. Spray 24-cup mini muffin pan with nonstick spray and set aside.
Heat large, nonstick skillet over medium heat. Add ground beef and cook 5-7 minutes, or until cooked through. Drain and return to pan. Add taco seasoning and mix well.
Add tomato, peppers, onion and cilantro to food processor and chop until fine (or finely chop by hand). Add to ground beef and mix well.
Line muffin pans with wonton wrappers, placing one in each cup. Add taco mixture and top with cheese. Bake 12-15 minutes, or until wontons start to brown on edges.
Meanwhile, toss avocados with lime juice. Top each taco cup with avocado.
Source: Produce for Kids