(Family Features) Cooking delicious family meals is surely the focus of many home chefs, from quick dishes on busy weeknights to homestyle favorites on the weekend. Equally important, however, is dishing up foods and ingredients you can feel good about serving to your loved ones.
The next time seafood is on the menu, consider the source of your main course. Available fresh, frozen, smoked and canned year-round and nationwide, seafood from Alaska is sustainably harvested, and you can trust it comes from a responsibly managed fishery. Utilizing a science-based approach, the state sustains the long-term vitality of species and their natural habitats, as well as the fishing communities that rely on them.
Fishermen and scientists work together to ensure they only harvest what science tells them the ecosystem can support, so that fish stocks, communities and the marine environment can thrive for generations to come.
Wild, sustainable and harvested in the USA, Alaska seafood is full of flavor and high-quality protein, vitamins, minerals and oils essential to good health, including omega-3s and vitamin D. You can feel good serving your loved ones these Blackened Alaska Cod Tacos as a classic way to spice up your dinner table, or give a sweet heat kick to Spicy Alaska Sablefish in Lettuce Cups with Korean chili paste, miso and honey.
Visit alaskaseafood.org to find more information and family-friendly recipes.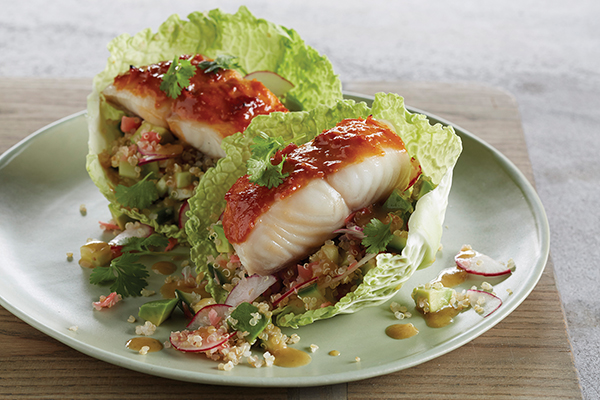 Spicy Alaska Sablefish in Lettuce Cups
Recipe courtesy of the Alaska Seafood Marketing Institute
Prep time: 20 minutes
Cook time: 10 minutes
Servings: 4 (2 lettuce cups each)
1/4 cup yellow or white miso
1 tablespoon Korean chili paste
1 tablespoon honey
1 pound Alaska sablefish (black cod), cut into 2-ounce portions
nonstick cooking spray
1 small avocado, pitted, peeled and chopped
1-1 1/4 cups cooked sushi rice or quinoa
1/2 cup chopped English cucumber
1/4 cup thinly sliced halved radish
1/2 cup pickled ginger, chopped
1/2 cup bottled Asian-style salad dressing with wasabi and ginger
8 medium-large butter lettuce leaves
1/2 cup cilantro leaves
Blend miso, chili paste and honey; spread onto Alaska sablefish portions. Place portions on nonstick cooking spray-coated, foil-lined baking sheet. Roast 5-7 minutes, or until fish is opaque throughout and deep golden brown; cool slightly.
In mixing bowl, combine avocado, rice or quinoa, cucumber, radishes and ginger; pour in dressing. Toss to coat.
To serve, place about 1/3 cup vegetable-rice mixture in each lettuce leaf. Top with one sablefish portion. Sprinkle each lettuce cup with 1 tablespoon cilantro leaves.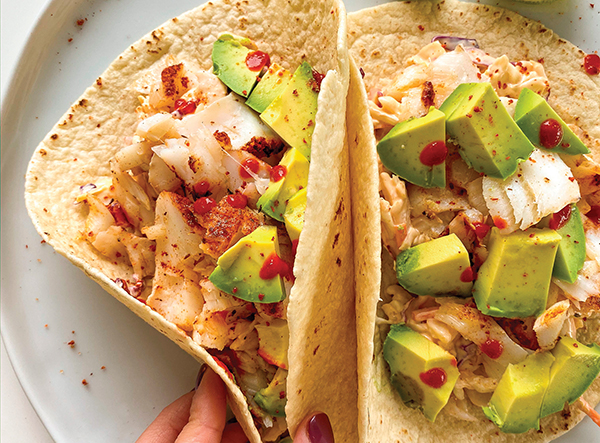 Blackened Alaska Cod Tacos
Recipe courtesy of the Alaska Seafood Marketing Institute and Sari Diskin
Prep time: 10 minutes
Cook time: 10 minutes
Servings: 2-3
2 cups slaw mix
2 tablespoons mayonnaise
1 teaspoon hot sauce, plus additional for serving
1 lime, divided
salt, to taste
pepper, to taste
nonstick cooking spray
1/2 pound Alaska cod
olive oil
blackening seasoning, to taste, plus additional, divided
sea salt, to taste
4 small flour tortillas
1 avocado, sliced
Preheat oven to 400 F.
In bowl, mix slaw with mayonnaise, hot sauce, juice from 1/2 lime and salt and pepper, to taste; set aside.
Line baking dish with parchment paper and spray with nonstick cooking spray. Place Alaska cod on top and coat lightly with olive oil. Generously season with blackening seasoning and sea salt, to taste.
Bake 5 minutes, set oven to broil and broil 3-5 minutes. When fish is done (when it flakes easily with fork and is opaque throughout), remove from oven and break into small chunks with fork.
In flour tortillas, add avocado and slaw. Top with chunks of cod and drizzle with additional hot sauce, squeeze of lime juice from remaining 1/2 lime and additional blackening seasoning.
Photo courtesy of Sari Diskin (Blackened Alaska Cod Tacos)
(Family Features) Good things come in pairs, and flavor is no exception. Professional chefs know the secret to combining sweet, hot, tangy, salty, bitter and sour for crave-worthy dishes, and now everyday cooks are discovering this concept as well. The right combinations can turn basic main dish meals into tasty adventures. With a greater variety of ingredients and influences at our fingertips — in restaurants, grocery stores and on TV cooking shows — experimenting with flavor pairings has never been easier or more exciting.
The palate-pleasing combination of salty and sweet goes upscale with crystallized ginger and salted pistachio. While it is an ideal pairing for desserts, the dynamic duo is equally delicious in main dish recipes, such as Ginger-Pistachio Crusted Chicken With Tangerine Sauce.
Watch out when wasabi and maple — the ultimate in sweet heat — team up. Accented by ginger and garlic, Maple Wasabi Glazed Salmon features an exciting twist on teriyaki. This combination is also great for enhancing the flavor of stir-fries, ribs and chicken.
Though their appearance is tiny, when mustard and fennel seeds join forces, the result is a mighty punch of flavor and texture. For a light, delicious main dish salad, try Fennel and Mustard Seed Crusted Shrimp With Apricot Dressing. Toasting the seeds adds depth to their flavor.
For additional recipes, visit www.mccormick.com.
Toasting spices is fast and easy:
Place dry skillet over medium heat.
Once pan is hot, pour in desired amount of seeds.
Using a spatula, stir seeds in pan until they become fragrant, approximately 1 to 2 minutes.
Fennel and Mustard Crusted Shrimp With Apricot Dressing
Prep Time:15 minutes
Cook Time: 5 minutes
Makes: 4 servings
1 tablespoon McCormick Gourmet Collection Mustard Seed
1 teaspoon McCormick Gourmet Collection Fennel Seed
1 teaspoon hot water
1/8 teaspoon McCormick Gourmet Collection Ground Turmeric
1 pound extra large shrimp (16 to 20 count), peeled and deveined
1/4 cup apricot preserves
2 tablespoons fresh lime juice
1 tablespoon light soy sauce
1/4 teaspoon coarse sea salt
2 tablespoons oil
4 cups field greens
Heat a small skillet on medium heat. Add mustard and fennel seeds; cook and stir about 2 minutes or until fragrant. Immediately pour out of hot pan to avoid over-toasting. Finely crush seeds using a small food processor, a clean coffee grinder, a rolling pin or a mortar and pestle. Pour into small bowl. Stir in hot water and turmeric. Let stand 5 minutes. Coat shrimp evenly with seed mixture.
Mix apricot preserves, lime juice, soy sauce and sea salt in small bowl with wire whisk until well blended. Set aside.
Heat oil in large skillet on medium heat. Add shrimp; cook 3 to 5 minutes or just until shrimp turn pink, turning once. Divide greens among 4 serving plates. Top with shrimp. Serve with apricot dressing.
Maple Wasabi Glazed Salmon
Prep Time: 10 minutes
Cook Time: 20 minutes
Makes: 8 servings
2 teaspoons McCormick Gourmet Collection Wasabi Powder
1 teaspoon water
1/3 cup maple syrup
1/3 cup thinly sliced green onions
2 tablespoons soy sauce
1 teaspoon McCormick Gourmet Collection Garlic Powder
1 teaspoon McCormick Gourmet Collection Ground Ginger
2 pounds salmon fillets
Mix wasabi with water in small bowl until well blended. Add remaining ingredients, except salmon; stir until well mixed. Place salmon in 13- by 9-inch baking dish. Spoon wasabi mixture evenly over salmon.
Bake in preheated 375°F oven 15 to 20 minutes or until fish flakes easily with a fork, basting occasionally with wasabi mixture.
Ginger-Pistachio Crusted Chicken With Tangerine Sauce
Prep Time: 10 minutes
Cook Time: 20 minutes
Makes: 4 servings
3/4 cup shelled salted pistachio nuts
1/4 cup McCormick Gourmet Collection Crystallized Ginger
1/3 cup tangerine or orange juice
2 tablespoons honey
1 tablespoon soy sauce
4 boneless skinless chicken breast halves
1 egg white, lightly beaten
Place pistachios and crystallized ginger in food processor; process until mixture is chopped. Stir tangerine juice, honey and soy sauce in small bowl with wire whisk until smooth. Set aside.
Place chicken in foil-lined shallow baking pan; brush chicken with egg white. Coat evenly with ginger-pistachio mixture.
Bake in preheated 350°F oven 15 to 20 minutes or until chicken is cooked through. Slice chicken and serve with tangerine sauce.
Source: McCormick