Some of the best memories throughout life stick with you forever as you play them over and over in your head and smile, thinking fondly of those times.
A lot of these good memories are centered around laughs, great conversation and irresistible, mouthwatering food. Family events such as wedding showers or Mother's Day, or the first day of spring after a bitter winter, can be reasons to celebrate and indulge in something out of the ordinary.
This Dreamy Chocolate Mousse can make those special memories just a little bit sweeter. It's rich, decedent and full of scrumptious chocolate flavor. Topped with whipped cream and shaved chocolate, it's the perfect addition to almost any special occasion.
It works as a dessert after a meal or just a special treat. It can be served at a big event or simply a Sunday afternoon at home.
To start, add chocolate, marshmallows and heavy cream to a mixing bowl. Microwave until melted, about 2 minutes. Let cool for 1 hour.
Pour additional heavy cream into a mixer and whip until soft peaks form. Take 1/2 cup of whipped cream and refrigerate for later.
Fold half of the soft whipped cream mixture into the cooled chocolate. Once combined, add the rest of the whipped cream.
Spoon the mousse into serving bowls or ramekins and refrigerate at least 2 hours. Once chilled, add toppings or reserved whipped cream and shaved chocolate, if desired.
It's easy and requires minimal ingredients, and the results are something smooth, rich and luscious.
Your sense of taste will take you right back to that happy place once you take a small bite. Memories are some of the greatest gifts you get to keep forever.
Find more sweet treat recipes at Culinary.net.
Watch video to see how to make this recipe!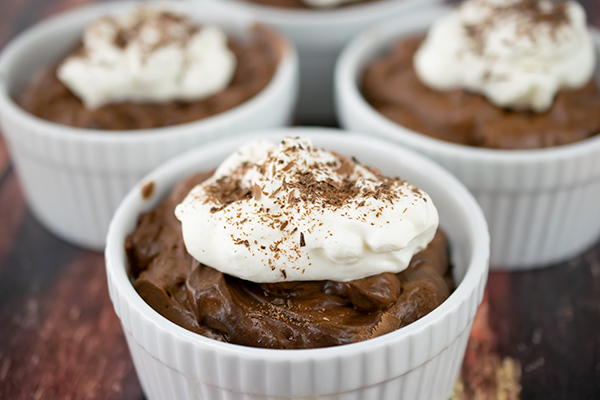 Dreamy Chocolate Mousse
Serves: 4-8
8 ounces bittersweet chocolate, chopped, plus chocolate shavings (optional)
40 large marshmallows
2 1/4 cups heavy cream, divided
In large bowl, combine chopped chocolate, marshmallows and 1/2 cup heavy cream. Microwave 2 minutes on high, or until marshmallows are melted. Let mixture cool 1 hour.
Using mixer, whip 1 3/4 cups heavy cream until soft peaks form. Reserve and refrigerate 1/2 cup whipped cream for topping.
In cooled chocolate mixture, fold in 2 cups whipped cream until combined. Add remaining whipped cream and mix until combined.
Spoon mousse into ramekins. Refrigerate at least 2 hours.
To serve, top with 1/2 cup reserved whipped cream and sprinkle with shaved chocolate, if desired.
(Family Features) These, though, are happy showers filled with good wishes, gifts and a celebration of events to come, like weddings or babies.
Such special occasions deserve special food, says Nancy Siler, vice president of consumer affairs and public relations at Wilton. She suggests cupcakes for dessert, but not just any cupcake. These are unique - shower-ready, decorated theme-appropriately with umbrellas.
They can be prepared from a mix or from scratch and baked and served in color-coordinated silicone baking cups. Siler suggests incorporating a grouping of cupcakes as part of the shower décor. Use them as the table centerpiece, arranged on a tray, or a tiered cupcake stand. Or if it's a sit-down meal, place a cupcake at each setting.
Construct the umbrella decorations from ready-to-use fondant that is tinted in the colors selected for the occasion. Step-by-step instructions ensure foolproof results, plus they can be made several days in advance, so on party day there's no last-minute mad rush. Cupcakes can be baked, iced and sprinkled a day in advance. Place the umbrellas on the mini cakes the day of the party.
Umbrellas in place, let the showers begin!
For additional shower and party ideas, baking and decorating tips or to order supplies, visit www.wilton.com.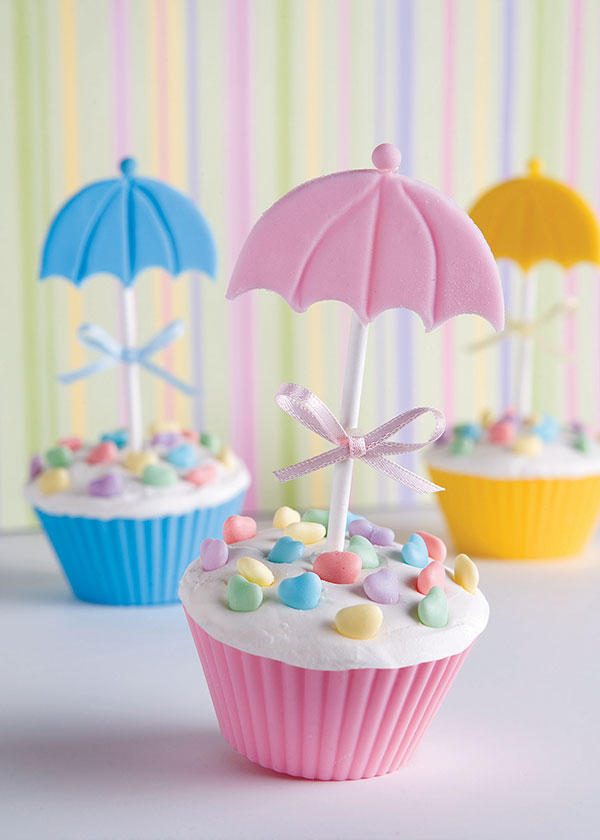 Ready for Showers
Each serves 1
1 package (24 ounces) White Ready-To-Use Rolled Fondant
Rose, Royal Blue, Lemon Yellow Icing Color
Round Fondant Cut-Outs
Lollipop Sticks
Fondant Adhesive*
1 package (about 18 ounces) cake mix, any flavor
Water, vegetable oil and eggs to prepare cake mix
1 can (16 ounces) White Decorator Icing
Heart Drops Sprinkles
Several days in advance, tint fondant rose, blue and yellow; roll out 1/8-inch thick. Cut circles using largest Round Cut-Out; cut across circle, slightly more than halfway. Using smallest Round Cut-Out, cut scalloped edge; with spatula, score umbrella rib lines. Let dry on waxed paper covered cake boards. Reserve remaining tinted fondant. Attach dried fondant pieces to lollipop sticks with Fondant Adhesive. Roll a 1/4-inch ball of matching fondant; attach to umbrella top with adhesive. Let dry.
Preheat oven to 350°F. Prepare cake mix following package instructions; place batter in Pastel Silicone Baking Cups supported by cookie sheet. Bake 18-20 minutes or until toothpick inserted in center comes out clean; cool completely. Ice cupcakes smooth with icing; sprinkle with Heart Drops. Insert fondant umbrella. If desired, tie ribbon around stick.
* To make Fondant Adhesive for attaching dried fondant decorations to lollipop sticks, knead 1/4 teaspoon water into 1 ounce (1-1/2-inch ball) rolled fondant until it becomes soft and sticky. Apply to fondant decoration with brush or place in decorating bag and pipe it onto decoration.
Source: Wilton Products