(Family Features) If you and your loved ones yearn for new, stimulating experiences to feel connected to the outdoors, look no further than enjoying mealtime al fresco. Inspired by the Mediterranean tradition of "eating in the open air," al fresco dining offers passionate home cooks a fresh way to enjoy their favorite recipes outside with friends and family.
Consider these two tried-and-true al fresco tips from television personality and culinary icon Rachael Ray the next time you enjoy dinner on the deck or lunch on the patio.
Gather the right tools: On those buggy days and nights during the warm season when you're dining al fresco, grab a food mesh tent. Not only will it protect your food, but it also looks good and goes with a variety of table settings.
Plan the decor: When hosting friends and family, up your floral game by reaching into the garden and adding some fresh herbs – it's aesthetically pleasing and smells delicious.
Ideal al fresco meals typically take advantage of in-season produce, offer easy preparation so you can focus on entertaining and are simple enough to eat outdoors. Skip complicated cooking steps and turn to a delicious option like Yellowfin Tuna and Artichoke Pasta, which can be served as an appetizer, side dish or on its own as a light main course.
This dish practically calls for ingredients like Genova Yellowfin Tuna in Olive Oil, which features cuts of wild-caught tuna, hand-filleted in just the right amount of olive oil. Savory, rich and flavorful with a perfect texture, the tuna elevates the dish with a uniquely rich and savory flavor stemming from Mediterranean inspiration.
To find more al fresco dining inspiration and recipe ideas, visit GenovaSeafood.com.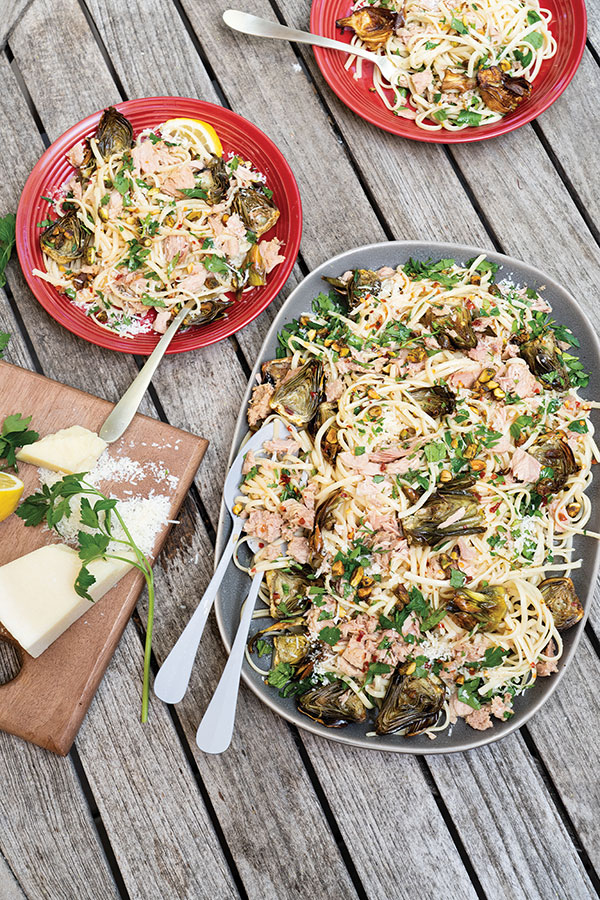 Yellowfin Tuna and Artichoke Pasta
Recipe courtesy of Rachael Ray on behalf of Genova Tuna
Prep time: 15 minutes
Cook time: 40 minutes with fresh artichokes (25 minutes with canned)
Servings: 4
Artichokes:
Cold water
12 small, fresh artichokes or 2 cans artichoke hearts in water
2 lemons
3 tablespoons extra-virgin olive oil
salt, to taste
pepper or red pepper, to taste
Pasta:
Water
2 cans (5 ounces each) Genova Yellowfin Tuna in Olive Oil
2 tablespoons extra-virgin olive oil
4 tablespoons butter, cut into tabs
4 cloves garlic, chopped
1 teaspoon crushed red pepper (optional)
salt, to taste
1/2 cup white wine, chicken stock or vegetable stock
1 pound spaghetti or linguine
1 lemon, juice only
1 cup grated Pecorino Romano cheese
1/4 cup chopped fresh Italian parsley, divided
1 small handful fresh mint, chopped, divided
1/4 cup toasted pistachios or pine nuts, chopped
To make artichokes: Preheat oven to 425 F.
Fill bowl with cold water and juice of one lemon.
If using fresh artichokes, trim tops of artichokes and tougher outer leaves. Using vegetable peeler or small paring knife, trim stems. Once prepped, cut fresh artichokes in half. If using canned artichokes, drain well and quarter lengthwise.
Place artichokes in lemon water.
Let soak 2-3 minutes, drain and pat dry with kitchen towel.
In casserole or baking dish, arrange artichokes and add juice of remaining lemon, quarter lemon and add lemon wedges to dish.
Add olive oil and salt and pepper, to taste.
Roast 25-30 minutes, or until tender.
To make pasta: Bring large pot of water to boil.
While water is coming to boil, place large skillet over medium heat and add olive oil and butter. Add garlic; red pepper, if desired; and salt, to taste, and swirl 1 minute. Add white wine or stock and let reduce by half.
When water comes to boil, salt water, add pasta and cook 1 minute less than directions. Reserve 1/2 cup pasta water before draining.
Add artichokes to large skillet with tuna with its oil and gently break up with back of wooden spoon or paddle.
Add lemon juice and reserved pasta water to skillet along with drained pasta, cheese and half the parsley, mint and pistachios. Toss to combine, top with remaining parsley, mint and pistachios and serve.
Source: