(Family Features) Chilly nights are the perfect time to pull out your favorite soup or stew recipe. Settle down with a blanket while a big pot of chili simmers on the stove. Warm, hearty and flavorful, chili is a classic comfort food, and it's easy to customize with your favorite flavor combinations. Whether you prefer it spicy or mild, with or without beans, you can develop your own signature style.
For chili connoisseurs, ground beef is usually the go-to meat, but try a new take on an old favorite by adding ground duck to your chili for something creative. Duck has the robust, red-meat texture of beef but with the lean nutritional benefits of other poultry. Farm-raised white Pekin duck has less saturated fat than beef and a mild flavor that's not considered gamey. Plus, it's versatile and complements a variety of dishes.
Substitute duck in your favorite version of chili or try this Duck Chili. Like many chili recipes, this one tastes even better the next day, making it a great dish to make ahead of time and reheat when needed.
Find other duck recipes and more information about cooking with duck at mapleleaffarms.com.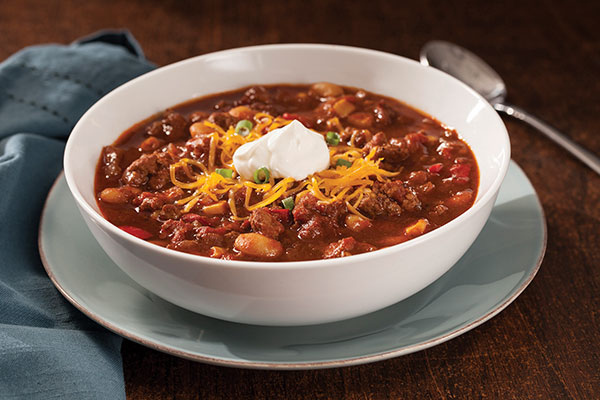 Duck Chili
2 tablespoons Maple Leaf Farms Rendered Duck Fat, divided
2 pounds Maple Leaf Farms All Natural Ground Duck
1 teaspoon salt, plus additional, to taste
pepper, to taste
3 tablespoons ground cumin, divided
1 large red onion, chopped
4 garlic cloves, minced
2 jalapeno peppers, minced (remove seeds to reduce heat, if desired)
2 red bell peppers, cored and chopped
3 tablespoons chili powder
1 tablespoon dried oregano
1 teaspoon cayenne pepper
24 ounces dark beer
2 cups chicken stock
6 ounces tomato paste
28 ounces canned tomatoes
24 ounces canned great northern beans, drained
8 ounces canned whole kernel corn, drained
hot sauce, to taste
sour cream (optional)
shredded cheese (optional)
chopped scallions (optional)
fresh cilantro, rough chopped (optional)
In large pot over medium-high heat, heat 1 tablespoon duck fat. Add ground duck; sprinkle with salt and pepper, to taste, and 1 tablespoon cumin.
Cook meat until just slightly browned, stirring occasionally to break into small pieces. Remove duck from pot and set aside.
Return pot to medium-high burner and add remaining duck fat. Add onion, garlic, jalapenos and red peppers to pot and saute 3 minutes, stirring so garlic doesn't burn. Stir in chili powder, oregano, cayenne pepper, 1 teaspoon salt and remaining cumin. Saute 2 minutes, stirring frequently.
Add beer and stock to pot. Stir, scraping up bits from bottom of pot. Add tomato paste and mix well. Add tomatoes and duck then bring to boil. Reduce heat and simmer, covered, 1 hour.
Stir in beans, corn and hot sauce. Cook uncovered 30 minutes, or until chili is thick.
Serve in bowls with optional toppings: sour cream, cheese, scallions and cilantro.
Note: Vegetable oil can be substituted for duck fat.
Source: Maple Leaf Farms