(Family Features) With summer comes the opening of farmers markets bursting with fresh produce ripe for the taking. Pair your fresh-picked bounty with wholesome pecans for power-packed seasonal recipes from salads and snacks to side dishes and main courses.
American Pecans are The Original Supernut; a naturally sweet superfood that's nutritious, versatile and local as it's the only major tree nut native to America. Pecans are also among the highest in "good" monounsaturated fats and contain plant protein, fiber, flavonoids and essential minerals, including copper, manganese and zinc, so you can feel good when adding them to your next meal or snack.
After a morning at the farmers market, cook up a nourishing spread for breakfast or lunch. For a quick, mess-free brunch, try Sheet Pan Eggs with Pecan Breakfast "Sausage." Substitute flavored ground pecans for your sausage and add fresh greens for a quick, good-for-you option with plant-based protein.
For a simple yet sweet take on dessert, try Mini Pecan Lemon Berry Tarts with a three-ingredient, pecan-based crumb as the base, topped with a light filling and fresh berries.
To find additional seasonal recipes, nutrition information and cooking tips, and to learn more about America's native nut, visit AmericanPecan.com.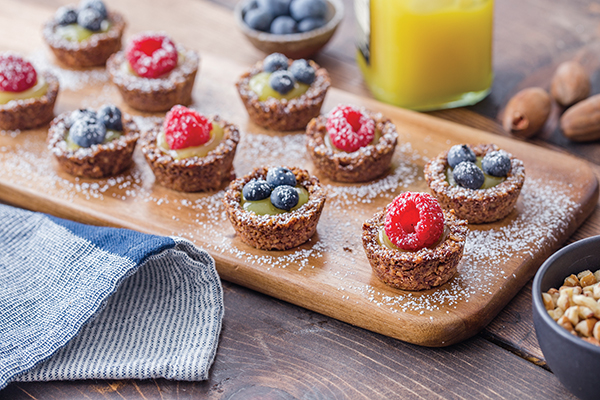 Mini Pecan Lemon Berry Tarts
Mini Pecan Crusts:
2 cups pecan pieces or halves
1/4 cup butter, melted
2 tablespoons sugar
24 Mini Pecan Crusts
1/2 cup lemon curd
1/2 cup blueberries or raspberries
powdered sugar, for dusting (optional)
To make Mini Pecan Crusts: Heat oven to 350° F. Line mini muffin tin with paper liners.
In food processor, blend pecans, butter and sugar until mixture forms coarse dough.
Scoop about 2 teaspoons pecan mixture into each muffin tin. Use back of wooden spoon or fingers to press mixture evenly along bottom and up sides of each muffin cup.
Bake 12 minutes, or until crusts are golden brown. Allow crusts to cool completely before removing from pan.
Spoon 1 teaspoon lemon curd into each Mini Pecan Crust. Top each with one raspberry or three small blueberries. Dust with powdered sugar, if desired.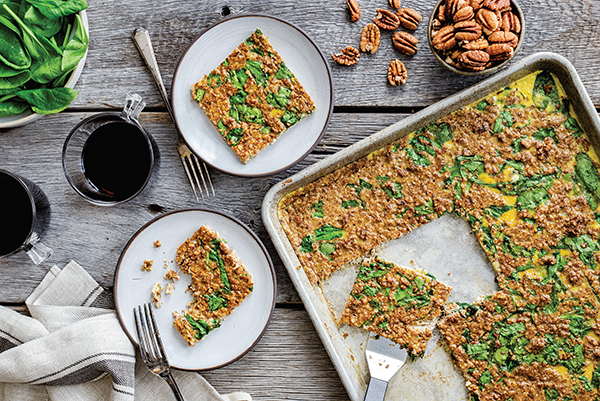 Sheet Pan Eggs with Pecan Breakfast "Sausage"
Pecan Breakfast Sausage:
1 teaspoon extra-virgin olive oil
1/2 medium onion, diced (about 1/2 cup)
1 tablespoon coconut aminos
1 teaspoon sage
1 teaspoon thyme
1/4 teaspoon nutmeg
1/4 teaspoon garlic powder
1/4 teaspoon black pepper
1/8 teaspoon cayenne pepper
1 cup raw pecan halves
Sheet Pan Eggs:
12 eggs, beaten
3/4 cup fat-free or low-fat milk
1 1/4 teaspoons salt
1/2 teaspoon pepper
1 cup fresh spinach, chopped
nonstick cooking spray
Heat oven to 325° F.
To make Pecan Breakfast "Sausage": In pan over medium heat, add olive oil, onion, coconut aminos, sage, thyme, nutmeg, garlic powder, black pepper and cayenne pepper. Cook about 4 minutes until onion is translucent.
In food processor, pulse onion mixture and pecans until consistency of ground beef is reached, about 8-10 pulses.
To make Sheet Pan Eggs: In large bowl, whisk eggs, milk, salt and pepper until combined.
Add pecan "sausage" and spinach to eggs and stir. Lightly spray nonstick 12-by-17-inch sheet pan with cooking spray. Pour egg mixture onto prepared pan. Bake 18-20 minutes, or until eggs are fully cooked.
Source: American Pecan Council