(Family Features) What better way to serve a hungry gang than with two crowd-pleasers: meatballs and BBQ? Anyone hosting a big game gathering needs to have recipes on-hand that are hearty and tasty, while still being easy to prepare.
The easiest and fastest way to find what you need to feed the fans is by utilizing local club stores like Sam's, where shoppers can huddle and find great game-day foods and entertaining items at affordable prices. These crowd-pleasing recipes start off with Byron's Hand Pulled Pork BBQ and Casa Di Bertacchi Meatballs, both sold at Sam's Clubs nationwide.
The Mini Meatball Hamburgers are made from fully-cooked meatballs crafted from an outstanding, authentic family recipe. The seasoned and lightly steamed meatballs can be warmed up quickly and paired with a tasty sauce for some super-star sliders.
BBQ Nachos take game-day appetizers to a whole new level. Made with hickory-smoked pulled pork that's finished with a sweet and spicy sauce, this BBQ is ready to be warmed up and loaded up with fan-favorite nacho toppings for an appetizer that will have your guests calling for a replay.
For more information about Byron's Hand Pulled Pork BBQ, Casa Di Bertacchi Meatballs, or for additional recipes, visit www.ClubEntertaining.com.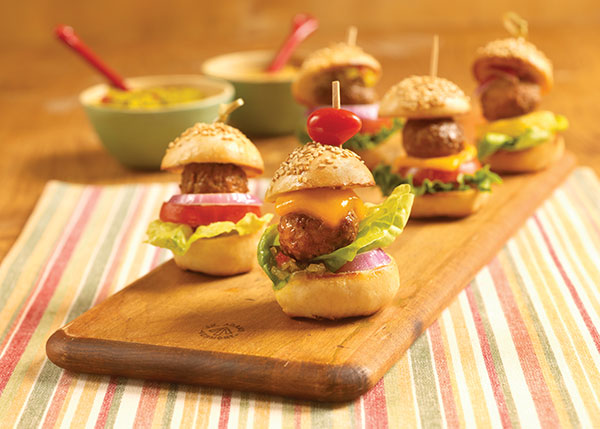 Mini Meatball Hamburgers
Makes 26 appetizers
26 frozen Casa Di Bertacchi fully cooked meatballs (1 pound)
1 cup ketchup
3 tablespoons Dijon honey mustard
26 2-inch rolls, sliced in half horizontally
1 1/2 cups sweet pickle relish
Preheat oven to 400°F.
Place meatballs in 8 x 8 or 9 x 9-inch pan. Bake for 25 to 30 minutes, or until thoroughly heated.
In a small bowl, combine ketchup and mustard. Place a heaping teaspoon of ketchup mixture on the bottom of roll. Place a meatball on top. Follow with a rounded teaspoon of pickle relish. Place top half of roll over top. Repeat for remaining meatballs and rolls. Serve immediately on a large platter.
Cheeseburger Variation: Place a small slice of cheddar cheese over each meatball.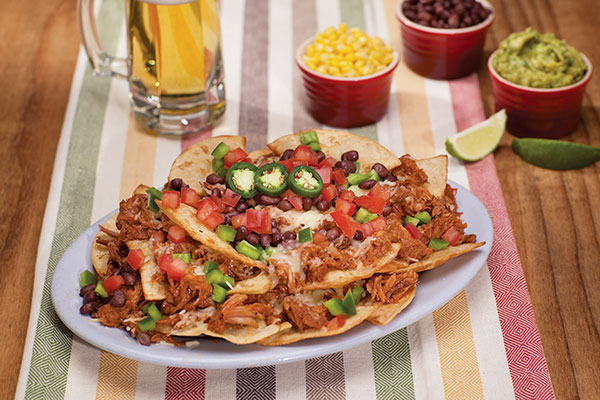 BBQ Nachos
Serves 4
Byron's BBQ
1 cup shredded Monterrey Jack cheese
1/2 cup red onion, diced
1 green bell pepper, diced
1 tomato, diced
1 15-ounce can black beans, rinsed and drained
Tortilla chips
Whole kernel corn
Sliced jalapeño
Fresh guacamole
Sour cream
On a large oven safe serving plate, arrange a layer of tortilla chips; top with BBQ. Sprinkle with cheese, onions, bell peppers, diced tomato and black beans. Heat in microwave (or in oven) until cheese is melted. Garnish with whole kernel corn, sliced jalapeño, fresh guacamole, and sour cream.
Source: Byron's BBQ / Casa Di Bertacchi Meatballs