(Family Features) The weeknight dinner meal can be a challenge...it must taste good, appeal to the family and be easy to prepare. Economical would also be a plus.
Sound like a tall order? Not when Salsa Verde Bean Enchiladas are on the menu. Just five ingredients...tortillas, prepared salsa verde, shredded Mexican cheese blend, cumin and canned Southwestern Bean Salad...are all that's needed for an easy Tex-Mex entrée.
The zesty bean salad, straight from the can, has just the right blend of chili powder and spices to provide a hint of heat to the black beans, kidney beans, corn and bell peppers. To make the filling, simply purée one can of the salad, and stir in a second can along with a dash of cumin. Spread onto corn or flour tortillas, roll up, and place in a baking dish. Pour on the salsa, sprinkle with the pre-shredded cheese blend and bake.
How easy is that? Add precooked chopped chicken or cooked ground beef or turkey to the bean filling if you like. Mixed greens and orange segments tossed with a vinaigrette would make a great accompaniment, or assorted favorite fruits would be tasty, too.
Southwestern Bean Salad is great to have in the pantry. It's equally delicious at room temperature or chilled. For a quick accompaniment, serve with grilled meats and poultry, burgers or sandwiches. Use it to top a mixed green salad, or add cooked pasta such as rotini or penne for a quick main dish pasta salad. Or, puree and serve as a zesty bean dip with tortillas.
For other great recipes made with READ salads, visit www.readsalads.com.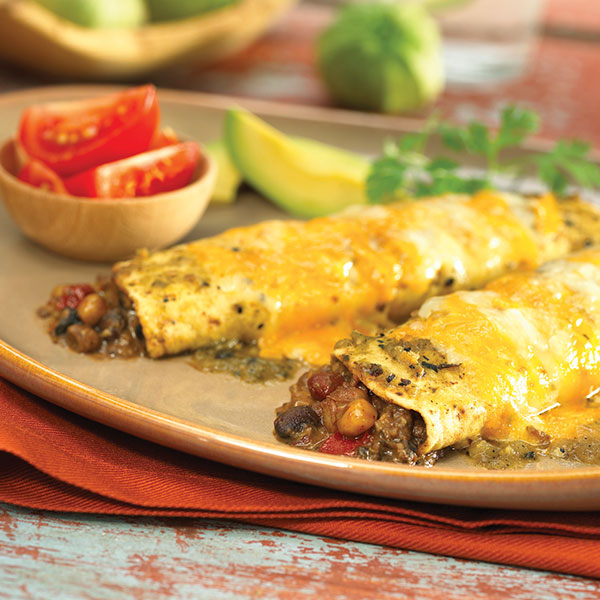 Salsa Verde Bean Enchiladas
Preparation Time: 20 minutes
Baking Time: 40 minutes
Standing Time: 10 minutes
2 cans (15 ounces each) READ Southwestern Bean Salad
1 teaspoon ground cumin
12 soft corn or flour tortillas (6 to 8 inch diameter)
2 cups prepared salsa verde
1-1/2 cups shredded Mexican cheese blend
Optional Toppings:
Sour cream, chopped avocado, fresh chopped cilantro, lime wedges
1. Drain 1 can of salad; discard liquid. Place in food processor. Process until pureed but still slightly chunky.
2. In large bowl, stir together pureed salad, second can of salad with liquid, and ground cumin. Spoon mixture evenly down center of tortillas. Roll up and place seam-side down in 13x9-inch baking dish sprayed with nonstick cooking spray.
3. Pour salsa verde evenly over enchiladas. Top with cheese. Cover with foil. Bake at 350°F 30 minutes. Remove foil; continue baking 10 to 15 minutes until beginning to brown around edges. Let stand about 10 minutes before serving with optional toppings, if desired.
Makes 6 servings.
Nutrition information per serving (1/6 of recipe): 418 calories; 15 g protein; 53 g carbohydrate; 16 g fat; 1438 mg sodium; 27 mg cholesterol; 9 g dietary fiber; 15 mg iron; 0.06 mg thiamin; 1224 IU vitamin A; 3 mg vitamin C.