(Family Features) With its dramatic presentation, this freshly baked cake and ice cream-based dessert can impress guests at your next gathering.
Find more dessert recipes perfect for entertaining at Culinary.net.
Watch video to see how to make this delicious recipe!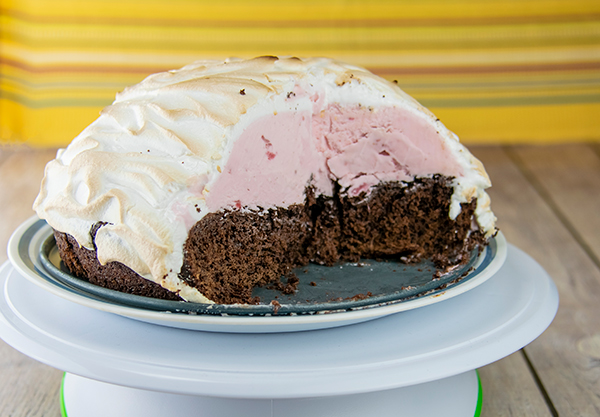 Baked Alaska
Recipe adapted from Milk Means More
1/2 cup, plus 6 tablespoons, all-purpose flour
6 tablespoons unsweetened cocoa powder
1 cup, plus 2/3 cup, granulated sugar, divided
1 1/2 teaspoons baking powder
1/2 teaspoon baking soda
1/4 teaspoon salt
1/2 cup 2% milk
1/4 cup canola oil
2 eggs
nonstick cooking spray
1 1/2 quarts ice cream, any flavor
3 large egg whites
1/8 teaspoon cream of tartar
1 teaspoon vanilla extract
Heat oven to 350° F.
In large bowl, whisk flour, cocoa powder, 1 cup sugar, baking powder, baking soda and salt. Make well in center of dry ingredients. Add milk, canola oil and eggs. Whisk until blended. Beat batter until smooth, about 3 minutes.
Pour batter into 9-inch, round, greased cakepan. Bake 25-28 minutes. Cool completely on wire rack. Wrap in plastic wrap and freeze 1 hour.
In glass bowl, spray with nonstick cooking spray. Layer inside of bowl with plastic wrap, draping some over edges of bowl.
Scoop ice cream into bowl until full. Level ice cream. Place overhang of plastic wrap over ice cream. Freeze 2 hours.
Unwrap cake and place on plate. Unwrap ice cream and place on top of cake. Wrap both together and freeze 2 hours.
In medium bowl, beat egg whites and cream of tartar until frothy. Add remaining sugar and vanilla extract; beat mixture to form stiff peaks.
Heat oven to 500° F.
Unwrap stacked cake. Place on oven-safe plate. Spread meringue, creating swirl motions around cake. Bake 2-4 minutes until meringue peaks are brown and remaining meringue takes on dry appearance.
Serve immediately or cover with plastic wrap and place in freezer.
Source: Culinary.net