(Family Features) Thoughts of hosting and entertaining during one of the busiest seasons of the year can be stressful. With so much party preparation for the holidays, from decor to drinks and appetizers to activities, it's easy to see how even the most experienced hosts can get a little flustered.
One way to make sure you get to enjoy this year's festivities is to streamline preparation without sacrificing flavor, quality or appearance. By limiting the number of drinks and dishes you serve, you can wow your guests with both your culinary expertise and your smile.
Stick to one or two signature cocktails so you won't have to stock the bar (which can be expensive) or take drink orders and play bartender all night. Save even more time by serving make-ahead cocktails that simply require adding soda when ready to drink. Add white and red wine options, and offer seltzer and cranberry or pomegranate juice for mocktails.
Make a festive centerpiece that's also edible, such as this Wreath Centerpiece from Kaukauna Cheese. Assemble it the day before or the morning of the party, eliminating last-minute stress. It's simple to make and appropriate for nearly any holiday gathering. Plus, the "No-Artificial-Anything" Cheese Ball, with no additives or artificial ingredients, can appeal to the taste buds of hungry guests.
Let your hors d'oeuvres serve double duty as both appetizer and party decor. To make it nearly effortless, head to your local grocery store's deli section. Pick up cured meats, cheeses, pickled vegetables, assorted olives, breads, crackers, nuts and fruits. Arrange on a large platter, board or tray then garnish with rosemary sprigs and scatter with pomegranate seeds for a festive finish in a flash.
For more easy entertaining recipes, visit Kaukaunacheese.com.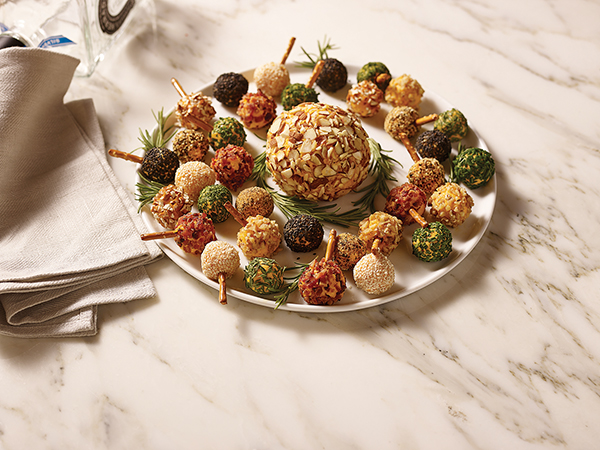 Edible Wreath Centerpiece
1 Kaukauna Port Wine Cheddar Cheese Ball (10 ounces)
1 container (11.3 ounces) Kaukauna Sharp Cheddar Cheese Spread
sesame seeds or poppy seeds
bacon bits or chopped walnuts
10-12 small pretzel sticks
rosemary, for garnish (optional)
Place cheese ball in center of large, round platter.
To make mini cheese balls, shape 1-2 tablespoons of cheese spread into balls. Roll lightly in seeds and bacon bits or walnuts.
Insert pretzel sticks into mini cheese balls up to 1 hour prior to serving. Store in refrigerator. Remove from refrigerator about 15 minutes before serving. Garnish with rosemary sprigs, if desired.
Source: Kaukauna Cheese