(Family Features) Family reunions, birthday celebrations and holiday gatherings all bring loved ones together for special occasions that call for delicious meals and snacks. To help elevate entertaining in your household, make hosting a cinch with quick, shareable recipes.
Pizza, for example, is a nearly universally beloved dish ideal for sharing. This version is simple, fresh and perfect for entertaining guests or just for a night in with fresh mozzarella, Prosciutto di Parma and fresh basil.
For savory seasonal flavor, look no further than Sweet Potato Rounds topped with fried sage leaves, goat cheese and prosciutto. When guests arrive, greet them with easy hors d'oeuvres that balance wellness with indulgence like this Crudites Platter or Fresh Snack Board.
To help ensure the freshest of ingredients in these tasty appetizers, look for the "Parma Crown" on packages of Prosciutto di Parma, which you can find pre-packaged or available for slicing at many gourmet deli counters and specialty food stores. Containing no additives, preservatives or hormones, Parma ham contains no additives, preservatives or hormones and is 100% natural. Aged twice as long as many other options, it creates a depth of flavor that's delicate and sweet-savory with a buttery texture.
Find more easy appetizers perfect for entertaining at parmacrown.com.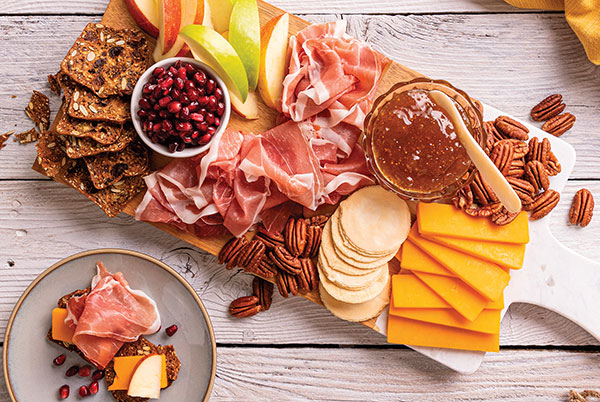 Fresh Snack Board
1/3 pound Prosciutto di Parma
1 apple, sliced
1 handful pecans, walnuts or almonds
1/2 cup pomegranate seeds
1/2 cup fig jam
1/2 pound sharp cheddar cheese, sliced
crackers
On charcuterie board or platter, arrange prosciutto, apple slices, nuts, pomegranate seeds, fig jam and cheddar cheese slices. Serve with crackers.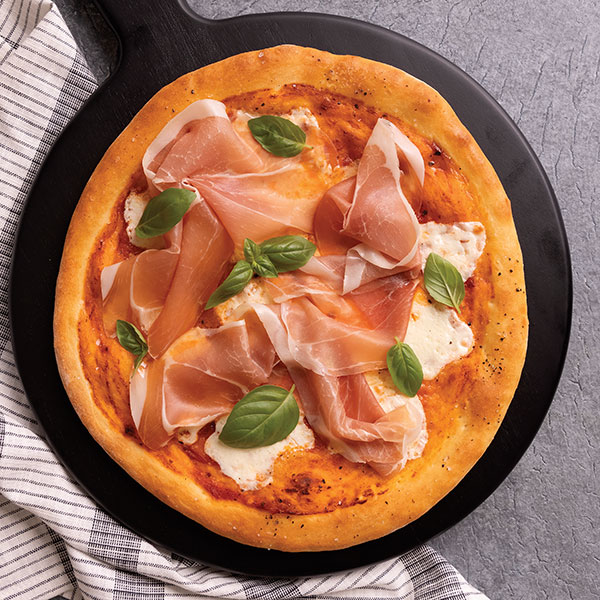 Prosciutto Pizza
Yield: 8 slices
Olive oil
flour
1 container (16 ounces) store-bought pizza dough
1/4 cup tomato sauce
4 ounces fresh mozzarella, cubed
5 slices Prosciutto di Parma
6 fresh basil leaves
Remove dough from refrigerator and let sit at room temperature at least 30 minutes. Preheat oven to 500 F. Grease baking sheet with olive oil.
Roll out pizza dough onto floured work surface to form oblong shape about 16 inches long and 12 inches wide. Remove to oiled baking sheet and stretch out edges to fill length of baking sheet.
Bake 4 minutes. Remove from oven and evenly spread tomato sauce over surface, leaving 1/2 inch from edges bare. Dot with mozzarella. Bake until edges are golden and mozzarella is bubbling, about 12 minutes.
Drape prosciutto over mozzarella. Garnish with fresh basil.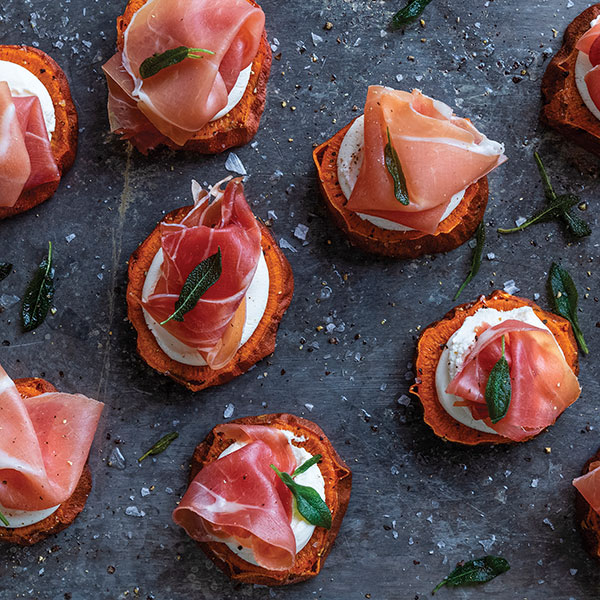 Sweet Potato Rounds
Yield: 16-20 rounds
2 medium sweet potatoes
2 teaspoons olive oil
salt, to taste
2 tablespoons butter
1 bunch fresh sage, stems removed
4 ounces goat cheese
8 slices Prosciutto di Parma, halved
Preheat oven to 425 F. Line baking sheet with foil or parchment paper. Peel and slice sweet potatoes into 1/2-inch rounds. In medium bowl, toss sweet potatoes with oil and lightly season with salt, to taste. Arrange rounds in single layer on prepared pan; bake until sweet potatoes are lightly browned and tender, about 20 minutes, flipping halfway through.
In small skillet over medium heat, bring butter to simmer. Add half the sage leaves. Cook until crispy, 2-3 minutes. Remove to paper towel and season lightly with salt, to taste. Repeat with remaining sage leaves. Reserve 2 teaspoons butter. In small food processor, combine goat cheese and reserved butter; whirl until smooth.
To make rounds, remove goat cheese to plastic zip-top bag. Cut off one corner and pipe small dollops of cheese onto each round. Top with half slice prosciutto and one crispy sage leaf.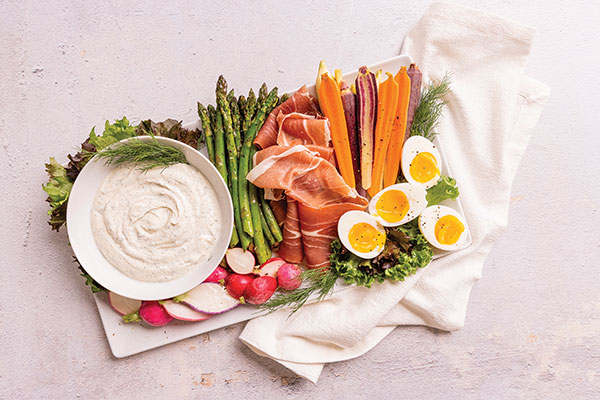 Crudites Platter
Platter:
8 asparagus
water
2 soft-boiled eggs
5 baby carrots, halved lengthwise
4 radishes with tops, halved lengthwise
1 head little gem lettuce, quartered
6-8 slices Prosciutto di Parma
Dip:
2 teaspoons white miso
1 tablespoon lemon juice
1 teaspoon water
1/2 cup full-fat Greek yogurt
2 tablespoons chopped herbs (dill, tarragon or parsley)
1/4 teaspoon salt
fresh black pepper, to taste
To make platter: Trim asparagus. To blanch, bring pot of water to boil and place asparagus in pot 2-3 minutes. While asparagus is cooking, fill large bowl with ice water. After 3 minutes, plunge asparagus in ice bath and let cool.
To soft-boil eggs, bring pot of water to boil. Gently place room temperature eggs in water and simmer 3-4 minutes. Remove eggs with slotted spoon and cool under running water.
Serve asparagus and eggs alongside baby carrots, radishes and little gem lettuce. Drape prosciutto slices over some vegetables and between others.
To make dip: In small bowl, whisk miso, lemon juice and water until smooth. Add yogurt, herbs and salt. Season generously with cracked pepper, to taste; mix and serve with platter.
Source: Prosciutto di Parma