(Family Features) Who says waking up your taste buds only happens in the morning? The novelty of breakfast for dinner can be a lively change for the whole family. And when you give them the added kick of picante sauce, you can create hearty family meals with variety.
Cooking with Pace Picante sauce adds texture and zest to a surprising number of traditionally "breakfast-y" foods. These tips and recipes will add ease, taste and fun to the table in a fast and budget-friendly way.
Breakfast for Dinner Tips
Simple Supper Solution: Spoon scrambled eggs or egg whites onto a warmed whole wheat flour tortilla. Add cooked, crumbled bacon or diced turkey sausage, cheese and picante sauce. Fold the tortilla around the filling and you've got a fast and hearty dinner.
Hard-boiled Eggs Made Easy: To hard-cook eggs, place eggs in a saucepan (do not crowd) and cover with cold water. Bring to a boil, then remove from heat and let stand, covered, for 10 minutes. Drain, cover with cold water and let stand 5 minutes before peeling. This causes the egg to shrink away from the shell, making peeling a snap.
Morning Fun at Dinnertime: Invite the family to dress for dinner - in PJs, of course. Add fruit as a garnish to different foods. Use strawberries and bananas to make a friendly face next to crêpes. Cookie cutters aren't just for cookies - use them to cut an omelet or breakfast pizza into hearts, stars and other fun shapes.
Wake up to these and other recipes at pacefoods.com.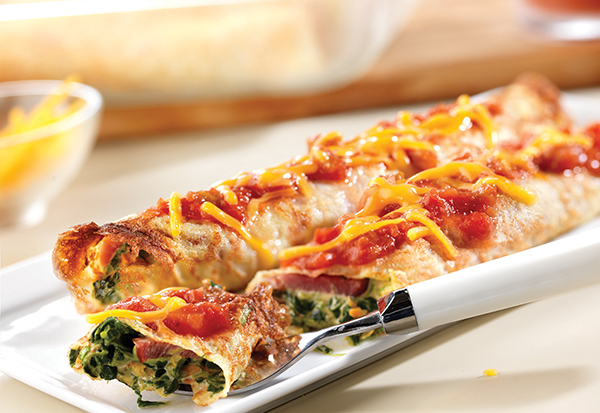 Ham Spinach Fiesta Crêpes
Makes: 8 servings (2 crêpes each)
Prep: 10 minutes
Chill: 30 minutes
Cook: 25 minutes
1 1/2 cups nonfat milk
1 1/3 cups all-purpose flour
3 eggs
1 package (15 ounces) frozen chopped spinach, thawed and well drained
1 jar (16 ounces) Pace salsa con queso
8 slices (1 ounce each) smoked fully-cooked ham
1 cup Pace Picante sauce
4 ounces shredded Cheddar cheese (about 1 cup)
Place milk, flour and eggs into a blender. Cover and blend until mixture is smooth. Refrigerate for 30 minutes.
Stir spinach and salsa con queso in a medium bowl.
Pour about 3 tablespoons of batter into a hot, greased nonstick skillet or crêpe pan, swirling skillet to spread batter over bottom of skillet. Cook for 1 minute or until crêpe is golden on both sides. Remove crêpe from skillet. Repeat, making 16 crêpes in all and stacking cooked crêpes.
Place 1/2 slice ham onto each crêpe. Top each with 3 tablespoons of spinach mixture. Roll up crêpes around filling. Place filled crêpes seam-side down into 2 (2-quart) shallow microwave-safe baking dishes. Top with picante sauce and cheese.
Microwave, one dish at a time, on high for 2 minutes or until cheese is melted.
Tip: Chill time is important for this recipe, because it allows bubbles in batter to subside, which makes crêpes less likely to tear during cooking.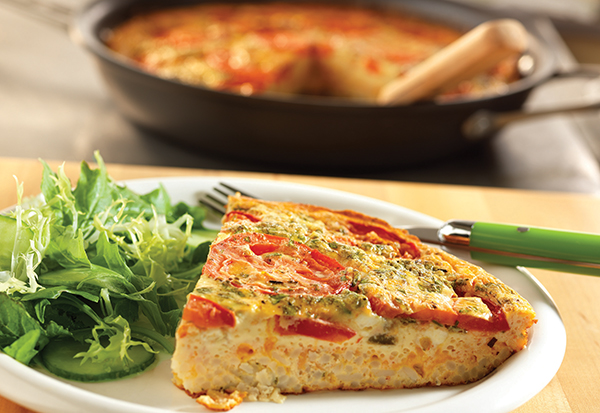 Tomato-Feta Frittata
Makes: 6 servings (1 wedge each)
Prep: 20 minutes
Bake: 40 minutes
7 eggs
1/2 cup water
1 cup cooked regular long-grain white rice
3 ounces crumbled feta cheese (about 3/4 cup)
2 ounces shredded Cheddar cheese (about 1/2 cup)
1/2 cup Pace Picante sauce
2 tablespoons chopped fresh cilantro leaves
1/2 teaspoon dried oregano leaves, crushed
3 Italian plum tomatoes, sliced
Heat oven to 400°F. Heat greased, oven-safe 10-inch skillet in oven for 5 minutes.
Beat eggs and water in large bowl with a fork or whisk. Stir in rice, feta cheese, Cheddar cheese, picante sauce, cilantro and oregano. Pour egg mixture into skillet. Arrange tomato slices on egg mixture.
Bake for 40 minutes or until eggs are set. Cut frittata into 6 wedges.
Tip: You can use any type of cooked rice for this recipe. It's a great way to use up leftover rice from your take-out Chinese dinner.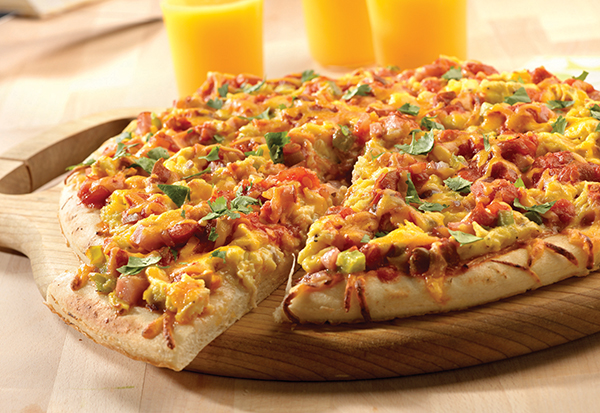 Breakfast Pizza
Makes: 6 servings (1 slice each)
Prep: 20 minutes
Cook: 10 minutes
Bake: 5 minutes
1 tablespoon butter
1/4 cup chopped onion
1/4 cup chopped green pepper
1/4 cup chopped Canadian bacon
1 (12-inch) prepared pizza crust
8 eggs, beaten
1/4 teaspoon ground black pepper
3/4 cup Pace Picante sauce
2 ounces shredded Cheddar cheese (about 1/2 cup)
2 tablespoons chopped fresh cilantro leaves
Heat oven to 400°F.
Heat butter in a 10-inch skillet over medium heat. Add onion, pepper and bacon, and cook until vegetables are tender.
Place pizza crust onto a pizza pan or baking sheet. Place in oven to warm.
Stir eggs and black pepper into skillet. Cook and stir until eggs are set. Spoon egg mixture onto pizza crust. Top with picante sauce. Sprinkle with cheese.
Bake for 5 minutes or until cheese is melted. Sprinkle with cilantro. Cut pizza into 6 slices.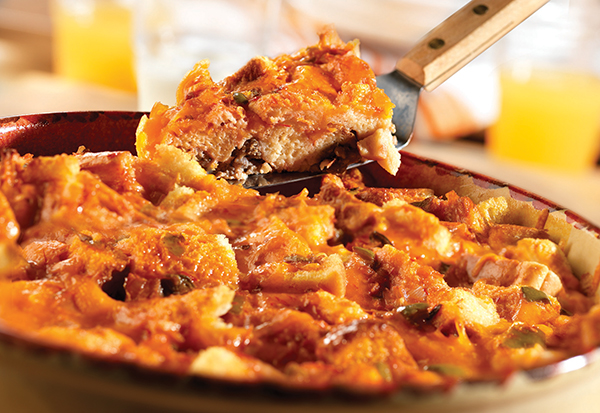 Fiesta Breakfast Casserole
Makes: 6 servings (about 1 1/2 cups each)
Prep: 15 minutes
Chill: 2 hours
Bake: 45 minutes
1/2 pound bulk pork sausage
12 slices Pepperidge Farm White Sandwich Bread, cut into cubes
1 1/2 cups shredded Cheddar cheese
1 cup Pace Picante sauce
4 eggs
3/4 cup milk
Cook sausage in 10-inch skillet over medium-high heat until well browned, stirring often to separate meat. Pour off fat.
Spoon sausage into 2-quart shallow baking dish. Top with bread cubes and cheese. Beat picante sauce, eggs and milk in medium bowl with fork or whisk. Pour picante sauce mixture over bread mixture. Stir and press bread mixture into picante sauce mixture to coat. Cover and refrigerate 2 hours or overnight.
Heat oven to 350°F. Uncover baking dish.
Bake 45 minutes, or until knife inserted in center comes out clean.
Tip: Prepare dish the night before and pop into oven in the morning. It's great when you have overnight guests. Add a simple side of sliced melon and breakfast is ready!
Source: Pace Foods