(Family Features) Holiday gifting is an exciting tradition for many families, but finding that perfect present for the person who seems to have it all can be tricky. This year, you can add a touch of sweetness to that special someone's stocking with the gift of fresh fruit.
Look no further than the delicious taste contained in Florida Citrus gift boxes with premium citrus hand-selected at the peak of ripeness and delivered fresh to your recipient's door. From varieties of fresh fruit to tasty delights like orange blossom honey, jellies, candies and chocolate, it's an easy choice for crossing off holiday checklists.
Well-known for its vitamin C content, it provides a combination of nutrients to support overall health for a nutritious twist on seasonal gifting.
"Fresh Florida Citrus fruits provide an attainable solution for individuals falling short of their daily nutrient goals," said Dr. Rosa Walsh, director of scientific research at the Florida Department of Citrus. "It offers a number of key vitamins and minerals, including vitamin C, folate, fiber and thiamin, and can help support overall well-being when consumed as part of a healthy diet."
Thanks to Florida's unique climate with subtropical temperatures, abundant sunshine, distinctive sandy soil and ample rainfall, the citrus fruits pack a juicy, naturally sweet taste from the Sunshine State. These gift boxes can bring a new spin to your holiday menu.
Whether you're shipping a box to a family member, friend, neighbor or your own front door, holiday get-togethers can receive a spark of sweetness from a delicious appetizer like Grapefruit Avocado Bruschetta. This fresh take on a party favorite calls for toasted baguette slices topped with chopped grapefruit, Roma tomatoes, avocado and red onion to take your hors d'oeuvres selection to the next level. For the adults in attendance, put a simple yet refreshing cocktail on the menu with this Grapefruit Paloma – just rim four glasses with margarita salt and mix a few easy ingredients to bring a little sunshine to the festivities.
Find more information, check availability in your area and shop for gift boxes at gifts.floridacitrus.org.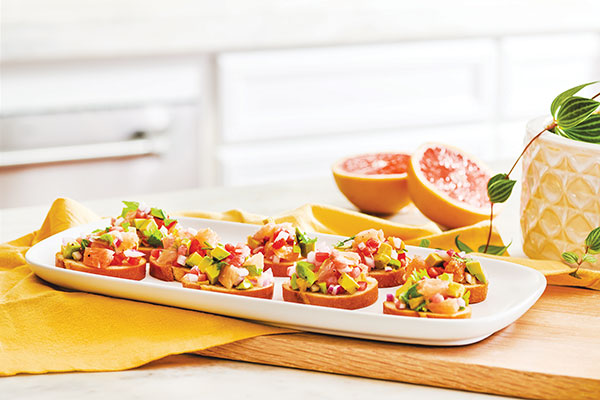 Servings: 3
1 cup Florida Grapefruit sections
1 baguette, sliced on bias
2-3 whole garlic cloves, peeled and halved
3-4 ripe Roma tomatoes, seeded and chopped
1 large avocado, chopped
1/2 small red onion, chopped
1/4 cup chopped cilantro
2 tablespoons olive oil
salt, to taste
pepper, to taste
Florida Grapefruit segments, for garnish (optional)
cilantro sprigs, for garnish (optional)
Preheat oven to 350 F. Chop grapefruit.
Place baguette slices on baking sheet and toast 5-7 minutes, or until golden brown.
Rub toasted sides of bread with cut sides of garlic cloves; reserve.
In medium bowl, combine tomatoes, grapefruit, avocado, red onion, cilantro and olive oil; season with salt and pepper, to taste. Toss gently to combine.
Spoon grapefruit mixture over prepared bruschetta.
Garnish with fresh grapefruit segments and cilantro, if desired.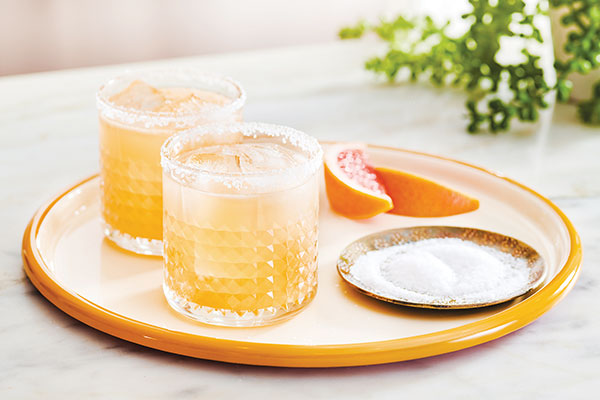 Servings: 4
24 ounces Florida Grapefruit Juice
16 ounces silver tequila
16 ounces seltzer
ice
margarita salt (optional)
4 Florida Grapefruit wedges (optional)
In large pitcher, mix grapefruit juice, tequila and seltzer with ice.
Rim four glasses with margarita salt, if desired.
Divide paloma among glasses; garnish with grapefruit wedges, if desired.
Source: Florida Department of Citrus