(Family Features) 'Tis the season to dust off the decorations, dig out your family cookbook and celebrate everything that makes the holidays special. While it's certainly a time to honor longstanding traditions, there's also room to start something new and put your personal touch on the festivities.
When planning your holiday menu, for example, shake it up with a few simple swaps to impress your guests no matter the meal occasion. For an appetizer, try a Pork and Ricotta Crostini for a flavorful upgrade to the typical cheese platter. Come dinnertime, replace the annual pot roast with a savory and seasonal Apple and Herb-Roasted Pork Shoulder featuring high-quality Farmer John California Natural Fresh Pork, which is made from 100 percent fresh pork and with no artificial ingredients.
For more recipe inspiration and ideas to shake up the season, visit FarmerJohn.com.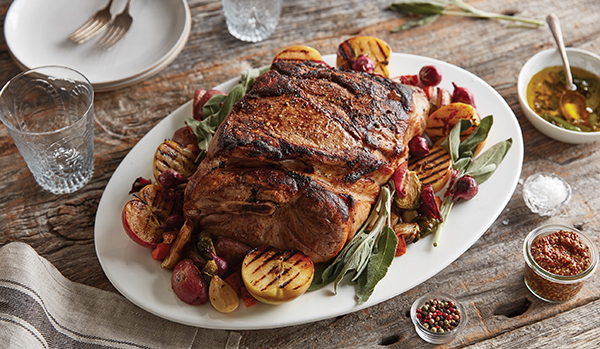 Apple and Herb-Roasted Pork Shoulder
Prep time: 15 minutes
Cook time: 2 hours, 15 minutes
Total time: 2 hours, 30 minutes
Servings: 12
1 Farmer John Boneless Pork Shoulder Butt Roast
salt, to taste
pepper, to taste
garlic powder, to taste
1 pound potatoes, cut into 2-inch chunks
2 firm apples, cut into six pieces
4 thyme sprigs
6 sage leaves
1 cup chicken broth
Heat oven to 500° F.
Season pork shoulder roast with salt, pepper and garlic powder, to taste.
Lay potatoes and apples in bottom of roasting pan. Top with thyme and sage.
Place seasoned pork shoulder in roasting pan on top of thyme and sage.
Pour chicken broth into roasting pan. Roast 10-15 minutes until skin is browned.
Reduce heat to 300° F and continue to roast, basting liquid over pork every 30 minutes for about 2 hours until internal temperature reaches 155° F.
Remove pork shoulder roast and let cool 15 minutes before slicing.
Serve with roasted potatoes and apples.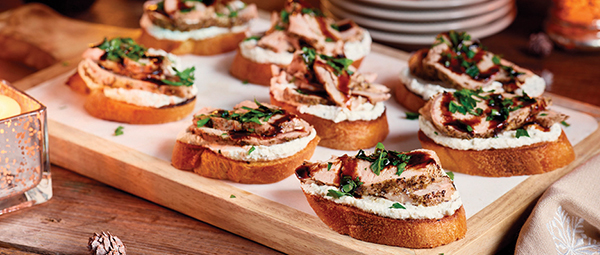 Pork and Ricotta Crostini
Prep time: 15 minutes
Cook time: 36 minutes
Total time: 51 minutes
Servings: 10
1 Farmer John Pork Tenderloin
1 tablespoon olive oil
1 tablespoon, plus 1 teaspoon, Italian seasoning blend, divided
1 teaspoon garlic powder, divided
1 teaspoon salt
1/2 teaspoon freshly ground black pepper
1 1/2 cups ricotta cheese
1/4 teaspoon onion powder
1 long baguette, cut into 1/2-inch thick slices
balsamic glaze
3 tablespoons finely chopped fresh flat-leaf parsley
Heat oven to 425° F. Rub all sides of pork tenderloin with olive oil and place on rack in shallow roasting pan. Sprinkle 1 teaspoon Italian seasoning, 1/2 teaspoon garlic powder, salt and pepper evenly over tenderloin.
Roast 25-30 minutes per pound until internal temperature reaches 150° F. Remove pork tenderloin from oven and let stand 5-10 minutes. Cut into thin slices.
In small bowl, mix together ricotta cheese, remaining Italian herb mix, remaining garlic powder and onion powder until well combined. Set aside.
Place baguette slices on large baking sheet and bake 2-4 minutes per side while pork tenderloin is standing.
To assemble, spread about 1 tablespoon ricotta cheese mixture on one side of each baguette slice; top with thin slices of pork. Garnish with drizzle of balsamic glaze and parsley.
Source: Farmer John