(Family Features) The holiday season is full of opportunities to eat, drink and gather around the table with the ones you love. Whether it's a family dinner, office potluck or neighborhood brunch, good food is a cornerstone of nearly every great holiday celebration.
From hosting guests to kids returning home on winter break, the holiday season can require more planning than usual. Ensure you're prepared this year with a savory centerpiece staple like Smithfield Spiral Sliced Ham or a crowd-pleasing favorite like Bacon French Toast Bake, giving you more time to soak in the best parts of the season.
To keep the holiday season fresh and exciting, consider putting a twist on a classic, like adding sausage to a traditional side dish like Sausage and Ciabatta Stuffing. Available as links, patties and rolls, Smithfield's line of Fresh Breakfast Sausage is made using premium, high-quality pork to provide big flavor that can be enjoyed any time of day.
For more recipes and tips that can help make your holiday soiree a breeze, visit Smithfield.com/HolidayHub.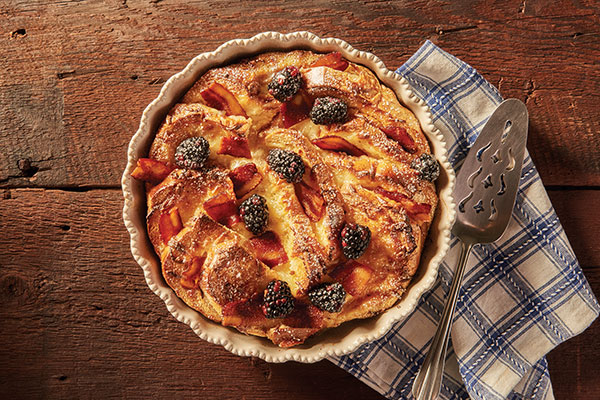 Bacon French Toast Bake
1 small loaf challah or brioche bread, cut into 1/2-inch-thick slices
nonstick cooking spray
6 large eggs
1 cup heavy cream
1 cup whole milk
1/2 cup grated Gruyere cheese
1/3 cup maple syrup
1 teaspoon ground cinnamon
4 slices Smithfield Bacon, cooked and chopped
1/4 cup grated Swiss cheese
1/2 cup blackberries
1 teaspoon powdered sugar, for dusting
Leave bread slices out, at room temperature, at least 3 hours, or until slightly stale.
Generously coat 9-inch baking dish with nonstick cooking spray. Arrange bread, slightly overlapping.
In large bowl, whisk eggs, heavy cream, milk, Gruyere cheese, maple syrup and cinnamon. Add chopped bacon, saving 2 tablespoons for later. Pour over bread in baking dish. With hands, press down on bread to submerge.
Cover baking dish with plastic wrap. Refrigerate at least 5 hours, or overnight.
Heat oven to 375 F. Remove plastic. Sprinkle remaining bacon and Swiss cheese over top of bread mixture.
Bake 45-50 minutes, or until golden brown and set.
Top with blackberries and dust with powdered sugar before serving.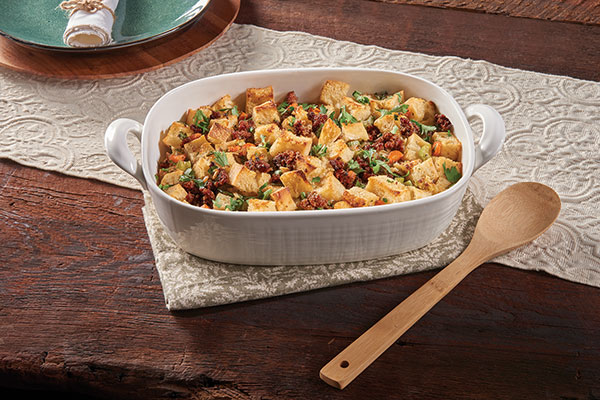 Sausage and Ciabatta Stuffing
1 large loaf ciabatta bread, cut into 1-inch cubes
4 tablespoons unsalted butter, divided
1 pound Smithfield Fresh Sausage Roll
1 cup carrots, diced
1 1/2 cups onion, diced
2 cups celery, diced
2 cups chicken broth
1/3 cup olive oil
2 tablespoons chopped parsley, plus additional for garnish
2 tablespoons chopped rosemary
salt, to taste
freshly ground black pepper, to taste
Heat oven to 325 F.
Bake ciabatta bread cubes until lightly toasted, about 15 minutes. Set aside. Increase oven temperature to 375 F.
In skillet over medium-high heat, melt 1 tablespoon butter.
Cook sausage, breaking meat into medium pieces, until browned, about 8-10 minutes. Transfer sausage to large bowl; set aside.
Add remaining butter to skillet; cook carrots, onions and celery until soft, 5-7 minutes, and transfer to bowl with sausage.
In large bowl, mix bread cubes, chicken broth, olive oil, parsley, rosemary and salt and pepper, to taste. Add vegetable and sausage mixture to bread cubes mixture and combine.
Spread evenly in greased 9-by-13-inch baking dish. Bake until golden brown and bread is slightly crisp on top, 30-35 minutes.
Garnish with additional parsley before serving.
Tip: Recipe can be made one day before and refrigerated overnight.
Source: Smithfield