Festive flavors and seasonal sips
(Family Features) The holidays are the perfect time to gather with friends and family to celebrate the season.
Take the stress out of hosting by shopping at a store like ALDI for your holiday must-haves, including everything from food and wine to holiday decor and even gifts for nearly anyone on your list, helping you to save time and money.
Toast to the holidays with an impressive appetizer spread, paired with award-winning wines, with recipes like Cranberry Shrimp Ceviche Cups paired with the creamy and tropical taste of William Wright Chardonnay. Or whip up quick and easy Party Poppers made with dates, Brie cheese and bacon to mesh with the fruit, vanilla and spicy fall notes of Peaks & Tides Cabernet Sauvignon.
Blue Cheese and Walnut Mousse provides a savory finish when matched with La Rue Côtes de Provence Rosé and its hints of lavender, rosemary and thyme. Finally, add a little something sweet to your spread by pairing the refreshingly ripe Landshut Riesling with a festive Gingerbread Trifle.
Find more holiday recipes and shopping solutions at ALDI.us .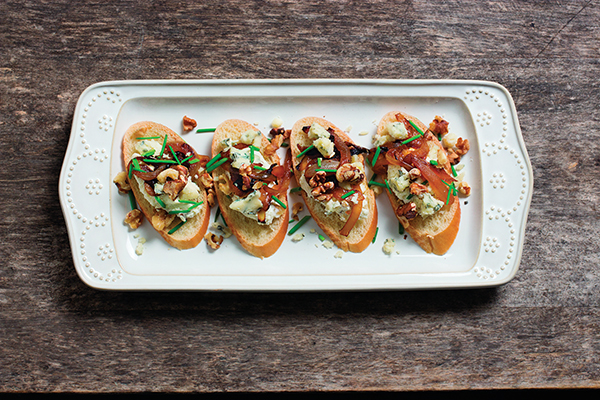 Blue Cheese and Walnut Mousse
Recipe courtesy of Chef Scott, ALDI Test Kitchen
Prep time: 5 minutes
Cook time: 15 minutes
Yield: 10 servings
2 tablespoons Simply Nature 100% Pure Avocado Oil
3 large yellow onions, sliced
5 ounces Happy Farms Preferred Blue Cheese Crumbles
8 ounces Happy Farms Cream Cheese
Stonemill Ground Black Pepper, to taste
1 cup Friendly Farms Heavy Whipping Cream
8 ounces Southern Grove Chopped Walnuts, divided
5 cucumbers, thinly sliced
In large pan, heat oil and saute onions until brown and caramelized.
In food processor, combine blue cheese crumbles and cream cheese. Process until smooth. Season with pepper, to taste.
In medium bowl, using hand mixer, whisk cream until soft peaks form. Fold in cheese mixture and 4 ounces chopped walnuts.
Top cucumber slices with mousse, caramelized onions and remaining chopped walnuts. Finish by grinding black pepper over top for garnish.
Pair each serving with glass of La Rue Cotes de Provence Rosé.
Tip: Mousse can also be served as a dip with baguette slices.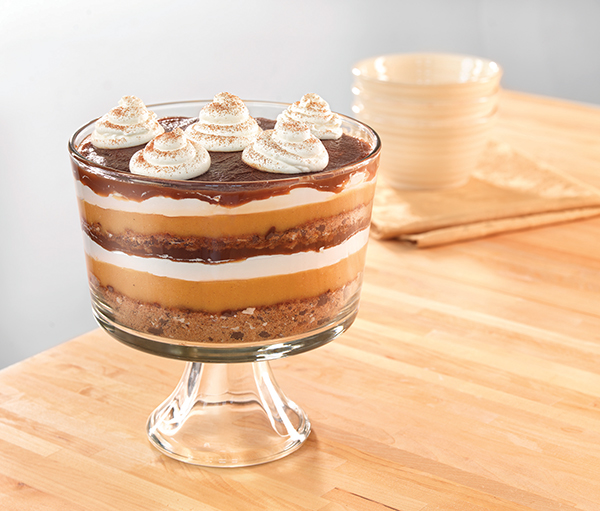 Gingerbread Trifle
Recipe courtesy of the ALDI Test Kitchen
Prep time: 20 minutes
Yield: 12 servings
1 package (3.4 ounces) Baker's Corner Vanilla Pudding
1 3/4 cups Specially Selected Premium Eggnog
1/2 teaspoon Stonemill Pumpkin Pie Spice
7 ounces Café Bistro Soft Gingerbread, crumbled, divided
1 1/4 cups Friendly Farms Whipped Topping, divided
1 cup Berryhill Apple Butter, divided
2 teaspoons Stonemill Ground Cinnamon
Whisk vanilla pudding mix and eggnog. Add pumpkin pie spice and beat 2 min­utes. Chill in refrigerator 10 minutes.
In large glass bowl, layer one-third of gingerbread cookies, one-third of pudding, one-third of whipped topping and 1/2 cup apple butter; repeat two more times.
The third layer will end with whipped topping. Garnish with cinnamon.
Chill in refrigerator 2 hours.
Pair each serving with glass of Landshut Riesling.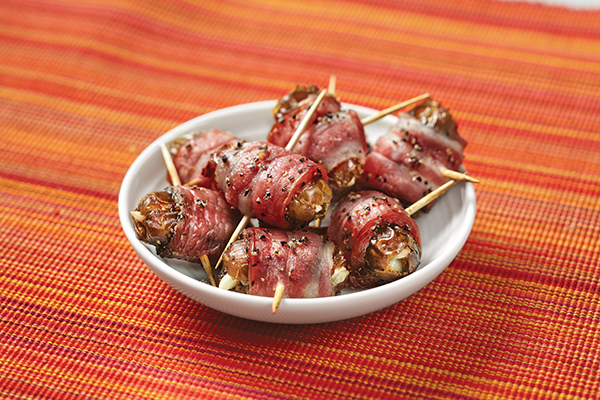 Party Poppers
Recipe courtesy of Chef Alyssa, ALDI Test Kitchen
Prep time: 25 minutes
Cook time: 15 minutes
Yield: 36 poppers
8 ounces Southern Grove Pitted Dates
4 ounces Specially Selected Brie Cheese Round
6 ounces Southern Grove Slivered Almonds
1 1/2 pounds Specially Selected Thick Sliced Hickory Bacon
2 teaspoons Stonemill Ground Black Pepper
Heat oven to 375° F.
Cut dates in half, lengthwise.
Cut brie into bite-size pieces, about the size of peanuts.
Place one piece of Brie and four almond pieces on each open date half. Place other half on top.
Quarter bacon slices, wrap tightly around stuffed dates and secure with toothpicks. Sprinkle with pepper.
Line baking sheet with foil and place wrapped dates on top. Bake 15 minutes, or until bacon is crispy. Serve warm.
Pair each serving with glass of Peaks & Tides Cabernet Sauvignon.
Cranberry Shrimp Ceviche Cups
Recipe courtesy of Chef Kates, ALDI Test Kitchen
Prep time: 20 minutes, plus 1 hour chill time
Cook time: 3 minutes
Yield: 16 ceviche cups
1 1/2 teaspoons Stonemill Iodized Salt, divided
16 ounces Specially Selected Black Tiger Shrimp, thawed
1 cup Southern Grove Dried Cranberries
1/2 red onion, roughly chopped
1/2 cup fresh parsley
1/2 jalapeno, roughly chopped
1/4 cup fresh lemon juice
1/4 cup fresh lime juice
1/4 teaspoon Stonemill Crushed Red Pepper or Ground Black Pepper
1 teaspoon Stonemill Oregano
13 ounces Simply Nature Organic Tortilla Chips, for garnish
2 limes, cut into wedges, for garnish
fresh cranberries, for garnish (optional)
Bring medium pot of water to boil. Season with 1 teaspoon salt. Add shrimp and cook 3 minutes. Immediately plunge cooked shrimp into ice water bath. Peel shrimp and place in flat dish.
In food processor, combine dried cranberries, red onion, parsley and jalapeno. Pulse until finely chopped. Add cranberry mixture to shrimp.
Add lemon juice, lime juice, remaining salt, pepper and oregano. Stir to combine thoroughly. Refrigerate 1 hour.
To assemble: Spoon ceviche (about 4-5 shrimp each) into small clear cups or glasses. Garnish with tortilla chips, lime wedges and fresh cranberries, if desired.
Pair each serving with glass of William Wright Chardonnay.
Source: ALDI