(Family Features) The to-do list for holiday hosts seems to be a never-ending one, starting with planning, guest lists and preparation then ending with goodbyes and cleanup. The hours of work that go into a festive get-together are almost always worth it in the end, and family members surely appreciate the hospitality – especially when it comes to food.
When hosting for the holidays, it can be a challenge to accommodate all of your guests' favorite tastes while factoring in dietary preferences and restrictions. Building out a balanced menu, like other parts of hosting, starts with devising a thought-out plan.
To help accomplish this task without cooking up personal dishes for everybody in the house, consider these simple tips:
Request that guests RSVP. Assuming you have a basic understanding of which friends and family members adhere to special diets, knowing exactly who is coming can be a major help before heading to the store.
Think back to past festivities. Try to remember which dishes were hits at last year's party, and which ones were hardly touched. Maybe the appetizers that disappeared in a flash will be good ideas to repeat this year.
Create dishes that fit (almost) everyone. While you can't control guests' flavor preferences, it is possible to whip up snack trays, main courses, desserts and more that fit a multitude of dietary restrictions. For example, these Bacon, Baked Brie and Cranberry Holiday Melts feature Crunchmaster Multi-Grain Crackers for a gluten-free, non-GMO, low-sugar, tasty crunch. Because they're made with wholesome ingredients, these simple snacks are crafted to fit nearly every healthy lifestyle. Plus, if multiple family members adhere to vegetarian lifestyles, you can simply omit the bacon.
Add "warning" labels. Despite your best efforts, it can be nearly impossible to create foods every single person can enjoy. If you make a dish containing a common allergen, such as peanuts, simply place a card next to the bowl, tray, plate or pan that informs guests of the ingredients included.
For other recipes, coupons, tips and nutritional information, visit crunchmaster.com.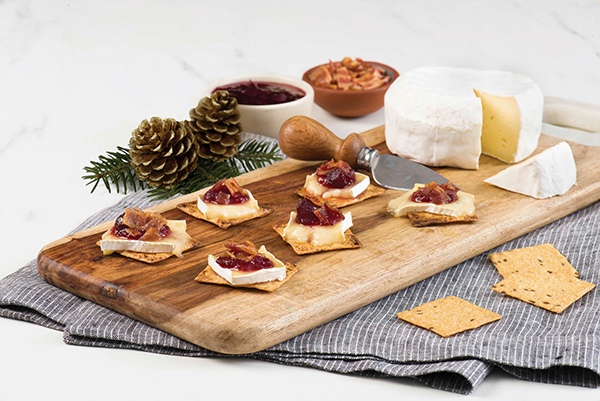 Bacon, Baked Brie and Cranberry Holiday Melts
Prep time: 10 minutes
Cook time: 5 minutes
Servings: 6
24 Crunchmaster Multi-Grain Crackers, Sea Salt flavor
24 small slices Brie cheese
1/4 cup prepared cranberry sauce
2 slices bacon, cooked and crumbled
Heat broiler to high and position rack in center of oven. Arrange crackers in single layer on foil-lined baking sheet.
Top each cracker with slice of Brie, 1/2 teaspoon cranberry sauce and sprinkle of bacon. Broil 1-2 minutes, or until cheese is melted.
Tip: For vegetarian option, substitute chopped hickory-smoked almonds or pecans for bacon.
Nutritional information per serving: 200 calories; 13 g fat; 7 g saturated fat; 45 mg cholesterol; 350 mg sodium; 11 g carbohydrates; 1 g fiber; 4 g sugar; 10 g protein.
Source: Crunchmaster