Snacks, small bites and savory treats to feed a crowd
(Family Features) The holiday season brings gatherings, get-togethers and parties of all kinds, meaning dishes that can feed a crowd are all too important for successful entertaining. From appetizers to snacks to desserts, recipes that come together quickly mean more moments with loved ones.
For example, these dairy-fueled recipes from Milk Means More pack plenty of festive flavor for feeding family and friends without keeping you cooped up in the kitchen. Appetizers and snacks such as Holiday Baked Brie, Roasted Garlic-Whipped Feta Crostini and Cheese Buds help hold over hungry guests until the main course is served, while Peppermint Shortbread Cookies make for a perfect way to cap off the night.
Find more recipes for holiday gatherings at milkmeansmore.org.
Watch video to see how to make this recipe!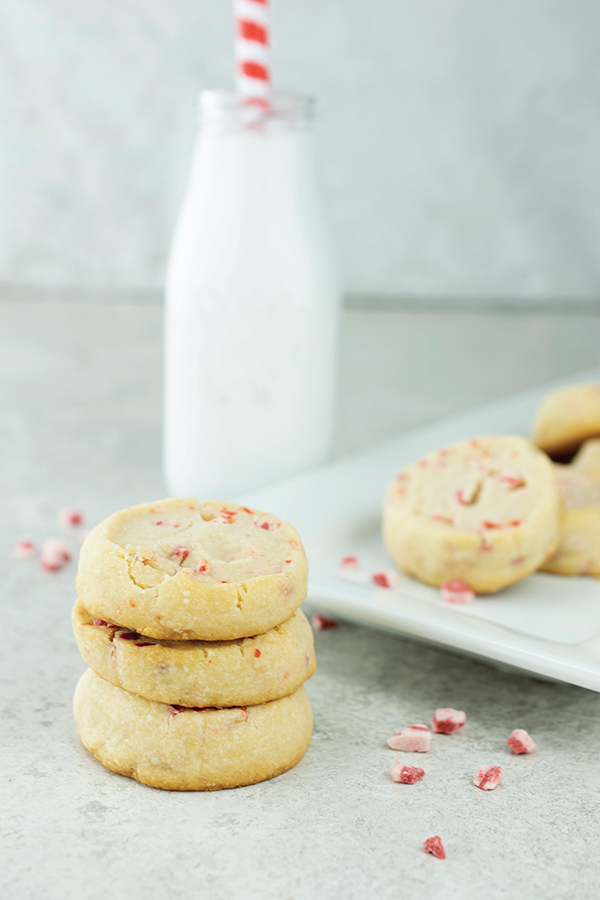 Peppermint Shortbread Cookies
Recipe courtesy of Rachel Gurk of "Rachel Cooks" on behalf of Milk Means More
Prep time: 15 minutes, plus 30 minutes freeze time
Cook time: 15 minutes
Servings: 40
2-2 1/2 sticks unsalted butter, softened
3/4 cup powdered sugar
1 teaspoon pure vanilla extract
1 teaspoon salt
2 1/3 cups all-purpose flour
3/4 cup peppermint crunch baking chips
In stand mixer fitted with paddle attachment, cream butter, powdered sugar, vanilla and salt until smooth. Gradually add flour and mix on low until combined. Add baking chips and continue mixing on low until fully combined.
On wax paper or parchment paper, form dough into 12-14-inch log and freeze at least 30 minutes, or until firm.
Heat oven to 350° F.
Cut shortbread dough into 1/4-inch slices; bake 13-15 minutes on parchment-lined baking sheets.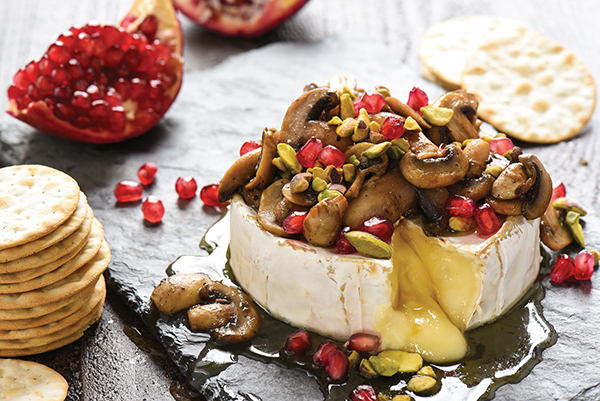 Holiday Baked Brie
Recipe courtesy of Lori Yates of "Foxes Love Lemons" on behalf of Milk Means More
Prep time: 10 minutes
Cook time: 14 minutes
Servings: 8
2 tablespoons unsalted butter
8 ounces button mushrooms, sliced
kosher salt
ground black pepper
1 brie round (8 ounces)
3 tablespoons honey
1/4 cup pomegranate arils
1/4 cup shelled pistachios
crackers or toasted bread, for serving
Heat oven to 350° F. In large skillet, heat butter over medium-high heat. Add mushrooms; cook 8-10 minutes, or until deep golden brown, stirring frequently. Season with salt and pepper; remove from heat.
Place brie on parchment-lined rimmed baking pan; drizzle with honey. Transfer to oven and bake 5-7 minutes, or until inside of cheese is softened but outside remains intact.
Transfer brie to serving platter; top with pomegranate arils, pistachios and mushrooms. Serve with crackers or bread.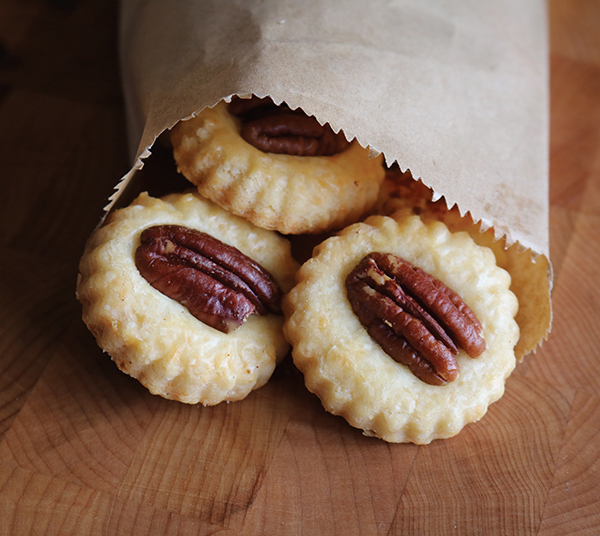 Cheese Buds
Recipe courtesy of Sheila Johnson of "Eat 2 Gather" on behalf of Milk Means More
Prep time: 15 minutes
Cook time: 15 minutes, plus 1 hour chill time
Servings: 12
1 cup cake flour or all-purpose flour
1 cup grated extra-sharp white cheddar cheese
1/2 cup unsalted butter, cold and cut into chunks
1 teaspoon coarse sea salt
1/8 teaspoon cayenne pepper
40 pecan halves
1 egg white, whisked with 1 teaspoon cold water
smoked paprika
Heat oven to 350° F. Line baking sheet with parchment paper.
Add flour, cheese, butter chunks, salt and cayenne pepper to food processor. Process until ingredients form into ball, about 1 minute.
Remove dough from food processor, wrap with plastic wrap and press into flat round. Place in refrigerator 1 hour.
Dust counter with flour and roll out dough to 1/4-inch thick. Using 1-inch round cookie cutter, cut out rounds and place on parchment paper-lined baking sheets.
Place one pecan on top of each round. Using pastry brush, lightly paint each cracker with egg wash. Sprinkle with smoked paprika.
Bake 12-15 minutes, or until buds just start to brown around bottom edges.
Remove from oven to cooling rack. Store in airtight container up to 1 week or freeze 1 month.
Note: Cheese buds can be made plain without pecans, or pecans can be chopped and sprinkled on after egg wash and smoked paprika.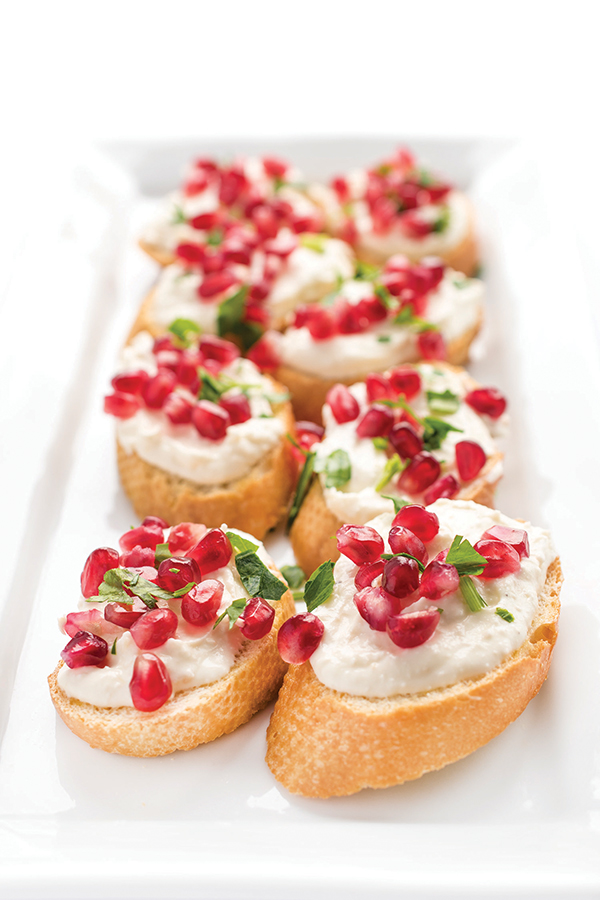 Roasted Garlic-Whipped Feta Crostini
Recipe courtesy of Liz Della Croce of "The Lemon Bowl" on behalf of Milk Means More
Prep time: 10 minutes
Cook time: 10 minutes
Servings: 16
1 bulb garlic (about 12 cloves)
4 tablespoons olive oil, divided
1 teaspoon salt, divided
1 teaspoon pepper, divided
32 slices baguette
8 ounces feta cheese
1/2 cup whole milk
2 tablespoons lemon juice
1/2 cup pomegranate seeds
1/4 cup parsley, minced
Heat oven to 400° F.
Slice garlic bulb in half, exposing garlic heads; place in center of large piece of foil. Drizzle each half with 1 tablespoon olive oil, 1/4 teaspoon salt and 1/4 teaspoon pepper. Wrap foil tightly around garlic and roast until caramelized, about 30 minutes.
Place baguette slices on large baking sheet and drizzle with olive oil. Bake on middle rack until golden brown, about 10 minutes; set aside.
Place feta cheese, milk, lemon juice, remaining salt and remaining pepper in high-speed food processor. Once garlic finishes roasting, add garlic cloves to food processor. Pulse until whipped and creamy, adding more milk as needed to reach desired consistency. Adjust seasonings, to taste, if necessary.
To serve, spread each crostini with whipped feta and sprinkle with pomegranate seeds and minced parsley.
(Family Features) The to-do list for holiday hosts seems to be a never-ending one, starting with planning, guest lists and preparation then ending with goodbyes and cleanup. The hours of work that go into a festive get-together are almost always worth it in the end, and family members surely appreciate the hospitality – especially when it comes to food.
When hosting for the holidays, it can be a challenge to accommodate all of your guests' favorite tastes while factoring in dietary preferences and restrictions. Building out a balanced menu, like other parts of hosting, starts with devising a thought-out plan.
To help accomplish this task without cooking up personal dishes for everybody in the house, consider these simple tips:
Request that guests RSVP. Assuming you have a basic understanding of which friends and family members adhere to special diets, knowing exactly who is coming can be a major help before heading to the store.
Think back to past festivities. Try to remember which dishes were hits at last year's party, and which ones were hardly touched. Maybe the appetizers that disappeared in a flash will be good ideas to repeat this year.
Create dishes that fit (almost) everyone. While you can't control guests' flavor preferences, it is possible to whip up snack trays, main courses, desserts and more that fit a multitude of dietary restrictions. For example, these Bacon, Baked Brie and Cranberry Holiday Melts feature Crunchmaster Multi-Grain Crackers for a gluten-free, non-GMO, low-sugar, tasty crunch. Because they're made with wholesome ingredients, these simple snacks are crafted to fit nearly every healthy lifestyle. Plus, if multiple family members adhere to vegetarian lifestyles, you can simply omit the bacon.
Add "warning" labels. Despite your best efforts, it can be nearly impossible to create foods every single person can enjoy. If you make a dish containing a common allergen, such as peanuts, simply place a card next to the bowl, tray, plate or pan that informs guests of the ingredients included.
For other recipes, coupons, tips and nutritional information, visit crunchmaster.com.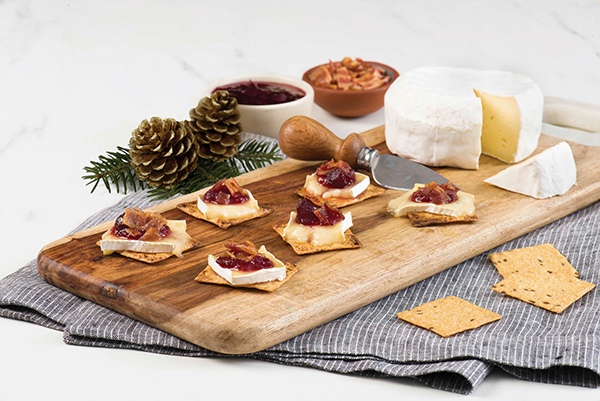 Bacon, Baked Brie and Cranberry Holiday Melts
Prep time: 10 minutes
Cook time: 5 minutes
Servings: 6
24 Crunchmaster Multi-Grain Crackers, Sea Salt flavor
24 small slices Brie cheese
1/4 cup prepared cranberry sauce
2 slices bacon, cooked and crumbled
Heat broiler to high and position rack in center of oven. Arrange crackers in single layer on foil-lined baking sheet.
Top each cracker with slice of Brie, 1/2 teaspoon cranberry sauce and sprinkle of bacon. Broil 1-2 minutes, or until cheese is melted.
Tip: For vegetarian option, substitute chopped hickory-smoked almonds or pecans for bacon.
Nutritional information per serving: 200 calories; 13 g fat; 7 g saturated fat; 45 mg cholesterol; 350 mg sodium; 11 g carbohydrates; 1 g fiber; 4 g sugar; 10 g protein.
Source: Crunchmaster