(Family Features) Hosting holiday dinners can be stressful, even for the most seasoned home cooks. Between gift giving, cookie baking, home decorating and more, there's often little time left to think through a festive feast for a hungry crowd of family and friends.
While the main entree and dessert are usually the first courses to be accounted for when planning, seasonal appetizers and sides can set your spread apart. Perfect for intimate gatherings or larger parties, a simple app like Cranberry Walnut and Brie Bites, filled with ingredients like Willow Tree Classic Chicken Salad and creamy Brie cheese, can leave guests anxiously awaiting the rest of the meal.
Round out your menu with must-have sides like potatoes. For example, a traditional French dish like Dauphinoise Potatoes are easy to make and feature a homemade butter and garlic sauce, thinly sliced potatoes and rich Gruyere cheese.
Once the hustle and bustle of the holidays are over, however, one of the last things many hosts want to do is cook another big meal. With an option like Willow Tree Chicken Pies, you can skip the hassle and get a meal on the table quickly.
For more easy hosting ideas and recipes, visit willowtreefarm.com.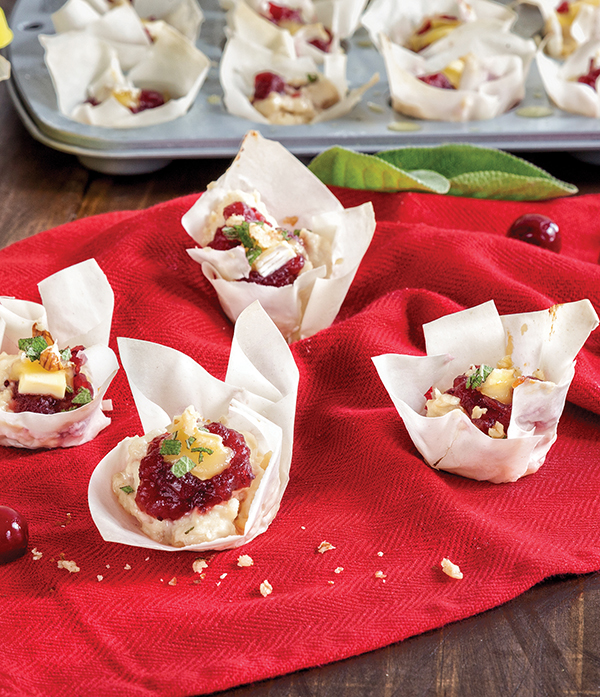 Cranberry Walnut and Brie Bites
Prep time: 20 minutes
Cook time: 10-15 minutes
Servings: 12-16
2 packages (17 ounces each) puff pastry
1 bag (12 ounces) fresh or frozen cranberries
1 cup sugar, plus additional, to taste
1 orange or lemon, zest only, cut into strips
2 tablespoons water
salt, to taste
pepper, to taste
1 container (7 1/2 ounces) Willow Tree Classic Chicken Salad
4 ounces Brie cheese, cut into 48 pieces
1/4 cup finely chopped walnuts
2 tablespoons minced fresh sage
Heat oven to 375° F.
Thaw puff pastry sheets according to package instructions. Once thawed, unfold into thirds.
Cut each third into 12 equal squares to make 48 squares.
Grease two mini muffin tins; press each puff pastry square into muffin cup.
Bake 8-10 minutes; remove from oven and press center of each cup in with end of wooden spoon.
While puff pastry is baking, prepare cranberry sauce. Add bag of cranberries into saucepan. In pan over low heat, combine sugar, one strip orange or lemon zest and water; cook, stirring occasionally, until sugar dissolves and cranberries are soft, about 10 minutes. Increase heat to medium and cook until cranberries burst, about 12 minutes. Reduce heat to low. Add sugar, salt and pepper, to taste; let cool slightly and reserve.
Fill center of each puff pastry cup with chicken salad, 1/2 teaspoon cranberry sauce and one piece Brie cheese.
Bake 5-7 minutes, until Brie is melted.
Top with chopped walnuts and minced sage. Serve warm.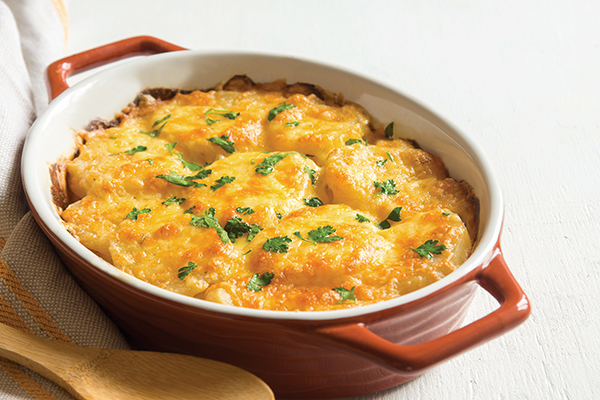 Dauphinoise Potatoes
Prep time: 20 minutes
Cook time: 30-45 minutes
Servings: 1
8 ounces potatoes
1 tablespoon butter
1 large clove garlic
1/2 cup heavy cream
1 ounce Gruyere cheese, for garnish
salt
pepper
Heat oven to 350° F.
Peel and finely slice potatoes.
Add butter to saucepan and melt. Finely mince garlic and add to saucepan; saute gently until garlic is pale golden color.
Add cream to saucepan and bring to rapid simmer but do not boil.
In oven-safe dish, arrange slices of potato in even layers.
Pour warm cream over potatoes slowly, allowing to seep between layers without overflowing dish.
Top generously with sliced Gruyere cheese and place in oven, 30-45 minutes per portion. When done, potatoes should be golden-brown on top, bubbling at edges and a knife should slide easily into center.
Note: Recipe can be multiplied for additional servings.
Photo courtesy of Getty Images (Dauphinoise Potatoes)
Source: Willow Tree