(Family Features) You probably don't know it, but you may have the secret ingredients for an exceptional Easter dinner in your pantry right now. The holidays are a perfect opportunity to sprinkle creativity into special meals by using staples like pancake mix, syrup and instant mashed potatoes in unexpected ways to craft new and delicious dishes the whole family will love.
Here are ways to use up what you already have to make a complete Easter menu, including savory Bacon and Cheese Appetizer Bites, Spinach Salad with Warm Maple Dijon Vinaigrette, Maple Glazed Pork Tenderloin, and a sweet Spiced Mocha Fudge Cake. You'll create an Easter meal worth celebrating and make your hungry family a happy one.
For more creative recipes and tips, visit www.hungryjack.com.

Spiced Mocha Fudge Cake
Makes: 12 servings
Prep Time: 20 minutes
Cook Time: 1 hour
CAKE:
Crisco Original No-Stick Cooking Spray
4 (1-ounce) squares unsweetened baking chocolate
3 tablespoons butter
1cup hot brewed Folgers Classic Roast® Coffee
2/3 cup Hungry Jack Instant Mashed Potato Flakes
1 teaspoon ground cinnamon
1/8 teaspoon cayenne pepper (optional)
1 1/2 cups sugar
1 teaspoon vanilla extract
4 large eggs, separated
1/2 cup Pillsbury BEST® All Purpose Flour
1 1/2 teaspoons baking powder
1/4 teaspoon salt
Powdered sugar
SPICED WHIPPED CREAM:
1/2 pint whipping cream
3 tablespoons powdered sugar
1 teaspoon ground cinnamon
1/4 teaspoon vanilla extract
HEAT oven to 350°F. Line bottom of a 9-inch springform pan with parchment paper. Coat paper with no-stick cooking spray. Place chocolate and butter in medium microwave-safe bowl. Microwave on HIGH power 45 to 60 seconds or until chocolate is melted and smooth when stirred.
COMBINE coffee, potato flakes, cinnamon and cayenne in large mixing bowl, stirring until moistened. Blend in sugar and vanilla. Blend in chocolate mixture and egg yolks. Stir together flour, baking powder and salt. Gradually blend into chocolate mixture.
BEAT egg whites on medium speed of electric mixer until stiff. Add to chocolate mixture and blend on low speed until completely blended, scraping sides and bottom of bowl frequently. Pour batter into prepared pan. Bake 55 to 60 minutes or until set in center. Cool completely in pan on wire rack. Remove from pan. Sprinkle liberally with powdered sugar.
COMBINE whipping cream, powdered sugar, cinnamon and vanilla in medium mixing bowl. Beat on medium speed of electric mixer until stiff. Serve with cake.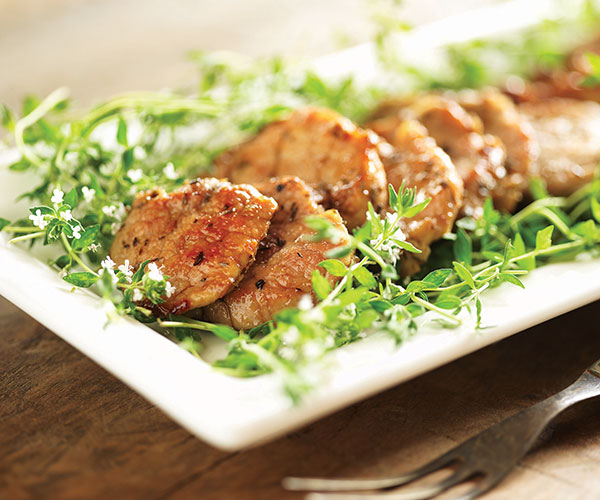 Maple Glazed Pork Tenderloin
Makes: 4 servings
Prep Time: 7 minutes
Cook Time: 12 minutes
1 teaspoon dried thyme leaves, crushed
1 teaspoon dried marjoram leaves, crushed
1/4 teaspoon salt
1/4 teaspoon onion powder
1/4 teaspoon garlic powder
1 pound pork tenderloin, cut into 1/2-inch slices
1 tablespoon butter
2 tablespoons Hungry Jack Original Regular Syrup
COMBINE thyme, marjoram, salt, onion powder and garlic powder in large resealable food storage bag. Seal bag and shake well. Add pork slices. Seal bag. Shake to coat.
MELT butter in large nonstick skillet over medium-high heat. Add pork mixture. Cook and stir 8 to 10 minutes or until pork is browned and no longer pink in center. Add syrup. Cook and stir until pork is glazed.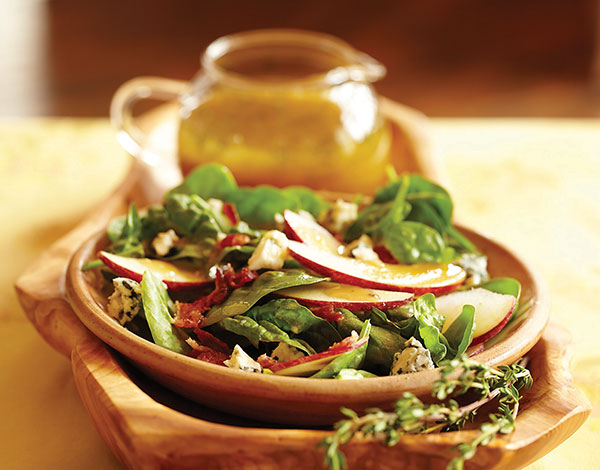 Spinach Salad with Warm Maple Dijon Vinaigrette
Makes: 4 servings
Prep Time: 15 minutes
Cook Time: 1 minute
1/4 cup Hungry Jack Original Syrup
3 tablespoons cider vinegar
4 teaspoons Dijon mustard
1 teaspoon fresh thyme leaves, minced, or 1/2 teaspoon dried thyme leaves
2 cloves garlic, minced
1/2 teaspoon salt
1/4 teaspoon pepper
1/2 cup Crisco 100% Extra Virgin Olive Oil
1 (6-ounce) bag fresh baby spinach leaves
1 small unpeeled red apple, cored and thinly sliced
1/2 cup crumbled blue cheese
2 tablespoons crumbled cooked bacon or real bacon bits
WHISK together syrup, vinegar, mustard, thyme, garlic, salt and pepper in a medium microwave-safe bowl until well blended. Gradually whisk in oil, stirring until thickened.
COMBINE spinach, apple, cheese and bacon in a large bowl. Just before serving, microwave vinaigrette on HIGH for 30 to 45 seconds or until warm. Drizzle salad with desired amount of vinaigrette; toss salad and serve immediately.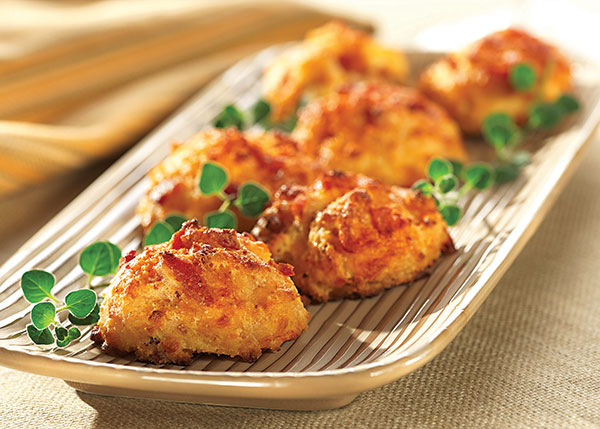 Bacon and Cheese Appetizer Bites
Makes: 24 appetizers
Prep Time: 5 minutes
Cook Time: 10 minutes
Crisco® Original No-Stick Cooking Spray
1/2 cup sour cream
1 tablespoon water
1 cup Hungry Jack Buttermilk Complete Pancake & Waffle Mix (Just Add Water)
1/2 cup (2 ounces) shredded cheddar cheese
1/4 cup bacon, cooked and crumbled
2 tablespoons butter, melted
Paprika
HEAT oven to 400°F. Spray cookie sheet with no-stick cooking spray.
MIX sour cream and water in medium bowl until well combined. Add pancake mix, cheese and bacon pieces. Stir just until dry ingredients are moistened. Drop by rounded teaspoons onto prepared cookie sheet.
BAKE 10 to 12 minutes or until lightly browned. Brush with melted butter, sprinkle with paprika. Serve warm.
(c)/® The J.M. Smucker Company. Folgers Classic Roast is a trademark of The Folgers Coffee Company. Pillsbury BEST is a trademark of The Pillsbury Company, LLC, used under license.
Source: Hungry Jack