(Culinary.net) Running short on time from a busy schedule shouldn't mean skipping out on your favorite desserts. In fact, it should be all the more reason to enjoy a sweet treat as a reward for all that hard work.
When you're due for a bite into dark chocolate goodness, all it takes is a few minutes out of your day to make 5-Minute Dark Chocolate Cereal Bars. This quick and simple dessert makes it easy to celebrate the day's accomplishments without added stress.
As a fun way for little ones to help in the kitchen, you can cook together the butter, marshmallows, peanut butter and cereal then let the kiddos drizzle the key ingredient: melted chocolate. All that's left to do is cut and serve or pack a few off to school and work for an afternoon treat.
Find more seasonal dessert recipes at Culinary.net.
If you made this recipe at home, use #MyCulinaryConnection on your favorite social network to share your work.
Watch video to see how to make this recipe!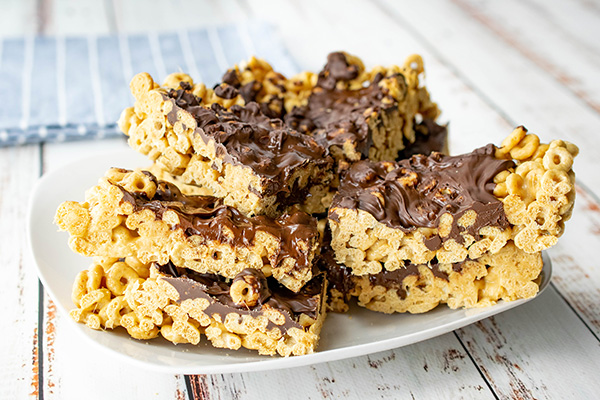 5-Minute Dark Chocolate Cereal Bars
Recipe adapted from ScrummyLane.com
4 tablespoons butter
10 ounces marshmallows
1/2 cup peanut butter
6 cups cereal
4 ounces milk chocolate, melted
4 ounces dark chocolate, melted
Heat saucepan over low heat. Add butter, marshmallows and peanut butter; stir to combine. Add cereal; mix until coated.
Line 9-by-13-inch pan with parchment paper. Add cereal mixture to pan.
In bowl, mix milk chocolate and dark chocolate. Drizzle chocolate over cereal mixture; spread evenly then allow to cool.
Cut into bars and serve.
Source:
(Family Features) As summer comes to an end and the reality of back-to-school season sets in, it can be challenging to get organized and jump back into your day-to-day routine. But even as things get hectic, it's still possible to create delicious dishes that leave you plenty of time to savor meals together as a family using a few simple tips and tricks.
Whether the weeknight dinner rush puts you in a panic or you're simply looking to spice up the same old lunchbox staples, these three steps will make it easy to assemble quick, flavorful dishes ideal for the busy back-to-school season.
1. Plan a weekly menu and shop accordingly so you can avoid scrounging to piece together a meal from the odds and ends in the pantry on a night when you're already pressed for time. Meal planning eliminates all of the guesswork, so your family can enjoy healthy, home-cooked meals while also saving time, money and stress.
2. Rely on a versatile, easy meal-helper that lends itself to a variety of preparations, such as Smithfield Marinated Fresh Pork. Packed with protein and already seasoned with juicy, delicious flavor, it's the perfect base for any weeknight meal. For a hassle-free dinner, try Pork with Balsamic Glaze and Rosemary, which is ready in just 30 minutes from start to finish - less time than it takes the kids to finish their homework.
3. Opt for simple, flavorful dishes that don't require a ton of ingredients or multiple sides. A zesty take on a traditional favorite, this South of the Border Pizza is convenient, kid-friendly and a great way to banish lunchtime boredom. Use this recipe as a starting point then experiment with more toppings to create your own unique family recipe.
Find more family friendly and time-saving recipe ideas at Smithfield.com.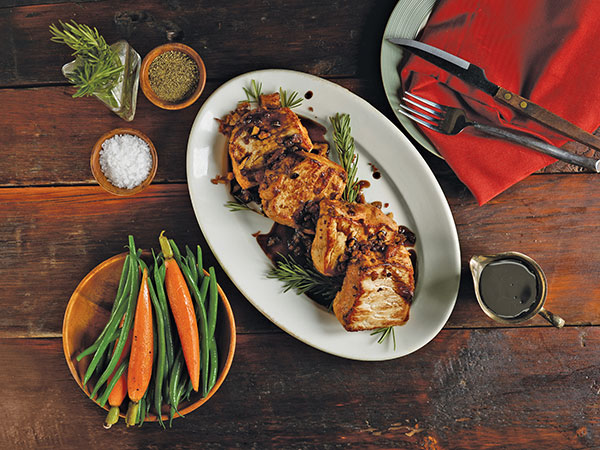 Pork with Balsamic Glaze and Rosemary
Prep time: 5 minutes
Cook time: 25 minutes
1 tablespoon olive oil
1 Smithfield Applewood Smoked Bacon Marinated Fresh Pork Loin Filet, cut into 3/4- to 1-inch thick chops
1/4 cup prepared balsamic vinegar glaze
1 teaspoon chopped fresh rosemary
In large, nonstick skillet, heat half the oil over medium heat.
Working in two batches, cook pork chops 4-5 minutes on each side until internal temperature reaches 150 F. Remove pork from skillet and place on rimmed serving platter; cover to keep warm. Repeat with remaining oil and pork chops.
Serve pork chops drizzled with balsamic glaze and sprinkled with rosemary.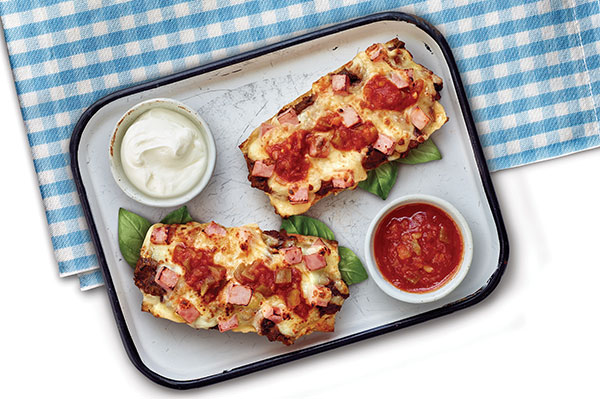 South of the Border Pizza
Prep time: 5 minutes
Cook time: 15 minutes
2 French bread sandwich rolls, halved
8 tablespoons refried black beans
8 tablespoons (2 ounces) Smithfield Anytime Favorites Hickory Smoked Diced Ham
8 slices pepper jack cheese
4 tablespoons picante sauce
4 tablespoons low-fat sour cream
Heat oven to 375 F.
Place four French bread halves on ungreased sheet pan. Spread 2 tablespoons beans evenly over each bread half.
Top each half with 2 tablespoons ham and two cheese slices.
Bake 8-10 minutes, or until cheese is melted and lightly browned.
Remove from oven; top each pizza with 1 tablespoon picante sauce and 1 tablespoon sour cream.
Source: Smithfield