(Family Features) For those seeking to be more health-conscious, the idea of eating nutritiously seems simple. However, understanding what's truly "good for you" can sometimes be confusing.
In honor of National Nutrition Month and Healthy Fats Day, Avocados From Mexico is sharing how avocados – a delicious food and source of good fats and several vitamins – make everything better. Avocados From Mexico conducted a survey and found that while 76% of respondents believe fat is an essential component of a healthy diet, less than one-third are confident they know why it's important to have "good fats" in their diets.
For starters, according to the survey, nearly half of Americans didn't realize foods with good fats, like avocados, can help with weight management. However, monounsaturated and polyunsaturated fats found in avocados can lower the risk of becoming overweight, according to research published in "Nutrients."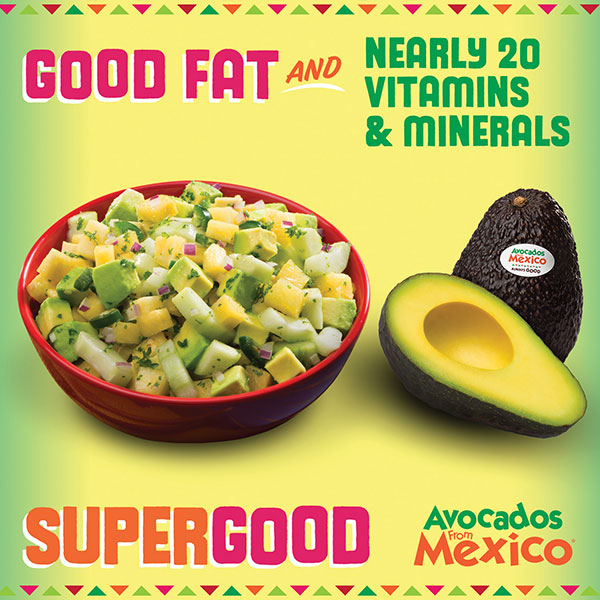 "Most people are aware of the Mediterranean Diet, but nearly half (40%) of survey respondents didn't realize that this eating pattern does not limit fat coming from plantsources like avocados," said nutrition expert and registered dietitianBarbara Ruhs. "These types of unsaturated good fats are also recommended by the American Heart Association for heart health. Eating avocados in place of foods containing saturated fat is an easy and delicious way to approach healthy eating."
Virtually the only fresh fruit with good fats, avocados can help people meet both good fat and fruit and vegetable recommendations in the same bite with approximately 6 grams of good fats per serving (one-third of a medium avocado). They are nutrient-dense, making avocados a delicious food with super benefits. Avocados are also free of cholesterol and sodium and have nearly 20 vitamins and minerals.
Another finding from the survey is that while people believe fat is essential to a healthy diet, one-third of survey respondents believe saturated and trans fats are associated with health benefits, indicating confusion about the various types of fats. Many Americans need to balance their overall fat intake by reducing "bad" or saturated fat intake and increasing "good" or unsaturated (monounsaturated and polyunsaturated) fat intake. Replacing saturated fats with unsaturated fats can help reduce LDL, or bad cholesterol levels.
Dietary fat helps the body absorb vitamins A, D, E, and K. These vitamins are fat soluble, which means they can only be absorbed by the body with the help of fats. Per one-third of a medium avocado (50 grams), avocados contribute 6 grams of unsaturated fats, which are known to be essential for normal growth and development of the central nervous system and brain.
Make good fats a part of your next trip to the grocery store with this avocado-inspired Harvest Bowl Salad with Balsamic Vinaigrette certified by the American Heart Association's Heart-Check Food Certification Program.
To find more nutritional facts and figures, along with recipes, visit AvocadosFromMexico.com.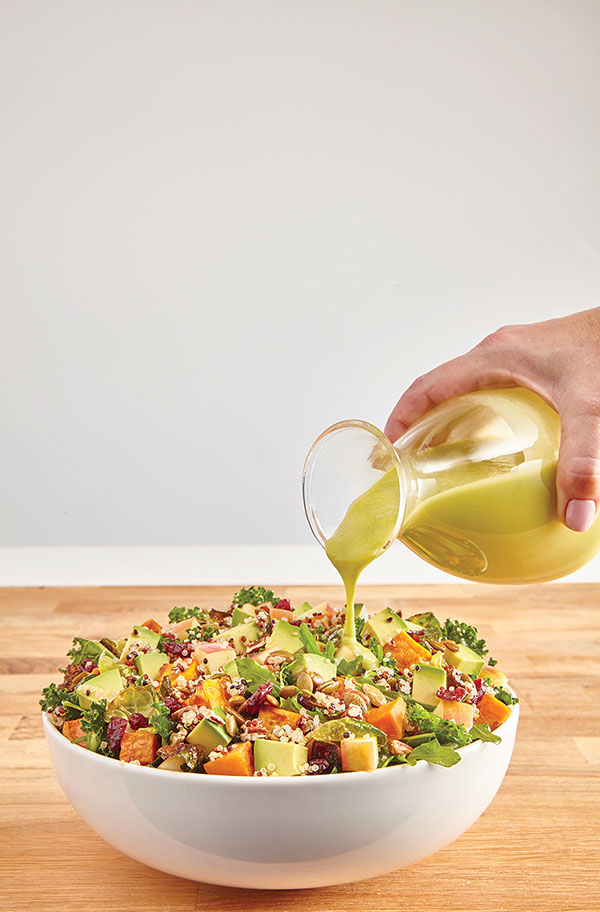 Harvest Bowl Salad with Balsamic Vinaigrette
Servings: 8
Balsamic Vinaigrette:
1/2 Avocado From Mexico, diced
1 tablespoon avocado oil
2 tablespoons shallots, minced
1 tablespoon Dijon mustard
3 tablespoons white balsamic vinegar
1 tablespoon honey
3 tablespoons water
Salad:
2 Avocados From Mexico, diced
2 sweet potatoes, roasted and diced
2 cups quinoa, cooked
2 cups arugula
2 cups kale
1 cup Brussels sprouts petals, roasted
2 Honeycrisp apples, diced
2 tablespoons roasted pecans, unsalted
2 tablespoons roasted pepitas, unsalted
2 tablespoons dried cranberries
To make balsamic vinaigrette: In food processor, process avocado, avocado oil, shallots, Dijon mustard, balsamic vinegar, honey and water to smooth consistency. Set aside.
To make salad: In large bowl, combine avocados, sweet potatoes, quinoa, arugula, kale, Brussels sprouts petals, apples, pecans, pepitas and dried cranberries. Pour balsamic vinaigrette over salad mixture.
Toss salad to coat. Keep refrigerated until ready to serve.
Nutritional information per serving: 390 calories; 16 g total fat; 0 g saturated fat; 0 g cholesterol; 370 mg sodium; 55 g total carbohydrates; 11 g dietary fiber; 12 g sugar; 15 g protein.
(Family Features) The holiday season evokes thoughts of delicious, hearty and festive meals. Whether planning a family feast or flitting among gatherings, you may find it harder than ever to maintain a healthy lifestyle and keep your weight management goals on track. However, with the right approach, you can still enjoy many of your holiday favorites and serve foods your guests will appreciate as much as your waistline does. The key is managing your carbohydrate and sugar intake.
If you're looking to lose or maintain weight, you know the importance of relying on a lifestyle with proven results – without feeling deprived. A low carb approach is backed by more than 80 scientific studies and still allows you to enjoy a wide variety of delicious foods. When you control your carbohydrate intake, you start burning stored fat as your fuel source instead of carbohydrates. A long-term, well-balanced, low carb eating plan such as Atkins encourages reduced levels of refined carbohydrates and added sugars, while optimizing levels of protein, high fiber carbohydrates, fruits, vegetables and healthy fats.
This wide range of foods makes it easy to find delicious ways to celebrate the holidays without feeling restricted. Colette Heimowitz, vice president of nutrition and education at Atkins Nutritionals, Inc., offers several tips to help stay on track this season:
Leading up to the big meal or holiday party, snack on proteins that contain healthy fats such as nuts or grab some cubes of cheese.
When crafting a holiday menu, identify a savory main dish that offers a healthy serving of protein, such as this Low Carb Cranberry-Ginger Pork Roast. Finish off the meal with a Low Carb Pumpkin Pecan Cheesecake, and you and your taste buds will be very satisfied.
When alcoholic beverages are being served, confine yourself to a glass (or two at most) of wine or one glass of spirits. Just be sure to have your spirits with club soda and a slice of lemon or lime, or a mixer made without sugar. And make sure to drink plenty of water to stay hydrated.
For step-by-step instructions for this tasty, low carb holiday roast, watch the video and find more recipes at Atkins.com.
Low Carb Cranberry-Ginger Pork Roast
Servings: 4
Prep time: 5 minutes
Cook time: 8 hours
Cooking oil
2 pounds pork chops or roast (center rib, bone-in)
1/4 teaspoon salt, plus additional for seasoning
1/8 teaspoon freshly ground black pepper, plus additional for seasoning
1/2 chipotle pepper in adobo sauce
1/2 cup cranberries
1/8 cup sugar-free maple syrup
1 teaspoon freshly grated ginger
1/2 cup chicken broth, bouillon or consomme
1/2 cup (4 ounces) water
1/8 teaspoon guar gum or xanthan gum
1 tablespoon unsalted butter stick (optional)
Prepare skillet with small amount of oil over medium-high heat. Season chops or roast with salt and pepper then place into skillet and brown each side for about 1 minute, 4 minutes total, to help seal in moisture and give it color. Set aside on plate to cool slightly.
Finely dice chipotle pepper and chop cranberries, if desired.
In small bowl, combine syrup, diced chipotle, ginger, 1/4 teaspoon salt and 1/8 teaspoon pepper. Rub mixture onto roast then place it into slow cooker. Add cranberries and pour chicken broth down side of pan (avoiding rinsing rub from roast).
Cover and cook on low 8-10 hours.
Remove roast and set on serving platter covered with tent of aluminum foil; reserving liquid.
Keep slow cooker on low and add water and guar gum or xanthan gum to reserved mixture, whisking to combine. Continue to cook on low heat until sauce thickens slightly. Once thick, enrich sauce, if desired, with butter, adding additional salt and pepper, to taste.
Serve sauce over pork roast.
Tip: While it is not necessary to chop cranberries (they will break down while cooking), chopping them makes sauce smoother.
Low Carb Browned Pumpkin with Maple and Sage
Servings: 4
Prep time: 10 minutes
Cook time: 15 minutes
1/2 tablespoon unsalted butter stick
1/2 pound pumpkin
1/8 cup chopped shallots
salt
freshly ground black pepper
1/4 cup bouillon vegetable broth
1/16 cup sugar-free maple syrup
1/8 teaspoon sage, ground
In medium skillet over medium-high heat, heat butter. Cube pumpkin into 3/4-inch chunks.
Add pumpkin and shallots to pan; season with salt and pepper. Saute until pumpkin is lightly browned and shallots are translucent, approximately 5-6 minutes.
Turn heat to low, add vegetable broth and simmer, covered, 8-10 minutes until pumpkin is tender.
Add maple syrup and sage, tossing to combine. Serve immediately.
Tip: Use fresh sage (7-8 leaves), if possible.
Low Carb Pumpkin Pecan Cheesecake
Servings: 4
Prep time: 25 minutes
Cook time: 50 minutes
2/3 cup halved pecan nuts
2/3 cup sucralose-based sweetener (sugar substitute), plus 1 tablespoon
1/4 teaspoon cinnamon
3/4 tablespoon unsalted butter stick
1/2 large egg white
9 2/3 ounces cream cheese
1/2 cup heavy whipping cream
6 ounces canned pumpkin, without salt
1/2 teaspoon vanilla extract
1/2 teaspoon pumpkin pie spice
1 1/4 large eggs
To make crust: Heat oven to 350° F.
In food processor, combine pecans, 1 tablespoon sugar substitute and cinnamon. Process until finely ground. Toss with butter and egg white; press onto bottom of 9-inch springform pan, rounding up to cover pan seam. Bake until golden and set, 8-10 minutes. Cool completely on wire rack.
To make filling: Reduce oven heat to 325° F.
In large bowl, combine cream cheese, 2/3 cup sugar substitute and cream. With electric mixer at medium speed, beat until smooth. Add pumpkin puree, vanilla and pumpkin pie spice, mixing to combine. Beat in eggs, one at a time, until just combined.
Pour batter over crust. Bake until just set, 45-50 minutes. Turn off oven and let stand 10 minutes; transfer to wire rack and cool completely.
Cover and refrigerate until chilled, 4 hours or overnight. Slice and serve.
Photos courtesy of Getty Images
Source: Atkins
Save
Save