(Family Features) Whether it's pumpkin spice everything, sweater weather or the anticipation of the holidays, there are many reasons to be excited about this time of year. Autumn is the perfect time to extend the warm-weather fun and celebrate with some fall-focused outdoor entertaining.
Just as the weather is changing, so can your approach to cooler weather celebrations. Try these tips to help you make the most of your fall festivities:
There's no need to say farewell to the outdoors just yet. Make the focal point of your party a cozy outdoor setting, such as a patio with heaters or a fire pit. Add some warm blankets and comfy pillows, and you'll hardly notice the lower temps.
Remember days get shorter as they grow colder, so a fall get-together may require special lighting to keep things going after the sun goes down. Fall-inspired string lights, lanterns or candles can add the perfect ambiance for a party that lasts well into the late-night hours. You can find great, affordable options online.
While it may seem like time to swap the tiki drinks and frozen cocktails for hot toddies and spiked ciders, fall doesn't mean you must say goodbye to warm-weather favorites. Put an autumn twist on go-to drinks by adding in fall spices. This easy mulled sangria recipe is perfect for sharing with friends at outdoor celebrations.
Find more ideas for fall entertaining at WineFix.com.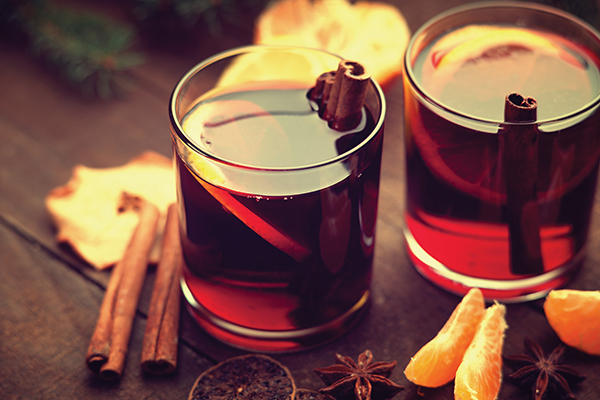 Cinnamon Mulled Sangria
Recipe courtesy of the World Wine Guys, authors of "Red Wine"
1 bottle Eppa Sangria
1 cup apple cider
1/2 cup Licor 43 liqueur
2 cinnamon sticks
1/2 cup packed light brown sugar
3 whole cloves
1 strip orange peel
2 green apples, sliced
In large saucepan, mix sangria, apple cider, liqueur, cinnamon sticks, brown sugar, cloves and orange peel. Bring to simmer over medium heat and cook, stirring, 5 minutes, or until sugar dissolves. Stir in apples and simmer additional 5 minutes. Serve warm with desired garnishes.
Photo courtesy of Getty Images
Source: Deutsch Family Wine and Spirits
(Family Features) Text your friends, dust off your apron and fire up the grill. It's time to throw a barbecue party that won't sink your summer budget.
You can find everything you'll need at a one-stop shop like ALDI. With savings up to 50 percent over traditional grocers, you can fill your cart with summer essentials like fresh seasonal produce, premium meats and award-winning wines.
Once shopping is out of the way, you'll have plenty of time and money to experiment with new recipes. These quick and affordable tips can up your grill game and impress guests:
Boost your burgers. Take burgers to the next level this summer with your favorite ground meats such as turkey, chicken and beef. Then layer on the toppings like avocado, kale, gourmet cheeses and more.
Change up your take on cheesy. Top your burger with a blue cheese mousse by simply blending blue cheese crumbles and cream cheese then season it with your favorite spices.
Spice up your condiments. Combine mayonnaise with fresh orange juice and fresh orange zest to make a citrus aioli or whip up a special sauce by mixing peanut butter with oil and hot water. Sprinkle with bacon for some extra flavor. Toppings such as a pickled red onion can also add a bit of crunch and zest.
Bite better buns. Forgo traditional burger buns and bookend your masterpiece with brioche buns or pretzel rolls.
Find more great grilling tips and recipes for dishes to enjoy all summer at aldi.us.
Six-Mile High Burger
Recipe courtesy of ALDI Test Kitchen
1 tablespoon Carlini Vegetable Oil
10 Baby Bella mushrooms, sliced
8 pieces Specially Selected Center Cut Bacon
8 Season's Choice Whole Onion Rings
4 All Natural 80 percent Lean Ground Beef Patties
8 slices Happy Farms Pepper Jack Cheese
1 cup Burman's Mayonnaise
1/4 cup Burman's Hot Sauce
1/2 cup Burman's Mustard
1/4 teaspoon Stonemill Iodized Salt
1/4 teaspoon Stonemill Ground Black Pepper
4 L'oven Fresh Hamburger Buns
1 tomato, sliced
2 romaine lettuce leaves, cut in half width-wise
Heat grill to medium-high.
In saute pan, heat vegetable oil and saute mushrooms 2-3 minutes. Set aside. Fry bacon to desired doneness, about 5 minutes on each side. Set aside. Bake onion rings according to packaging instructions. Set aside.
Grill burgers 5-7 minutes on each side until they reach desired doneness. Place two slices cheese on each burger and continue to grill until melted. Remove from heat.
Mix together mayonnaise, hot sauce, mustard, salt and pepper, and spread on both sides of buns, to taste.
To assemble burger: layer bottom bun with patty with cheese, tomato, lettuce, mushrooms, two onion rings, two pieces of bacon and top half of bun.
Source: ALDI