(Family Features) When it comes time to entertain family and friends, it's important to have a few simple, warm appetizers and small plates at the ready. Plan your menu with recipes that can be prepped ahead of time and popped in the oven when guests arrive. It can make hosting easier and more enjoyable.

A versatile ingredient that can enhance your favorite sweet and savory recipes, Musselman's Apple Butter is more than just a spread. It's made the old-fashioned way for perfect texture and a rich apple-cinnamon flavor, giving parties and get-togethers a unique taste in recipes like these Apple Brie Bites and Apple Butter Bacon-Wrapped Shrimp.
Find more appetizers ideal for entertaining at musselmans.com.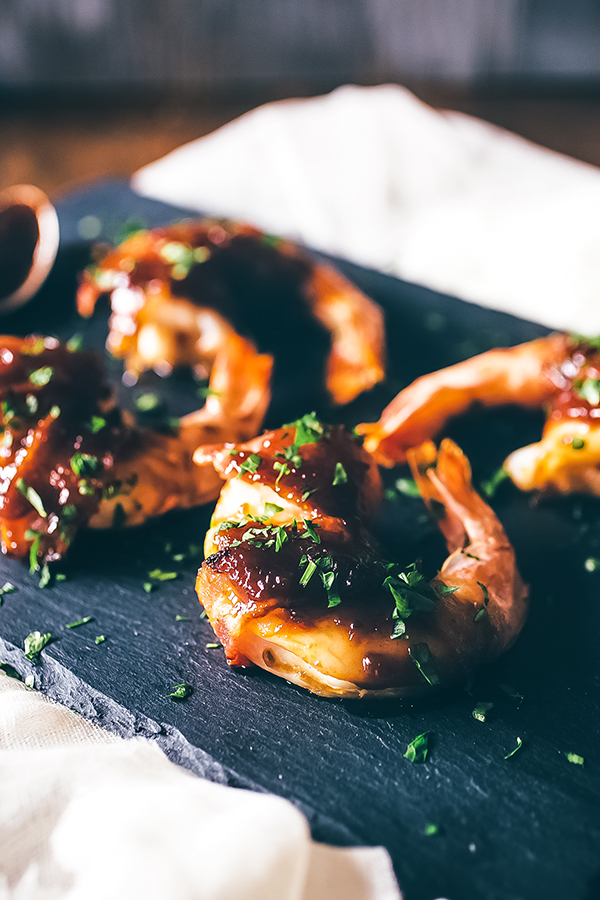 Apple Butter Bacon-Wrapped Shrimp
Servings: 10
3/4 cup Musselman's Apple Butter
1/2 cup maple syrup
1/2 teaspoon red pepper flakes
1/2 teaspoon salt
1/2 teaspoon smoked paprika
10 pieces bacon
10 extra-large shrimp, cleaned and deveined
chopped cilantro, for garnish (optional)
Heat oven to 400° F. Line rimmed baking sheet with parchment paper.
In medium-sized skillet over medium heat, add apple butter, maple syrup, red pepper flakes, salt and paprika. Whisk until mixture is thick and cooked down by half, about 10 minutes. Set aside.
In large skillet over medium heat, add bacon slices and cook until browned but still flexible. Remove from pan and drain on paper towel-lined plate.
Wrap one bacon slice around each shrimp, secure with toothpick and place onto prepared baking sheet.
Once all shrimp have been wrapped, baste tops with apple butter mixture.
Bake 5 minutes then flip and baste other side of shrimp. Bake another 5 minutes. Continue to flip and baste shrimp (2 minutes each time) until shrimp is fully cooked. Do not overcook as glaze can burn. Sprinkle with cilantro, if desired.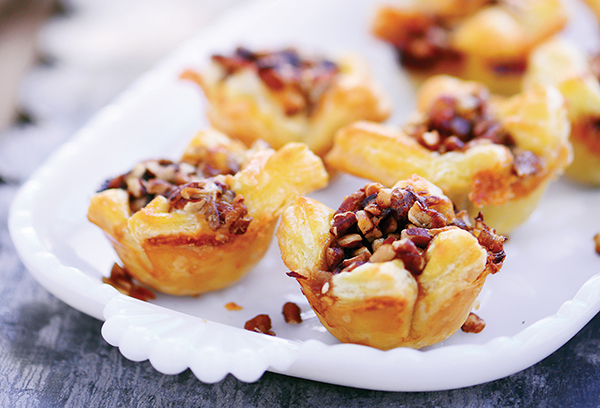 Apple Brie Bites
Servings: 24
1 sheet puff pastry, thawed
5 ounces Brie cheese
1/2 cup Musselman's Apple Butter
1/4 cup pecans, chopped
Heat oven to 400° F. Grease mini muffin pan.
Press seams of puff pastry sheet together. Cut sheet into quarters then each quarter into six pieces.
Use rolling pin to flatten each piece of pastry into square shape. Place one square into each muffin cup.
Put 1/2 teaspoon brie, 1 teaspoon apple butter and 1/2 teaspoon chopped pecans into each muffin cup.
Bake 13-15 minutes until golden brown. Serve warm.
Source:
(Family Features) Warmer weather may mean finding ways to cool off, but that doesn't mean you can't bring bold flavors to the gathering you're hosting with family and friends. Whether it's a barbecue bash or a casual pool party, there is a flavorful blend perfect for nearly every occasion.
When the sun is shining, it's time to fire up the grill, which means you can get creative and show off your skills. Add a little flavor to your world – Dale Sabor A Tu Mundo – with a versatile ingredient like Tabasco Sauce, which has helped personalize the flavors of food across the globe for nearly 150 years. Whether used as an ingredient or condiment, it can add flavor to virtually any type of cuisine, including Mexican favorites like this Parrillada Mixta with Garlic and Sweet Chipotle Marinades.
Throw some steak, shrimp and chicken on the grill and combine with sweet and spicy marinades to create a grilled spread that's nearly irresistible. Take it up a notch and serve it with sides such as fresh limes, sizzling onions, creamy guacamole, pico de gallo and soft corn tortillas to complete your meal. It's a tasty way to add an extra kick of flavor to summer entertaining.
Find more recipes and ways to flavor your world at Tabasco.com.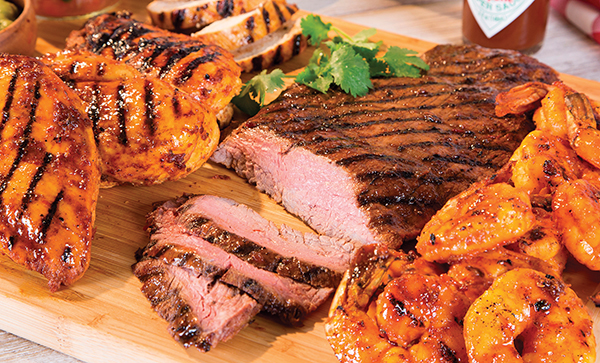 Parrillada Mixta with Garlic and Sweet Chipotle Marinades
Servings: 6-8
Garlic Chipotle Marinade:
14 garlic cloves, peeled
1 medium white onion, quartered
1 1/2 cups light Mexican beer
3/4 cup olive oil
1 tablespoon coarse black pepper
4 tablespoons Tabasco Chipotle Pepper Sauce
1 teaspoon salt
2 flank steaks (1 pound each)
Sweet Chipotle Marinade:
8 garlic cloves, peeled
1 red bell pepper, de-seeded and stemmed
1 small white onion
1 teaspoon ground cinnamon
1 teaspoon smoked paprika
8 tablespoons olive oil
8 tablespoons agave syrup
4 tablespoons fresh lime juice
1 1/4 cups orange juice
1 1/4 cups cold water
4 tablespoons Tabasco Chipotle Pepper Sauce
salt, to taste
2 pounds extra-large shrimp, peeled, deveined and tails on
4-6 boneless, skinless chicken breasts
To make Garlic Chipotle Marinade: In blender, puree garlic, onion, beer, olive oil and pepper. Transfer puree to large mixing bowl; add chipotle sauce and salt.
Place steaks in re-sealable plastic bag and pour in marinade.
Note: Marinating time depends on the cut of beef selected. For fajitas or skirt steak, marinate at least 6 hours.
To make Sweet Chipotle Marinade: In blender, puree garlic, bell pepper, onion, cinnamon, paprika, olive oil, agave, lime juice, orange juice, water and chipotle pepper sauce.
In separate re-sealable plastic bags, divide marinade over chicken and shrimp. Allow shrimp to marinate 8 hours and chicken 24 hours.
To prepare meat: Remove steak, shrimp and chicken from marinade and set aside. Heat grill to medium-high heat. Brush off excess marinade and grill chicken first, to desired doneness, then steak and shrimp.
Note: Cooking times will vary depending on cuts of meat and desired doneness. For best results, use a meat thermometer.
Serving suggestion: Place steak, shrimp and chicken on large platter and serve with side items such as fresh guacamole, pico de gallo, grilled onions, fresh limes and fresh corn tortillas.
Source: Tabasco