(Family Features) Quick and easy family dinners often feel few and far between, but you can make them a more frequent occurrence by depending on seafood as a flavorful, easy-to-prepare protein.
Today, more than half of all seafood consumed in the U.S. is raised by aquaculture, also known as seafood farming. While this industry has made strides throughout the last few decades, from increasingly sustainable farming practices to technological advancements, not all seafood farms are equal and neither are the certifications you see on the packaging.
Aquaculture helps meet the ever-growing popularity of seafood and provides people in developing countries with healthy protein. It also aids in rebuilding populations of threatened and endangered species along with boosting wild stocks of freshwater and seawater species. By ensuring supply chain integrity from farm to the store, the Aquaculture Stewardship Council's (ASC) Sea Green certification label lets shoppers know they're protecting oceans, coasts and wildlife while also investing in restoring them.
With a mission to help the industry feed a growing global population while respecting the planet and its people, the council aims to minimize the industry's impact on climate change and protect fish welfare. To achieve these goals, the certification label helps shoppers identify products that meet strict standards for responsibly farmed seafood, raising the bar for farm performance, verification and traceability.
With increased demand from the culinary community for alternative seafood sources that preserve wild populations without compromising farm-to-fork flavor or freshness, ASC's certification helps ensure the seafood you're buying is what it claims to be. That way, you can enjoy make-at-home recipes like Honey Mustard Crunch Salmon.
Visit SeaGreenBeGreen.org to find family-friendly recipes and certification information.
Watch video to see how to make this recipe!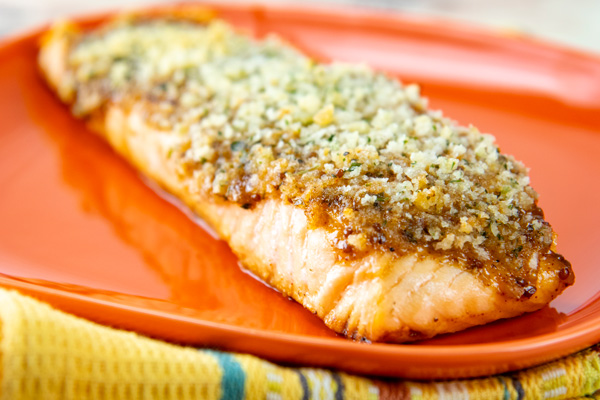 1 bag (1 pound, three 6-ounce portions) ASC-certified North Coast Seafoods Naked Norwegian Salmon
salt, to taste
pepper, to taste
Honey Mustard Glaze:
1/3 cup honey
1/4 cup whole-grain mustard
2 tablespoons smooth Dijon mustard
2 tablespoons mayonnaise
2 teaspoons horseradish
1 teaspoon smoked paprika
Crunch:
3/4 cup panko breadcrumbs
2 tablespoons dried parsley
2 tablespoons olive oil
Thaw salmon and pat dry. Arrange on oiled baking tray. Season with salt and pepper, to taste.
To make glaze: In small bowl, combine honey, mustard, Dijon mustard, mayonnaise, horseradish and paprika; mix until well combined. Chill glaze until ready to use.
To make crunch: In bowl, combine breadcrumbs, parsley and oil; mix well. Reserve.
Preheat oven to 400 F.
Top each salmon portion with 1 tablespoon glaze and spread evenly over fish. Press crunch evenly onto glaze.
Bake 15-17 minutes until fish is cooked through.
Serve with drizzle of remaining glaze.
Source: Aquaculture Stewardship Council