(Culinary.net) A sweet and savory treat, these Chocolate Covered Pumpkin Pretzels will disappear scary fast at your next Halloween party. With just three ingredients, they're easy to make and share with guests of all ages.
Visit Culinary.net to find more quick, simple treats.
Watch video to see how to make this recipe!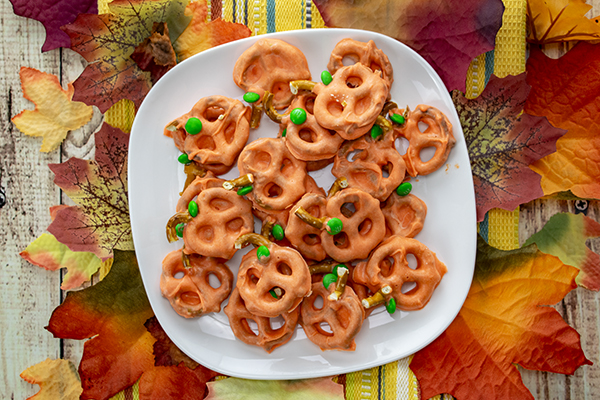 Chocolate Covered Pumpkin Pretzels
Prep time: 10 minutes
Cook time: 5 minutes
Yield: about 36 pretzels
3/4 cup orange candy melts
1 bag (16 ounces) mini pretzel twists
1/4 cup mini green coated chocolate candies
Line baking sheet with parchment paper and set aside.
In medium microwave-safe bowl, melt candy melts 30 seconds then stir. Working in 15-second intervals, continue microwaving until melted and smooth, stirring between intervals. With fork or dipping utensil, dip 36 mini pretzel twists, one at a time, into melted orange chocolate and gently tap side of bowl to remove excess.
Lay each covered pretzel on parchment paper. Using remaining pretzel twists, break apart enough to equal 1/4 cup.
Place one mini green chocolate candy (to form leaf) and one broken pretzel piece (to form stem) on top of each dipped pretzel. Repeat with remaining pretzels and chocolate candies.
Let set until solid. Pretzels can harden on counter about 30 minutes, or placed in refrigerator or freezer 5-10 minutes.