(Family Features) Cozying up with a bowl of warm deliciousness is a perfect way to ward off the chill of winter, and it's made even better when shared with those you love. Turning to favorite chilis and soups with comforting ingredients and smoky spices can transport your family from snow and sleet to warmth and paradise.
Smoky German Potato, Sausage and Bacon Chili offers a reprieve from the cold with hearty flavor and family favorites seasoned with chili powder, cumin and cayenne pepper for classic taste with a twist. The thinly sliced potatoes and bacon of READ German Potato Salad in a sweet-piquant dressing provide a delicious new take on traditional chili.
A bit on the lighter side but equally satisfying, Tuscan 3 Bean Peasant Soup calls for shallots, diced tomatoes, spinach, cannellini beans, cooked small pasta and more for a true winter warmup. Served with toasted bread cubes, it's sure to warm loved ones up from the inside out.
Its key ingredient is Aunt Nellie's 3 Bean Salad, featuring premium green, wax and kidney beans in a light, sweet-tangy vinegar dressing. As a ready-to-eat solution, it can be served chilled, at room temperature or as part of comforting winter recipes.
Visit READSalads.com and AuntNellies.com to find more cozy cold-weather dishes.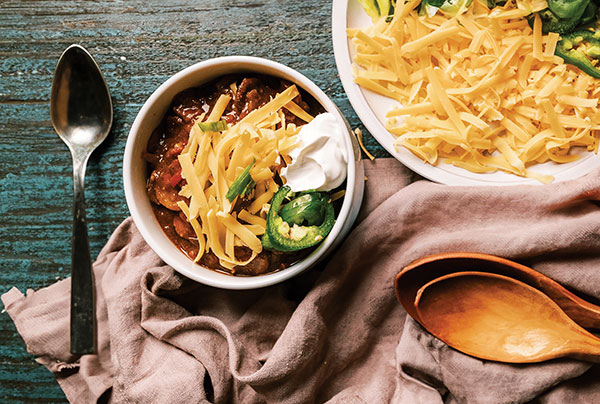 Smoky German Potato, Sausage and Bacon Chili
Recipe courtesy of "Dad with a Pan" on behalf of READ
Prep time: 20 minutes
Cook time: 40 minutes
Servings: 8
4 strips thick bacon, cut into cubes
1 pound smoked sausage, sliced into 1-inch segments
1 small onion, diced
4 cloves garlic, minced
4 tablespoons chili powder
1 tablespoon ground coriander
1 tablespoon ground cumin
1 teaspoon ground cayenne pepper
1 teaspoon dried oregano
2 Fresno peppers, diced
1 can (14 1/2 ounces) diced tomatoes, drained
1 can READ German Potato Salad, drained
1 cup beef broth
salt, to taste
pepper, to taste
n large saucepan over medium heat, cook bacon until crispy. Remove and set aside, leaving about 2 tablespoons drippings in saucepan.
Add smoked sausage and cook until browned.
Once sausage is cooked, add diced onion and minced garlic, cooking until onion is translucent.
Drain excess fat then stir in chili powder, coriander, cumin, cayenne pepper, oregano and Fresno peppers until well mixed.
Add drained diced tomatoes, German potato salad and cooked bacon to saucepan.
Add beef broth and stir to combine. Season with salt and pepper, to taste.
Bring mixture to simmer and let cook about 30 minutes, stirring occasionally, until flavors are melded.
Substitution: Jalapenos can be used for Fresno peppers.
Tuscan 3 Bean Peasant Soup
Recipe courtesy of Sarah Meuser on behalf of Aunt Nellie's
Prep time: 20 minutes
Cook time: 27 minutes
Servings: 8
10 ounces day-old crusty bread, such as ciabatta, cut into 1-inch cubes
2 tablespoons extra-virgin olive oil, plus additional for drizzling (optional)
2 medium shallots or 1 small yellow onion, peeled and chopped
3 cloves garlic, peeled and chopped
1 can (15 1/2 ounces) cannellini beans, drained and rinsed
1 can (28 ounces) diced tomatoes
3 cans (14 1/2 ounces each) low-sodium chicken broth (about 6 cups)
1/2 teaspoon freshly ground black pepper
1/2 cup small pasta, such as ditalini, uncooked
2 cups frozen cut leaf spinach or chopped fresh spinach
2 jars (15 1/2 ounces each) Aunt Nellie's 3 Bean Salad, drained
1 tablespoon lemon zest (optional)
Preheat oven to 375 F. Place bread cubes in single layer on large baking pan. Bake until bread cubes are lightly browned, 8-12 minutes. Set aside.
Heat large saucepan or Dutch oven over medium heat. Add 2 tablespoons oil; swirl to coat. Add shallots; cook 5 minutes, or until soft, stirring occasionally. Add garlic; cook 1 minute, or until fragrant. Add cannellini beans, tomatoes, broth and black pepper; bring to boil. Add pasta; cook 8 minutes, or according to package directions. Stir in spinach and bean salad. Simmer 5 minutes, or until heated through.
Ladle soup evenly into bowls. Top with toasted bread cubes and lemon zest, if desired. Drizzle with additional olive oil, if desired.
Source: Seneca Foods