(Family Features) With school, work and evening activities all spiraling in different directions, most families find that some things have to give. Make sure quality time around the dinner table isn't one of them with these savvy solutions that can help make weekday meals a cinch.
One-dish wonders
Most busy families are well-versed in the benefits of slow cooker meals, but when you haven't planned that far ahead there are other options, such as your oven's broiler, that allow you to capture the convenience of single-dish meals. A cookie sheet filled with your favorite protein, veggies and a sprinkle of seasoning will broil in minutes. Just remember to cut your protein into small pieces that will cook through quickly and line your sheet with foil for easier cleanup. Another quick-fix idea: empty the odds and ends from the pantry and veggie drawer to make a stir-fry in minutes.
Go for the gold
When it comes to mealtime, Sunday dinner is the gold standard. It's the one day of the week when you're most likely to go "all out" and prepare a great-tasting meal. But you can achieve similar meals during the week using delicious, time-saving sides such as packaged Idahoan Signature Russets mashed potatoes, which can be made in just 5 minutes. The smooth flavor of Idahoan Signature Russets – like original homemade mashed potatoes with just a hint of butter and cream – makes any day taste like Sunday.
Quick-prep proteins
Every family has its favorite go-to meals that stand the test of time. Build your repertoire with a few recipes centered on proteins that take next to no time to prepare. Eggs don't have to be restricted to the breakfast table, especially in preparations like a frittata or quiche. Or rely on seafood, which can be seared to perfection in minutes. A mild white fish is an ideal foundation for creating diverse, rich flavors, such as this Seared Halibut with Lemon Butter Sauce.
For more tips to increase family time and get quick meals on the weeknight dinner table, visit idahoan.com.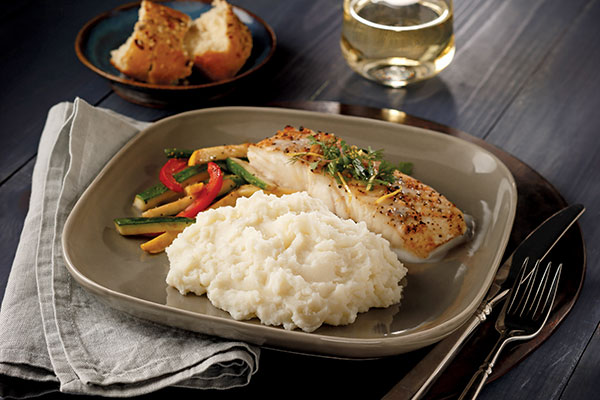 Seared Halibut with Lemon Butter Sauce

Serves: 4
Lemon Butter Sauce
1/2 cup white wine
1/4 cup fresh lemon juice
8 tablespoons whipping cream
3/4 teaspoon fresh garlic, chopped
turmeric, to taste
salt, to taste
white pepper, to taste
8 tablespoons unsalted butter, diced
Halibut
4 teaspoons olive oil
4 halibut filets (6-8 ounces each)
salt
pepper
lemon zest
herbs
Vegetables
2 tablespoons olive oil
2 small zucchini, cut into 1/4-inch strips
2 small yellow squash, cut into 1/4-inch strips
2 small red peppers, washed, seeded and sliced into strips
Potatoes
2 cups Idahoan Signature Russets Mashed Potatoes (from 16.23-ounce package)
For lemon butter sauce, add white wine, lemon juice, cream, garlic, turmeric, salt and pepper to saute pan. Heat on high heat and reduce to half its original volume.
While lemon sauce is reducing, prepare fish and vegetables.
Once reduced, remove from heat and swirl in diced butter.
For halibut, heat non-stick skillet on medium-high heat with olive oil. Season halibut with salt and pepper. Sear until deep golden brown, approximately 5 minutes each side. Remove from heat and cover with foil.
For vegetables, add olive oil to skillet over medium-high heat. Saute zucchini, squash and pepper until crisp-tender, about 2-3 minutes. Keep warm.
For potatoes, prepare mashed potatoes following package instructions.
To serve, plate mashed potatoes, vegetables and halibut. Drizzle halibut with lemon butter sauce and garnish with lemon zest and fresh herbs.
Note: Haddock or striped bass can be substituted for halibut.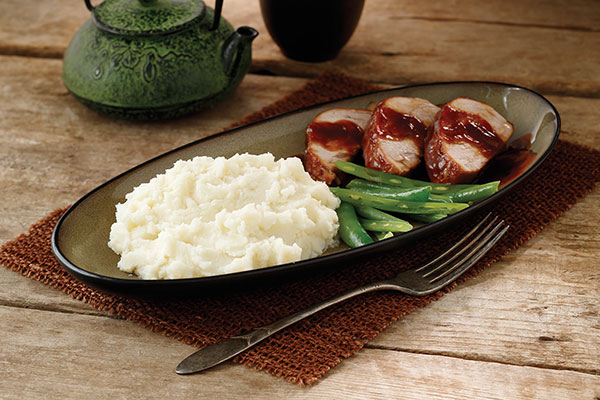 Hoisin Roasted Pork with Steamed Greens
Serves: 4
2 tablespoons hoisin sauce
2 tablespoons honey
1 tablespoon soy sauce
1 pork tenderloin filet (16 ounces)
8 ounces fresh sugar snap peas
8 ounces green beans
2 cups Idahoan Signature Russets Mashed Potatoes (from 16.23-ounce package)
Heat oven to 350° F.
In bowl, combine hoisin, honey and soy. In non-metallic bowl, pour marinade over pork and set aside for 15 minutes.
Heat medium nonstick frying pan over medium heat. Add marinated pork and cook each side 1-2 minutes.
Transfer pork to baking tray and cook 15 minutes, or until cooked to desired doneness.
Steam fresh sugar snap peas and green beans together. Set aside.
Prepare mashed potatoes following package instructions.
To serve, plate mashed potatoes, sliced pork and steamed vegetables. Spoon pan juices over pork and enjoy.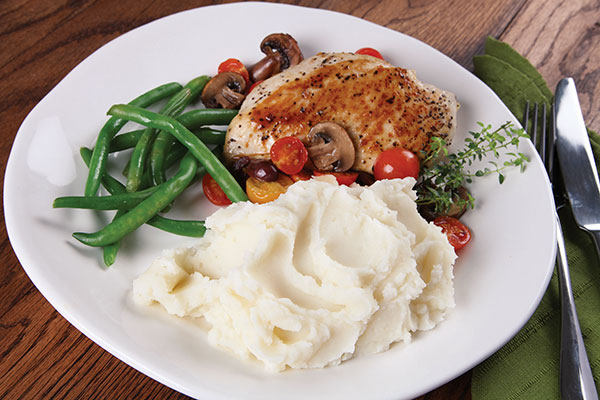 Roasted Chicken Provencal
Serves: 4
8 chicken thighs (bone-in, skin-on)
1/2 teaspoon salt
1/4 teaspoon ground black pepper
1 tablespoon olive oil
1/2 cup dry white wine
1/4 cup chicken broth
2 thyme sprigs
2 garlic cloves, crushed
2 cups Idahoan Signature Russets Mashed Potatoes (from 16.23-ounce package)
1 cup sliced cremini mushrooms
1/2 cup cherry tomatoes, halved
1/4 cup pitted black olives, halved
sauteed green beans
Sprinkle chicken thighs with salt and pepper. In 12-inch skillet over medium-high heat, brown chicken thighs on both sides in hot oil. Add white wine, chicken broth, thyme sprigs and garlic.
Over high heat, heat mixture to boiling. Cover and simmer 25 minutes, stirring occasionally.
Meanwhile, prepare mashed potatoes according to package directions.
In skillet, add mushrooms, cherry tomatoes and olives; cover and simmer 5 minutes longer until chicken is tender.
Serve chicken thighs with mashed potatoes and sauteed green beans.
Source: Idahoan Mashed Potatoes