(Family Features) From packing lunches, to after-school snacks to dinnertime, many parents face obstacles in getting their families to eat food made with real simple ingredients that everyone can enjoy.

According to a recent survey commissioned by Hellmann's®, nearly half of all moms surveyed say they make a family meal every day and more than a third of moms surveyed say cooking dinner takes too much time.
For videos, tips and recipes go to www.Hellmanns.com or www.BestFoods.com.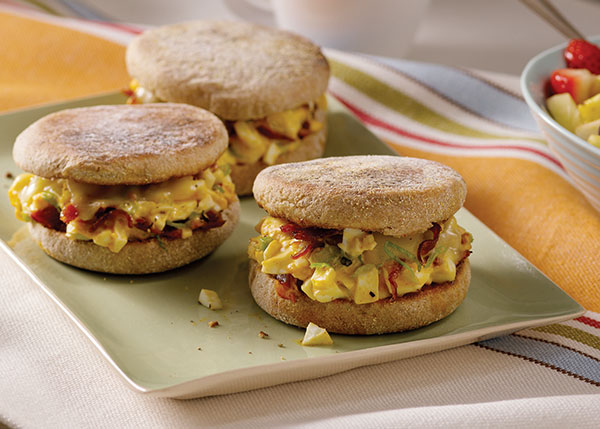 Egg and Shrimp Salad with Poppy Seeds
A Bobby Flay Recipe
4 servings
Prep Time: 15 minutes
1/2 cup Hellmann's or Best Foods Real Mayonnaise
2 medium green onions
Juice of 1 lemon
3 tablespoons snipped fresh dill
2 tablespoons poppy seeds
1 tablespoon Dijon mustard
8 medium hard-cooked eggs, peeled and coarsely chopped
6 ounces cooked large shrimp or crabmeat
Combine mayonnaise, green onions, lemon juice, dill, poppy seeds and mustard in large bowl with wire whisk. Stir in eggs. Gently fold in shrimp. Season, if desired, with salt and black pepper. Serve, if desired, over salad greens or on English muffins.
NOTE: If serving over greens, toss greens with fresh lemon juice, a drizzle of extra virgin olive oil and season with salt and pepper. If serving on bread, serve as an open-faced sandwich. Mound some salad on top of toasted bread and garnish with more fresh dill and sliced green onions.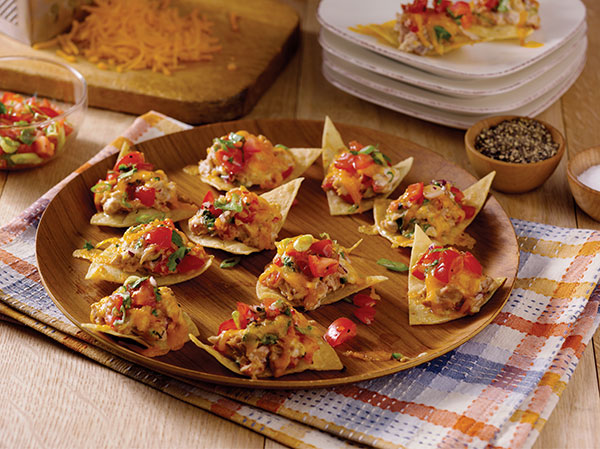 Mini Fish Tacos
A Bobby Flay Recipe
2 servings
Prep Time: 10 minutes
Cook Time: 4 minutes
1/2 cup Hellmann's or Best Foods Real Mayonnaise
1/2 cup prepared salsa
1 tablespoon lime juice
1 can (6 ounces) tuna, drained and flaked
1 large green onion, thinly sliced
12 large corn tortilla chips
3/4 cup shredded cheddar cheese (about 3 ounces)
Combine mayonnaise, salsa and lime juice in medium bowl; reserve 1/2 cup. Stir tuna and green onion into remaining mayonnaise mixture just until combined. Season, if desired, with salt and pepper.
Arrange chips on baking pan. Top with tuna mixture, then sprinkle with cheese. Broil 1 minute or until cheese is melted. Dollop with reserved mayonnaise mixture. Garnish, if desired, with additional green onions.
Also terrific served in individual scoops for a great hand-held snack.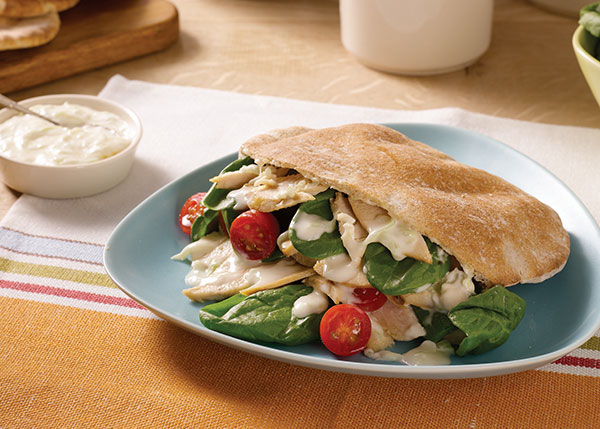 Chicken or Turkey Gyros
A Bobby Flay Recipe
4 servings
Prep Time: 15 minutes
Chill Time: 30 minutes
1/4 cup coarsely grated seedless cucumber
3/4 cup Hellmann's or Best Foods Light Mayonnaise
2 cloves garlic, finely chopped
1 tablespoon fresh lemon juice
1 teaspoon fresh grated lemon peel
4 whole wheat pita breads, split
Fresh spinach leaves, rinsed and patted dry
8 cherry tomatoes, halved
1 pound sliced rotisserie or grilled chicken or turkey
Place grated cucumber on paper towel and gently squeeze dry. (Do not skip this step or you will have a watery dressing.) Combine drained cucumbers, mayonnaise garlic, lemon juice and peel in small bowl. Season, if desired, with salt and black pepper. Cover and refrigerate at least 30 minutes.
Spread a few tablespoons dressing inside each pita; add spinach leaves, tomatoes and chicken, then drizzle with additional dressing.
Source: Hellmann's