(Family Features) If you're looking for new ways to entice the family to the table for dinner, then I've got the perfect recipes for you.
Whether you call them bakes or casseroles, your family will simply call them delicious. And as a time-saving extra, you can make these creamy dishes ahead of time, then just pop them in the oven when you need them. Toss a fresh green salad and add some warm bread, and you have a meal they'll love to sit down to.
For more easy weeknight dinner recipes, visit www.verybestbaking.com/carnation.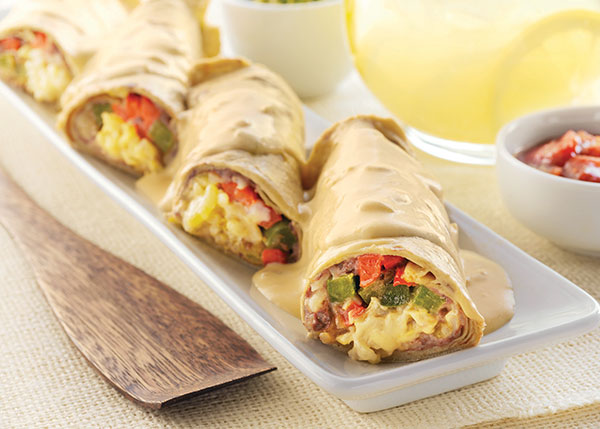 Cheesy Oven Burrito Bake
Makes 12 servings, (1/2 burrito each)
Nonstick cooking spray
2 large sliced red and/or green bell peppers, cut into thin strips
1 medium onion, sliced
1 teaspoon ground cumin
1 can (12 fluid ounces) Nestlé Carnation Evaporated Lowfat 2% Milk, divided
1 cup (4 ounces) shredded reduced fat 2% cheddar cheese
1 can (4 ounces) diced green chilies, undrained
1 1/2 cups cooked long or medium grain brown rice, heated
1 can (16 ounces) fat-free refried black beans
6 8-inch multi-grain or whole-wheat tortillas
Salsa and guacamole (optional)
PREHEAT the oven to 350° F. Spray 13 x 9-inch baking dish with nonstick cooking spray.
SPRAY large, nonstick skillet with nonstick cooking spray. Add peppers, onions and cumin; cook over medium-high heat, stirring occasionally, for 6 to 8 minutes until vegetables are tender.
MEANWHILE, COMBINE 1 1/4 cups evaporated milk, cheese and chilies in small saucepan. Cook over medium-low heat, stirring constantly, until cheese has melted and mixture is smooth. Remove from heat. Stir 3/4 cup of cheese sauce into heated brown rice; reserve remaining cheese sauce.
COMBINE refried beans and remaining 1/4 cup evaporated milk in medium, microwave-safe bowl. Microwave, uncovered, on HIGH (100% power) for 3 to 4 minutes, stirring after each minute or until slightly thickened.
FILL tortillas with hot beans, rice and vegetables, dividing equally. Fold sides over filling. Place filled burritos, seam-side down, in prepared baking dish. Top with remaining cheese sauce. Cover with foil.
BAKE for 20 to 25 minutes or until heated through. Serve with salsa and guacamole, if desired.
TIPS: Cooked chicken or ground beef may be added to filling. Look for precooked ready-to-use brown rice to save prep time.
Nutrition Information per serving: 210 calories; 45 calories from fat; 5g total fat; 2.5g saturated fat; 10mg cholesterol; 540mg sodium; 30g carbohydrate; 6g fiber; 6g sugars; 11g protein; 10% Vitamin A; 50% Vitamin C; 25% Calcium; 20% Iron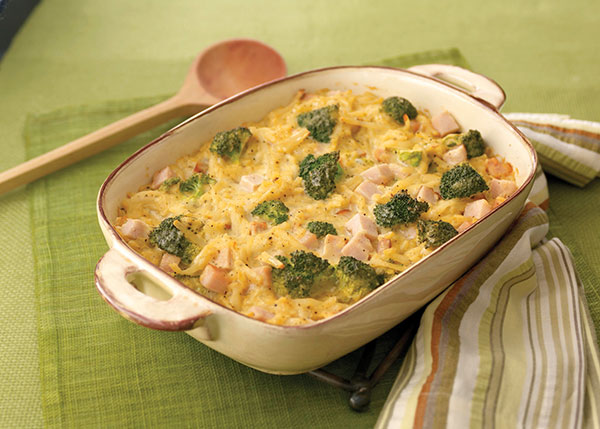 Turkey & Hash Brown Bake
Makes 10 servings
1 bag (16 ounces) or 4 1/2 cups frozen, shredded hash brown potatoes
2 cups chopped frozen or fresh broccoli
8 ounces sliced turkey, cut into 1/2-inch pieces (about 2 cups)
1 can (12 fluid ounces) Nestlé Carnation Evaporated Lowfat 2% Milk
1 can (10 ounces) condensed fat-free cream of chicken soup
1/2 cup shredded Parmesan cheese
1 tablespoon Dijon mustard
1/2 teaspoon ground black pepper
PREHEAT oven to 350º F. Grease 13 x 9-inch baking dish.
COMBINE all ingredients in large bowl until well blended. Pour into prepared baking dish.
BAKE for 50 minutes or until heated through. Cool for 10 minutes before serving.
TIPS: When you visit the deli counter, ask for the amount of turkey you'll need and it can be cut into one thick piece.

Nutrition Information per serving: 130 calories; 30 calories from fat; 3g total fat; 2g saturated fat; 20mg cholesterol; 500mg sodium; 16g carbohydrate; 1g fiber; 4g sugars; 9g protein; 15% Vitamin C; 15% Calcium When you visit the deli counter, ask for the amount of turkey you'll need and it can be cut into one thick piece.

Nutrition Information per serving: 130 calories; 30 calories from fat; 3g total fat; 2g saturated fat; 20mg cholesterol; 500mg sodium; 16g carbohydrate; 1g fiber; 4g sugars; 9g protein; 15% Vitamin C; 15% Calcium
Source: Nestlé