(Family Features) Parents may be wondering how to ensure their children are staying hydrated, maintaining healthy diets and getting the nutrients they need during the summer months. According to the U.S. Department of Agriculture and the U.S. Department of Health and Human Services, the reality is one out of two kids ages 9 and up are missing out on key nutrients like calcium, vitamin D and potassium – putting them at risk for serious health issues.
Pediatrician and best-selling author Dr. Tanya Altmann suggests moms can help fill that gap by making sure kids fuel their bodies with proper nutrition. Milk is the top food source for calcium, vitamin D and potassium, and Altmann encourages moms to serve milk at most meals and water in between to ensure kids get the recommended servings of milk, depending on age group, throughout the day.
"Milk is a simple way to help give kids of all ages nutrients they need to grow strong, and they already love it," Altmann said. "Pour a glass of milk alongside your kid's favorite snack or use milk in a smoothie or oatmeal for breakfast."
This summer, try a twist on a classic, kid-approved lunch – for breakfast. These Peanut Butter and Jelly Pancake Dippers combine two favorite flavors, a peanut butter pancake with a jelly dip, for a simple recipe the whole family is sure to enjoy eating. Pair with an 8-ounce glass of milk for nine essential nutrients to fuel summer mornings.
For more nutritious, kid-approved recipes to pair with a glass of milk, visit pourmoremilk.com.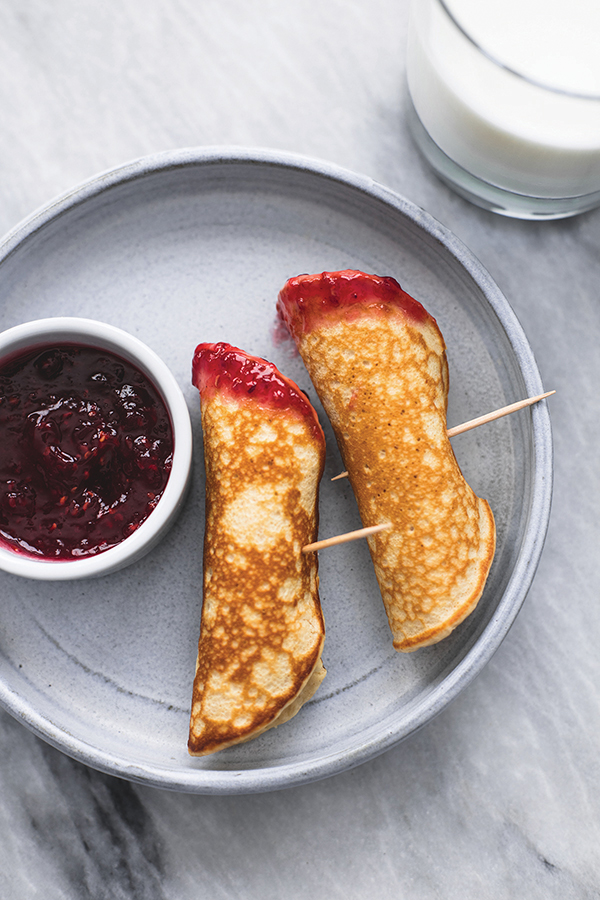 Peanut Butter and Jelly Pancake Dippers
Recipe courtesy of MilkPEP
Servings: 5 (2 pancake dippers per serving)
1/4 cup old-fashioned rolled oats
1/2 cup whole-wheat flour
1/4 cup all-purpose flour
1/4 teaspoon salt
2 teaspoons brown sugar, packed
1 teaspoon baking powder
1 large egg
1 tablespoon vegetable oil
4 tablespoons reduced-fat creamy peanut butter
1 cup fat-free milk
nonstick cooking spray
1/3 cup sugar-free raspberry preserves, for dipping
1 glass (8 ounces) fat-free milk
In blender, combine oats and flours and pulse 3-4 times. Add salt, brown sugar, baking powder, egg, vegetable oil, peanut butter and 1 cup milk. Pulse several times until combined and no lumps in batter.
Heat nonstick skillet to medium-low heat and lightly grease with cooking spray. Pour 1/4 cup batter onto skillet, cook 1-2 minutes until bubbles appear around edges then flip and cook another 1-2 minutes until golden. Immediately roll up pancake and secure with toothpick. Repeat process with remaining batter.
Serve with raspberry preserves for dipping and pair with remaining 8-ounce glass of milk.
Nutritional information per serving: 310 calories; 9 g fat; 1.5 g saturated fat; 45 mg cholesterol; 17 g protein; 43 g carbohydrates; 3 g fiber; 430 mg sodium; 431 mg calcium (45% of daily value). Nutrition figures based on using fat-free milk, and include an 8-ounce glass of fat-free milk.
Source: MilkPEP